IMPORTANT NOTES:
1. This web page is designed to put you on the waiting list first. Once we verify that you satisfy the registration requirements we will move you to the list of participants. See registration requirements in additional notes.
2. If you are curious about this event and would want to know more before making your mind about signing up then please text or email trip leader with your queries.
3. Although this event is rated as D7 but there is an option of doing D6 too, this option is eleborated in Day-7 of itinerary
Aerial Video of Minglik-Sar Mountain
HOW IT STARTED
Technically this is first AOC adventure event in Pakistan. However, in 2019; two curious AOC members plus myself that's three of us explored and trekked mountains in north of the country. That successful precedent helped and paved way to make it an official AOC event for 2020.
INTRODUCTION
Mountains are a joint love and inspire fascination for every nature lover around the world. The concept of territorial boundaries should not deter those who desire to explore them in any part of the world. Pakistan is one such country with unparelled concentration of peaks and summits from 16,000Ft (5,000M) to 26,000F (8,000M). What are the three great mountain ranges on this planet? The Karakorum, The Himalyas and The Hindukush. They are all in Pakistan. The terrain provide opportunities to extremely hardcore climbers desiring to scale 8,000 meters and not so hardcore trekkers willing to take gradual elevation gain up to 5,000M or 6,000M. Of the total 14 eight-thousanders. 5 eight-thousand plus summit are located in Pakistan. These are K-2, Nanga Parbat, Gesharbrum-I, Gesharbrum-II & Broad Peak.
ITINERARY
(This is as much details that could possibly fit in here, however Trip Leader will communicate additional itinerary specifics with the participants later)
DAY-1
The group will travel together to arrive at Islamabad airport, Pakistan at 4.00 am (local time). A few hours later we will take a connecting 50 minutes flight to Gilgit (the mountain city), where the Lead Guide and Expedition leader will meet us. We will take a 2.5 hours' drive to Karimabad, Hunza Valley. where we will rest and recharge. We will spend the night at a hotel in Karimabad.
Here is the picture of Hunza valley, elevation 8,200 feet.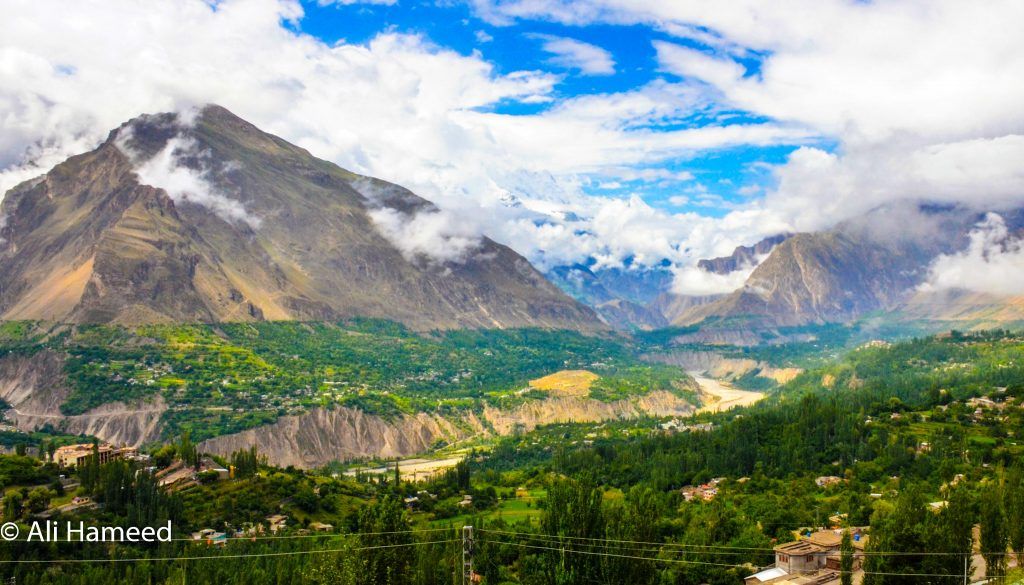 DAY-1 (Alternate)
On occassions, the Islamabad-Gilgit flight get cancelled due to significant cloud cover and rain. Since there are only two flights a day to Gilgit and they are only in the morning, plan B is to undertake a road trip of 12-14 hours. 5 hours of that will be done the first day, we will then spend the night at a hotel and complete rest of the journey to Gilgit on following day, where our guide would be waiting.
Day-2
Next morning we will do some sightseeing of Karimabad, then will head to famous "Passu Cones" (Please Google). From Passu Cones a dirt road will take us to Shimshal Valley. We will spent that night at a rest house at Shimshal Valley. Shimshal valley (Google Shimshal Valley Pakistan) is located at a 5 hours' drive from famous tourist town of Karimabad, Hunza (Gilgit Baltistan Province, Pakistan). Below is the picture of Shimshal Valley, elevation 10,000 Feet.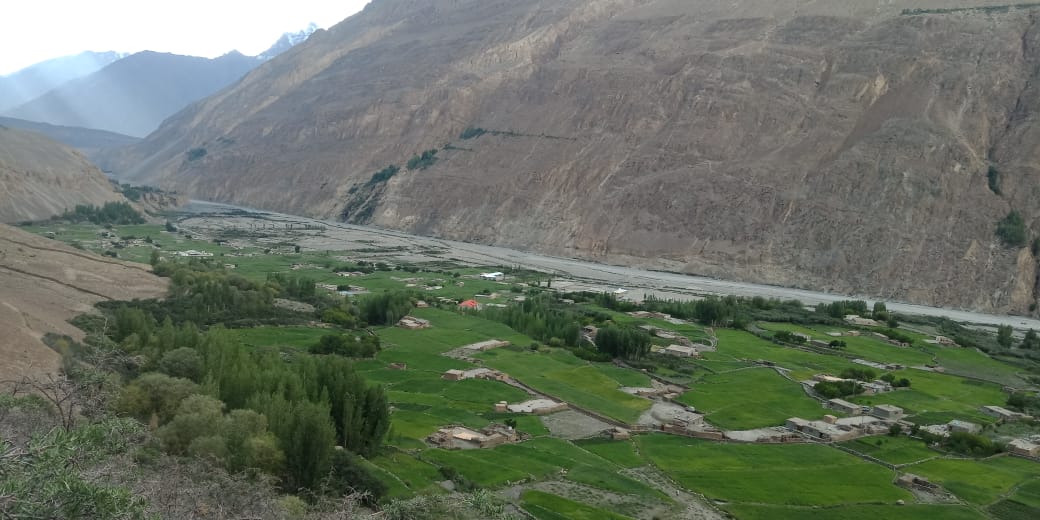 Day-3
In the morning of Day-3 we will meet the remaining members of the expedition team: The Assistant Guides, Porters, Kitchen staff and couple of mules. The entire team will then begin first day of hiking. We will do 4-5 hours from Shimshal to Gharsar. and Net Elevation gain 2,000 Ft (600 M), Distance 5-6 Miles. Expedition team will set up tent and enjoy the view of Hispar Mustagh Mountain range, 7 of whose peaks are visible from that location. We will spent the night in tent, from this point onward it would be every night in the tent till we get back to Shimsahl or Hunza.
* Hike isn't straight up, there are many up and downs. That's why the net elevation gain term is used.
Day-4
Gharsar to Peryen Sar is a 6-7 hrs. Trek, we will come across beautiful views of different peaks and valleys on our way. The n et Elevation gain 650 Ft (200 M), distance 8- 9 Miles.

Day-5
Peryen Sar to Shimshal Pass (Base Camp). 6-7 Hrs Trek. Net Elevation gain 2,000 Ft (600 M), distance 6-7 Miles. This Base Camp is surrounded by so many peaks and MINGLIK SAR is one of most desirable destination for climbers. The camp is at the elevation of 14,800 Ft (4,500M). Below is the picture of base camp and the lake next to it.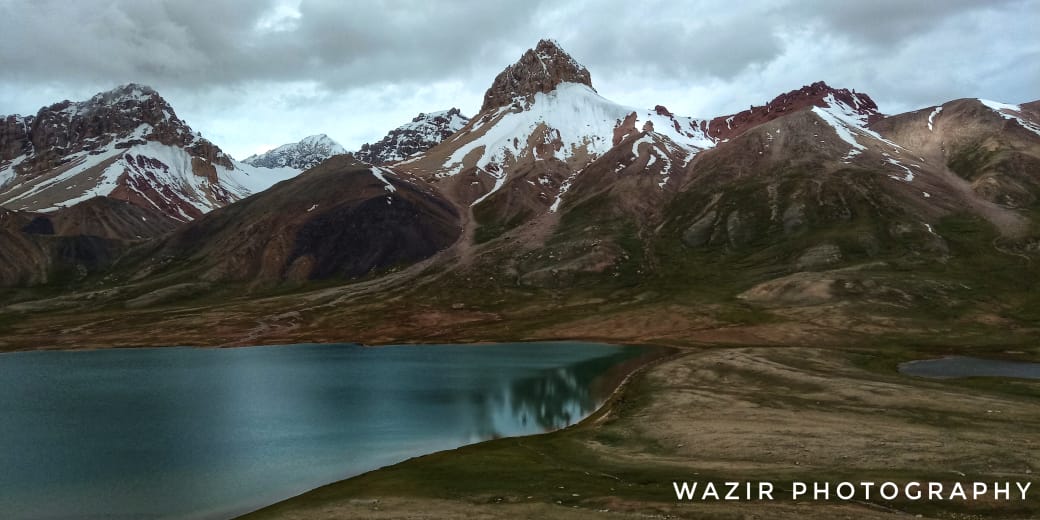 Day-6
It's an acclamation day, that may involve leisure hikes as desired.
Day-7
Summit day. Hoping that Mountains Gods are happy. we will approach summit with humility. This is a snow climb, involving ropes, crampons and Ice Axe etc. (Please inform the trip leader if you do not want to climb when you sign up for the event ). The plan is to split the group into climbers and hikers. The climbing group will head to summit in very early morning hours. Elevation Gain 4,900 Ft (1,500 M) on Snow with full gear of Snow Shoes, Crampons, Ice Axe, Harness & Helmet. Hiking team will do a long day hike to a smaller peak, likely void of snow cover. Since we are accompanied by a big expedition team of outfitters including assistant guide/guides the hiking group will go with 3-4 members of the expedition team. Technically speaking, the climbing team will do D7 and hiking team will do D6 that day.
In the evening both groups will meet at the Base Camp. We will Celebrate (whether this has been a summit day or not), share our stories , reflect and analyze our experiences.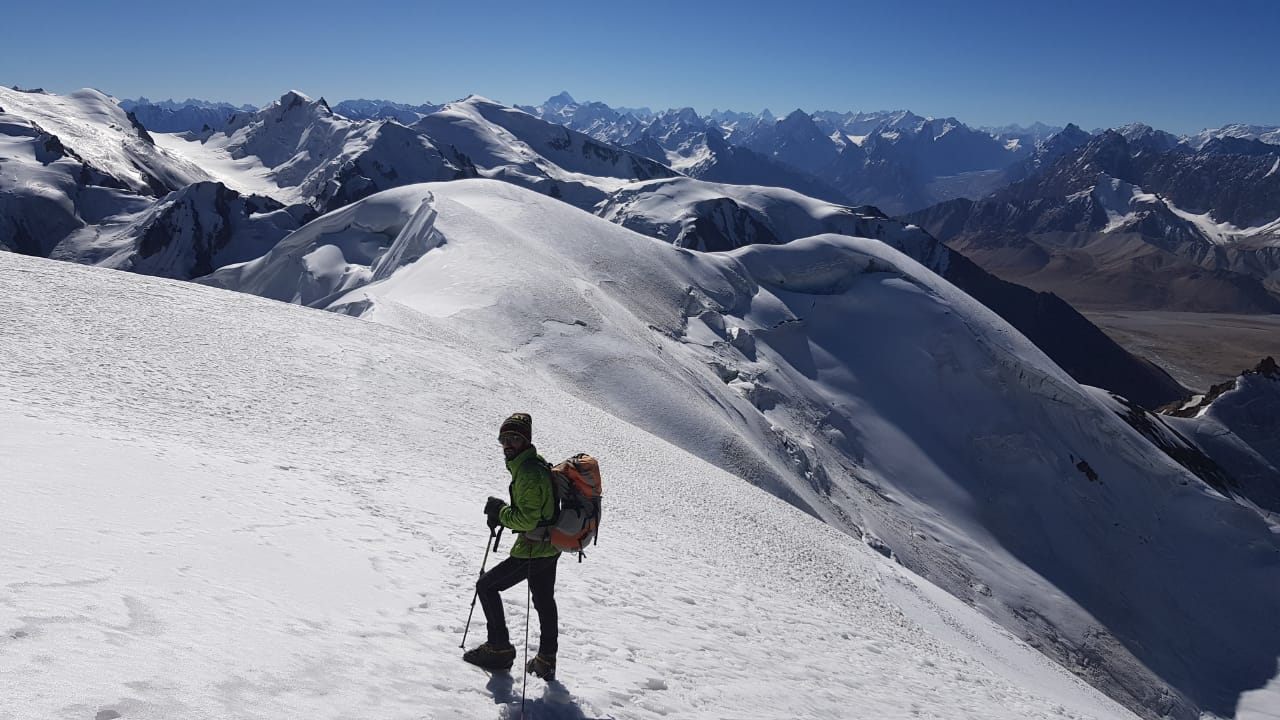 Day-8 Reserve for Weather reasons
Day 9-10 Return Journey to Peryansar and then to Gharsar
Day 11 Gharsar to Shimshal to Hunza valley
Spend the night at a hotel, finally on a soft bed after 8 days.
Day 12 Back to Gilgit and Flight to Islamabad
IMPORTANT:
1. The guide/outfitter is an exlusive service for AOC team only.
2. Though you be hiking in the mountains for about 9-10 days (averaging 5-9 hours per day) you will not be carrying a backpack. There will be enough porters to carry your belongings. All you need is 20-30L or less day pack.
3. Tent accomodation will be shared, two person and three person per tent. If you want your separete tent, be prepared to pay extra and you have inform and ask for it in advance before we leave Shimshal.
4. Because of so many unknown variables, example weather, sickness etc, the itinerary is kind of flexible. It is expected and imperative that participants co-operate fully when changes need to be made.
5. It is possible that we won't need extra contingent days. In that situation, depending upon endurance and willingness of team; we will utilize spare days to do more hikes and discover more hills or valleys. Expedition team will be with us on those days as well.
6. Though decisions will be taken by consensus, in the case of insoluble disagreements, the decision of trip leader will be prevailing, final.