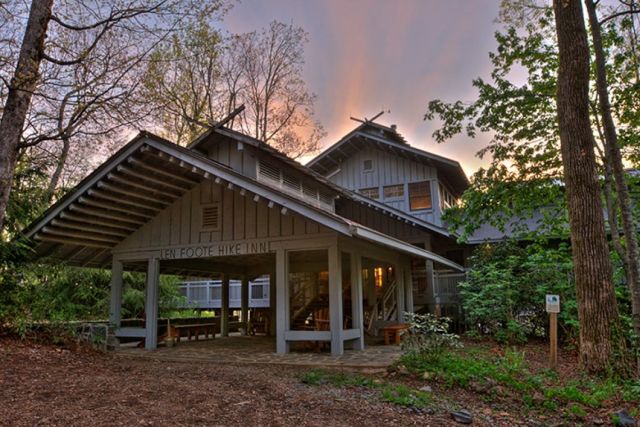 Disclaimer: This is a relatively challenging hike, suitable for intermediate to advanced hikers. If you are not sure of your stamina or hiking abilities or have not completed a D3 (or higher) hike recently, please DO NOT sign up!
This 10-mile round trip hike begins at the upper Len Foote Hike Inn parking lot. From here, we take the AT Approach Trail (Springer Mountain Trail) for approx. four miles, then turn onto the Len Foote trail and hike till we smell the cookies (that's how we know we've reached the Inn). We'll stop for lunch at Len Foote Inn where you can also get some leftover desserts or hot beverages - for a suitable tip!
After lunch, we resume hiking on the Len Foote trail for the five- mile hike back to the parking lot.
So, we're looking forward to getting in a nice little workout amid April flowers and clear mountain air, and we plan to set a brisk pace (2.5 miles per hour) so that we can make it back to the parking lot in time and get you home while there is still a hint of daylight left.
BTW, this is a dog-friendly event, which means there will be friendly dogs (and humans friendly to dogs) on this hike. If you are uncomfortable around dogs, this event is not for you!
Looking for a volunteer CARPOOL COORDINATOR: Since Chris and I will already be at Amicalola State Park, we need someone to coordinate the carpool from Atlanta to Amicalola State Park and back. If you are interested, please let us know.