Welcome to my new series of hikes called "Developmental Hikes." These hikes are designed to allow you to develop your hiking skills so that with time, you can do more difficult hikes. Unlike my "Stop and Smell the Roses" hikes which are leisurely events, these will be posted at a moderate difficulty level yet conducted in a way as to push your ability as much as possible to the next difficulty level.
The pace for these hikes will be designed to challenge you to pick up your speed and gain strength as you navigate sometimes challenging trails. The venues chosen will allow for the skills being developed. These hikes are for those of you that want to push your ability to do more advanced events, or for those of you who used to do more difficult hikes and want to work yourself back to your previous ability level.
Please note: This series of hikes is NOT for intermediate or advanced hikers who have been doing D4+ events. They are designed for less experienced hikers who want to build strength and speed. Please choose a different event if you are already a very fit D4+ hiker to allow room on the event for members who need the development.
One last thing: if the hike is for developing a hiker to go from a D3 to a D4 and you have done only D1 and D2 hikes – the hike is NOT for you either. They will likely prove to be too challenging, and I do not want to hold up the group to wait for you. I will vet members to ensure we get members of the same ability level on the hike.
If you have any Questions about this event, please call me.
We will park at the Burnt Hickory Road Parking Lot also called the Pigeon Hill Parking Lot and do introductions. We will walk across Burnt Hickory Road and start the event at 8:00 am. The plan is to hike up and down Pigeon Hill four times. The objective of the event is to develop elevation change over a short distance. Each round trip will be 0.8 miles with about 160 feet of elevation change. At the start and end of each trip the start and end times will be noted. This will total 3.2 miles and 640 feet of elevation change. A fifth trip can be done for those wanting to do it bring the total distance to 4.0 miles and elevation change to 700 feet. At the end of the event, I will note the speed of that trip plus the total speed for the trips to that point.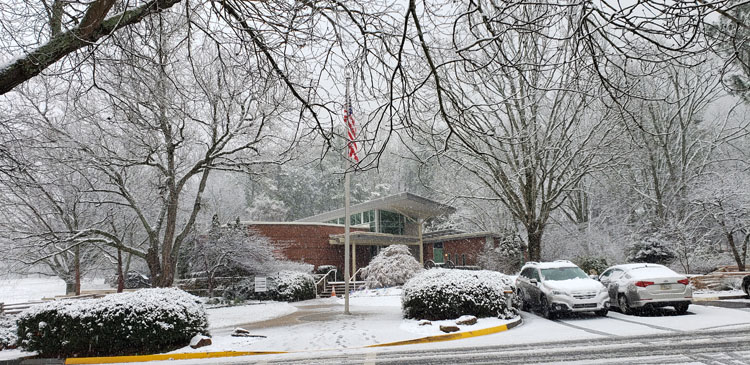 I am using Feburary pictures because The Park Looks nice with snow.