This event is for hard core Georgia 4K peakbaggers. I've been thinking about this one for several years and finally stumbled (pun intended) upon a way to do it all in one long day hike. These are the toughest and most remote peaks to "bag" on the GA ATC 4k peak list.
https://www.georgia-atclub.org/georgia-4000/georgia-4000-foot-peaks
We will be walking the ridgeline containing the following peaks:
#4 – Hightower Bald – 4,588 ft
#13 - Eagle Mountain – 4,259 ft
#16 - Rich Knob – 4,152 ft
#18 – Sassafras Knob – 4,121 ft
#23 – Mayapple Knob – 4,054 ft
#30 – Rattlesnake Knob – 4,000 ft
In addition, we will walk past the Montgomery's Corner on the eastern edge of Hightower Bald. The ridge line is shown in the following topographic map.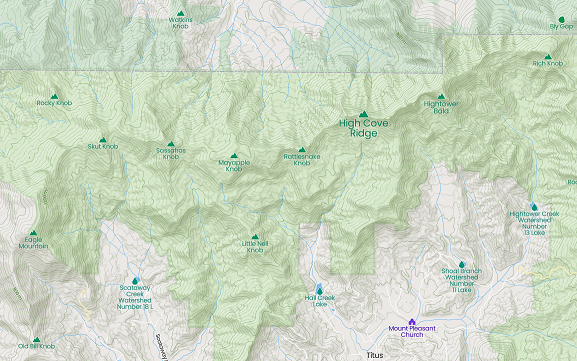 This will be a challenging and fun day in the Southern Nantahala Wilderness. We will be walking along a remote ridgeline almost entirely off trail, except for a short AT section, some goat paths and logging roads along the way. This will require some very strong D5 hikers to accomplish, so the leaders will be vetting everyone very carefully.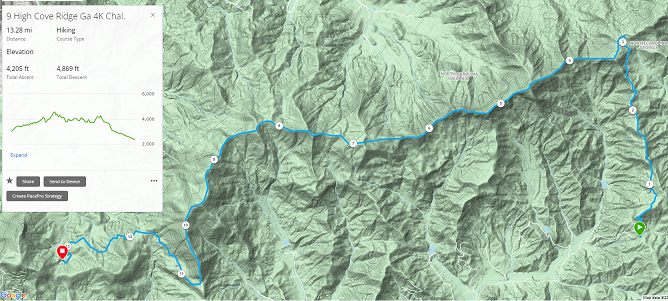 This will be a shuttle hike with no carpool. We will need at least two cars to make this work. Meeting at the Ingles in Hiawassee and then driving two-three cars drive to Bell Gap Road and park to leave a vehicle. Then, drive in the second car to the Upper Hightower Road area to park as close to Blue Ridge Gap on the AT as possible. Last time I was here, I had to park about half mile down the road and walk up to meet the AT at the gap. After parking the car(s), then we will begin our ascent to the AT at Blue Ridge Gap. Take a left turn on the AT and then quick walk to Bly Gap and our short bushwhack ascent of the first peak, Rich Knob. From here, we will head west toward Loggy Branch passing the Montgomery's Corner and ascend the eastern side of Hightower Bald. We will need to be careful here as there are cliffs to the south we may want to stop to see the views, but avoid a treacherous fall. After that, we will continue west along the ridgeline to Rattlesnake Knob to Mayapple knob, then Sassafras Knob and through Skut Gap to Eagle Mountain. We leave Eagle Mountain down to our car at Bell Gap.
Total distance is about 14 miles and total ascent is about 4900 ft. Total time on the trail is about 9 hours, which includes 15 minutes for lunch.
This is MODERATE pace hike when on trail. That doesn't mean fast, but also not slow, but we will need to move at average speed of 2.5 mph to finish the hike in the time scheduled. Due to significant amount of bushwhacking we will likely slow to average of 2.0 mph.
Celebretory dinner after at the Hiawassee Brew Pub, we will make a game day decision whether to do so or not.
Likely, it will be getting dark as we finish getting our cars.
Notes:
1. Itinerary is subject to change anytime at the discretion of the trip leader(s).
2. We will take breaks to allow the group to stay together, with MODERATE speed while we are moving.
3. The trip leader(s) reserves the right to consider participant's past history and to make the final determination for participation on this hike.
4. Hydration will be important. There will be a few water sources along the way, if you want to bring a filter.
5. There is no carpool from ATL, arrive at Ingles in Hiawassee by 7:15 am, ready to hike. We will leave the Ingles parking lot to begin the hike at 7:30 am sharp.
6. Up to 2 well-behaved dogs will be permitted, assuming it is not too hot. Contact me in advance if you want to bring your K-9.
Credits:
1. Ideas for this attempt, came from the previous trip report on peakbagger.com from Holly Saxby, March 13, 2021.
https://www.peakbagger.com/climber/ascent.aspx?aid=1616793
2. Promo picture "borrowed" from Hightower Bald Wiki page
https://en.wikipedia.org/wiki/Hightower_Bald#:~:text=The%20southern%20mark%20was%20named,passing%20through%20the%2035th%20parallel.
3. General info and description for this area came from Sherpa Guide
https://sherpaguides.com/georgia/mountains/blue_ridge/eastern/hightower_area_southern_nantahala_wilderness.html