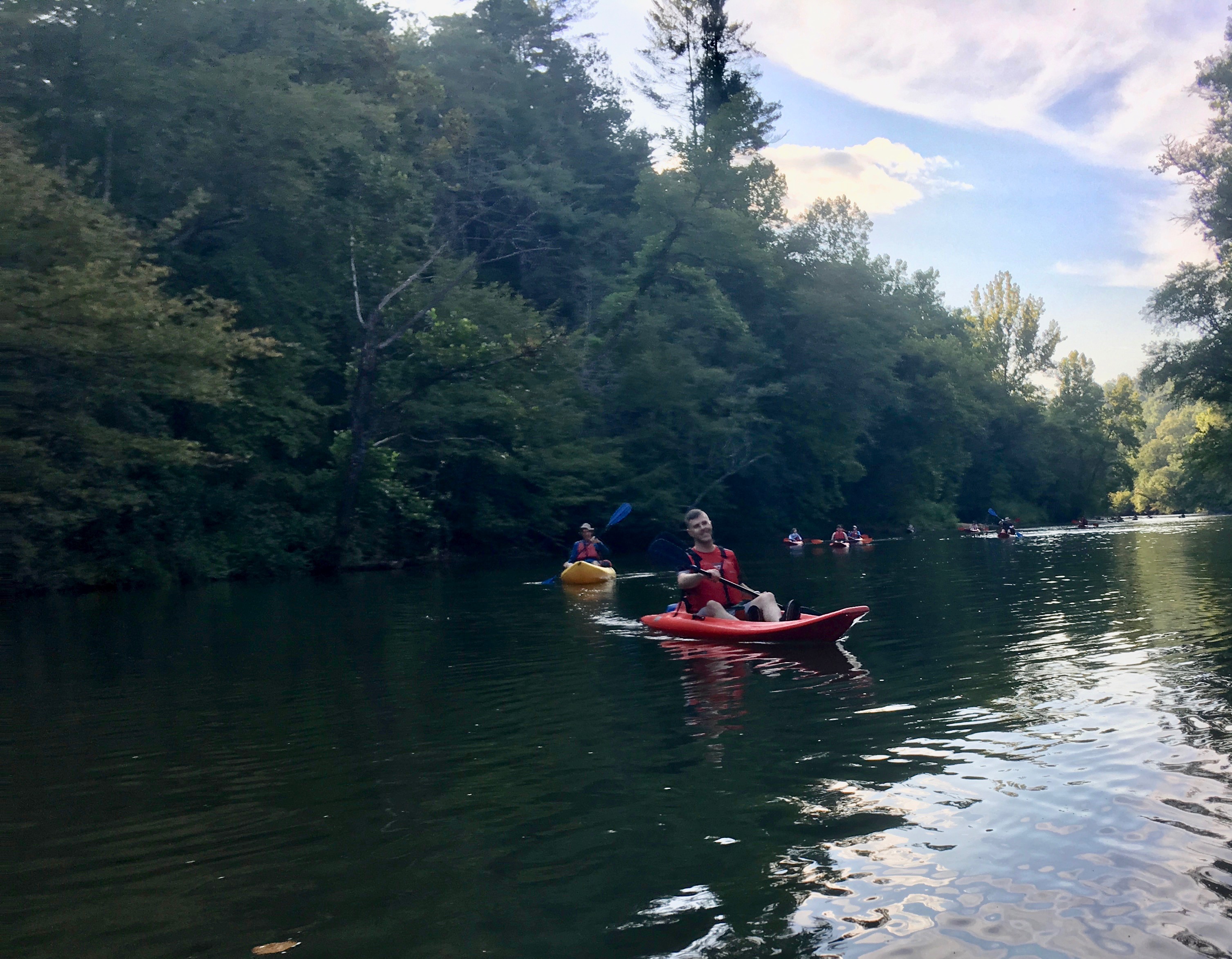 Join us for an early scenic paddle down the Chestatee. Beginners may come but there will not be any instruction so it's helpful if you have paddled before.
PLEASE READ INSTRUCTIONS CAREFULLY
Arrive 10 AM SUNDAY AUG 7 at the take-out point. at 4898 S. Chestatee St, Dahlonega, Ga 30533. We have to be on time as there are groups right after us. If you are late you may miss the trip.
Fill out waiver before getting into Van.
MASKS are MANDATORY while in van as COVID is high now.
Appalachian Outfitters van will take us to the put-in where you will get a sit-on-top kayak, paddle, personal floatation device.
Get on river: 10:30AM The trip averages 2 - 3 hours, id 6 miles long with some nice little rapids. We will be using their sit on top kayaks (see below if you want to bring your own kayak). The Outfitter will provide shuttle, kayak, PFD (personal flotation device) and paddles. There are nice changing areas and maintained porta potties for us to use before and afterwards.
We'll stop about halfway through on Big Bend and get out and stretch our legs and have a snack.
While this trip is rated for beginners, please be comfortable enough around moving/swift water to take care of yourself and possibly swim. If you fall out of your boat you need to be able to take care of yourself while waiting on assistance from someone else to retrieve your boat and/or paddle and/or help you back in your kayak.
PAYMENT
Payment: $32 per person includes everything + tip. - VENMO IS PREFERRED METHOD
Pay by Paypal to theorganizer@gmail.com
or send by venmo to: @allison-Carter-37.
Payment must be received 48 HOURS AFTER SIGNING UP or you will be deleted from the trip.
BRING OWN KAYAK
Bring your own kayak - we will allow up to two personal kayaks for a fee of $10 plus tax and $5 to tip after (Total $15). If you plan to bring your own kayak, the first two people who sign up and send an email to Allison indicating they will BYOK will be able to bring their own kayak.
BYOK people arrive at put-in point at outpost at 8:30am, unload, and drive to takeout for 8:45am meet up.
The folks that run this place are great. They work hard schlepping these kayaks around and work mostly for tips. These guys are my favorite Outfitter because they do everything for you - they don't ask you to carry your kayak.
No carpool for this event due to COVID.
If you need to carpool you may contact the other members on the list to arrange driving together.
*Rain - be prepared for a sudden rain storm. A plastic poncho usually does the trick. If there is lightning we will get out and wait until it is safe to paddle.