Ok last October, we celebrated the 10th Anniversary of the formation of the AOC with several exciting events.. For this one, we are celebrating the 10th anniversary of the very first outdoor event held... on April 14, 2001, a dayhike led by Amy Pickwick, the founder of the AOC..

Here is the writeup for that one:
Our first hike was a success; everyone had a great time and no one got hurt! We started at 10 AM by hiking up the scenic path to Anna Ruby Falls (just North of Helen, GA). Once at the top of the 0.4 mile easy to moderate trail, we stopped at the base of the falls to take pictures, take in the scenery, socialize etc. We then went back down the trail and upon reaching the bottom, climbed in our cars and headed to the Unicoi Lake Trail. This 2.4 mile easy loop gave us both more photo opportunities and a chance to socialize with one another more. Although an easy hike, this loop provides many opportunities for fishing, swimming, hiking and large open areas condusive to sports. When it was all over, we enjoyed lunch alongside the Chattahoochee River at the Troll Tavern in Helen, GA and were done with the activity by early afternoon. - Amy Pickwick

And here are a few pics from that historic occasion: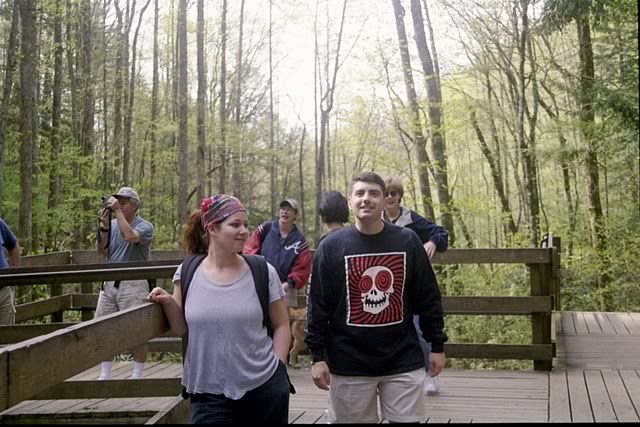 So exactly 10 years later we are going to recreate the outdoors portion of this first AOC event. We will start with Anna Ruby Falls and take the easy 1/2 mile walk up. This trail gains about 200 feet in elevation.

We will then move on to the Unicoi State Park Lake trail and do the 2 1/2 mile hike there. As you would expect, this trail follows the edges of the lake and is very scenic.
At this point, instead of going to the Troll Tavern, we will head over to nearby Mt Yonah (which wasn't even part of the National Forest with a developed trail back in 2001). We will end the day with a hike to the summit and view the sunset if conditions are favorable.
The total distance between the three hikes will be about 8 miles with elevation gain close to 1900 feet. These sound like solid D4 stats, but we are going to make this one a D3. because pace is everything...and we will just take our time with a leisurely pace. It won't feel nearly as strenuous as a D4 would.

Also it is tricky to figure out a good carpool time with there being three hikes in here. This is on a weekday so it is set it to hopefully miss morning rush hour traffic. If we have some time to burn before Yonah, we can always stop and get something to eat or just hang out at Unicoi Lake a bit longer. Sunset is at 8:08 PM so don't count on getting back to the carpool until about 10:30 PM. As long as the weather cooperates, it will all be good.
But to recap where the AOC has come in ten years, there have been nearly 2500 events held and over 33,000 person-trips. That's a lot of wonderful memories and smiling faces...lets hope for at least 10 more...