The North Georgia mountains may not be the Himalayas or the Rockies, but do offer many opportunties for challenging and exciting hikes to outstanding scenic views. For this series, we are summiting the 20 highest peaks in Georgia. (For more info on the criteria used, click here.)


#9 - Eagle Mountain

Standing 4240' above sea level with 600' of clean prominence, Eagle mtn is a somewhat underappreciated north ga hike. The trail is not marked and not easy to find, and this is probably part of it. But it has a great feel to it and some nice views from the top, so well worth the drive to Hiawassee and the somewhat challenging climb up.

Eagle Mtn is the focus of this event, but just can't do a hike there without running up to to the top of nearby Bell Mountain first. It is right on the way and you get superb panoramic views from the top. Eagle Mtn looms large to the east and it's fun to look down and see what you will be hiking up shortly.

Unfortunately the summit area of Bell (3420') is not very naturalistic....the top is scarred from quartzite mining..and if that wasn't bad enough, there is graffiti littering most all of the exposed rockface.. However.....keep your gaze directed outwards and you will enjoy panoramic views of Brasstown Bald to the NW, Double Spring Knob to the S, Lake Chatuge to the W. And fun to climb on the rocks...everyone always really enjoys this little hike.

View from Bell looking west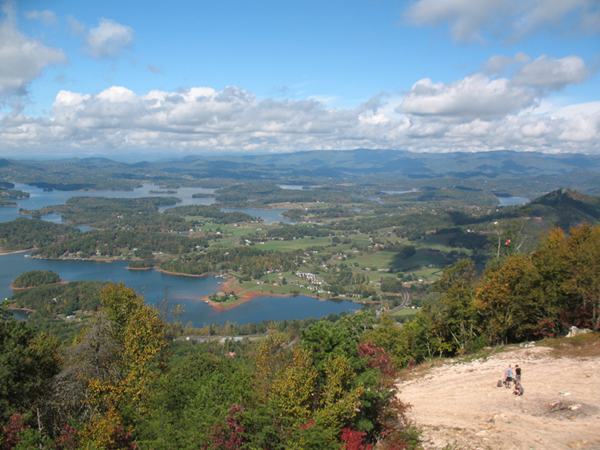 Eagle Mountain, winter view, as seen from Bell: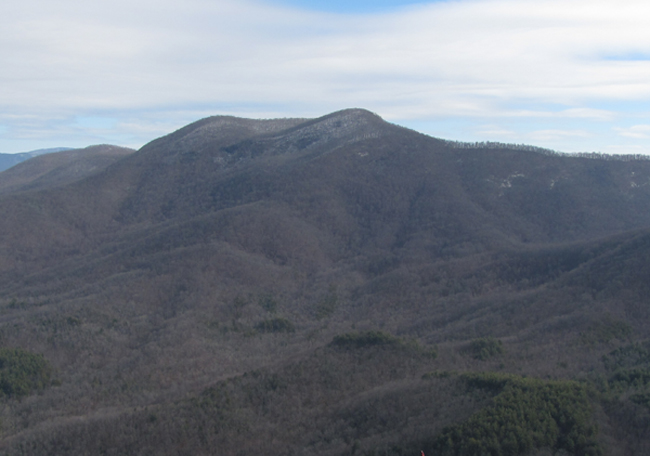 After we check out Bell, it is only a short drive to the Eagle Mtn trailhead. This is the end of a forest service road that is not bad but we need high clearance vehicles for it. So if we need additional drivers, those on the waitlist who can drive will have priority to be added to the group. Actual max group size is actually 14 and not 12 but keeping those two spots open in case we need more drivers.

The trail up Eagle is on old logging roads for the most part and not that easy to follow unless you have been there before. So everyone will need to stay together as a group and we'll just go at about a 2.5 mph pace...or maybe a bit slower on the steeper sections.

Route up Eagle (that is Bell on the far right):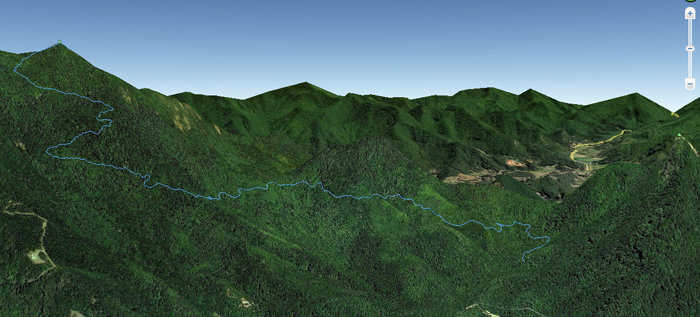 Just off the Eagle summit, there is a rocky area where we can sit and have lunch. it depends on how cold and windy it is. Also to extend this hike a bit, we will explore the southern part of the ridge some...this is technically bushwhacking but the terrain is not that difficult. But we will try to find another couple of rocky areas to get some additional views. This part is optional but it's recommended that you don't sign up unless interested in doing this portion of the hike...we don't want people sitting at the top in the cold having to wait for the rest of the group to return....but up to you.

Summary

- Bell Mtn - 1.9 mi, 700' ascent/descent
- Eagle Mtn up - 4.2 mi 1900' ascent, 100' descent
- Eagle Mtn summit bushwhack - ~3.0 mi, 400' ascent/descent
- Eagle Mtn down - 4.2 mi, 100' ascent, 1900' descent
- Total distance: ~13.3 mi
- Total ascent/descent: ~3100 feet.
Bell Mtn Click on elevation profile for larger versions Eagle Mtn