Fri, Mar 11 2016 - From the Andes to the Pacific (View Original Event Details)



| | | |
| --- | --- | --- |
| Trip Leader(s): | | Ann, Richard A. Zalik |
| Participants: | | Richard A. Zalik, Pam Y, Martha, Helena F, Li Sun, Ann, Ralph Howard |



Write Up:
Updated on 6/20/2016 with Alejandro's pictures.
Updated on 6/18/2016 with the link to Li's pictures.
Please send your photo albums to Ann Howard (ann@atlantaoutdoorclub.com), and I will incorporate them into the write-up.
Ann's picture album is at: https://goo.gl/photos/Qptom69YjTKBDtsm7
Li's picture album is at: https://picasaweb.google.com/115005786129579394069/6297527939647440785?authuser=0&authkey=Gv1sRgCMHkirvaieiVxwE&feat=directlink
Alejandro's pictures:
Trail write-up: We were met by our trail guides, Stephanie and Walter, for a pre-trip meeting. We took the van to the trail head and began with a stop and go as we went through Argentina's pre-exit and Chile's entry. Computers being a bit slow, we than began our trip through what can best be described as a cross between the countryside of Switzerland and the vegetation of New Zealand. The hillside farms were a medley of greens. There were delicious plums and apples. We stayed at quaint farmhouses with wood cooking stoves. Some have electricity, some do not; likewise with flush toilets. What they do have in common are honest, hardworking people that do not see any political boundaries. We enjoyed the companionship of our hosts, the simple farm food of sheep, always bread/butter and some of the best vegetable dishes any of us have eaten. Truly farm fresh. Staying in the farm houses was enjoyable; it was also a nice break from staying in a tent. The stars in the southern hemisphere were amazing. There were fresh blackberries along the trail. Cool, clear creek water (no filtering required). The trail is well marked, um, with horse manure, and at times was a challenging mud fest. Since our trip was mostly dry, we were fortunate not to have a mud hike, but for one day.
Stephanie and Walter were the best guides I have ever encountered. I simply cannot say enough nice things about them, but I will try. They were professional, knowledgeable, good cooks, well prepared, kind. It isn't always easy to be kind. They showed us what they loved about Cochamo – and we enjoyed it. They anticipated our needs. They exceeded our expectations. They were funny.
The hike was made easier because Alberto and Javier took up the extra load with the pack horses who carried our possessions to our next camp site.
What did we get out of this trip? Swimming in the river at Lago Vidal Gormaz. Hiking in shin deep mud, finding horsehoes for souveniers. Plant life, ferns, huge trees, flowers. Good food – nobody was hungry – and yes the chocolate from Mamuschka in Bariloche was dee-licious. Learning about the culture - how a woman in her sixties could, by herself, run a farm without electricity or a phone and live in it all year long. Learning about our own hiking abilities. Communing. Each one of us has had a wonderful personal experience thanks to Richard, our guides, our hosts, and each other. That's what this trip was about.
Here are the trail maps:
Cochamo Day 1 - Paso Leon to Correntoso Campground 2016-03-13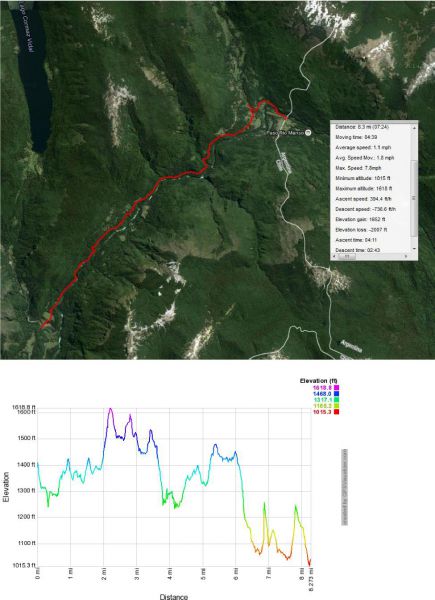 Cochamo Day 2 - Correntoso Campground to Lake Vidal Gormaz 2016-03-14
Cochamo Day 3 - Lake Vidal Gormaz to Refugio El Arco 2016-03-15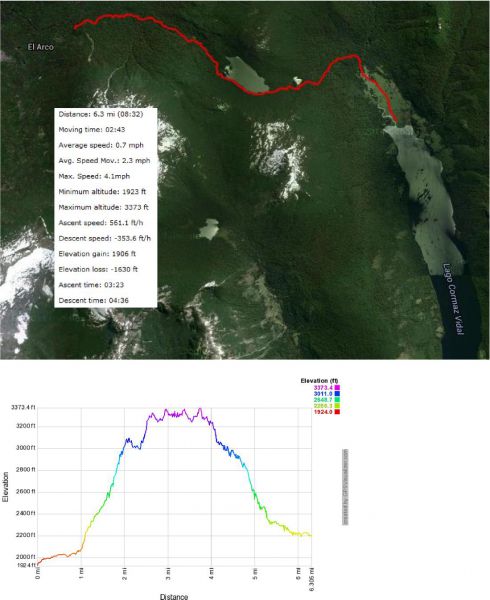 Cochamo Day 4 - Refugio El Arco to Campo Aventura 2016-03-16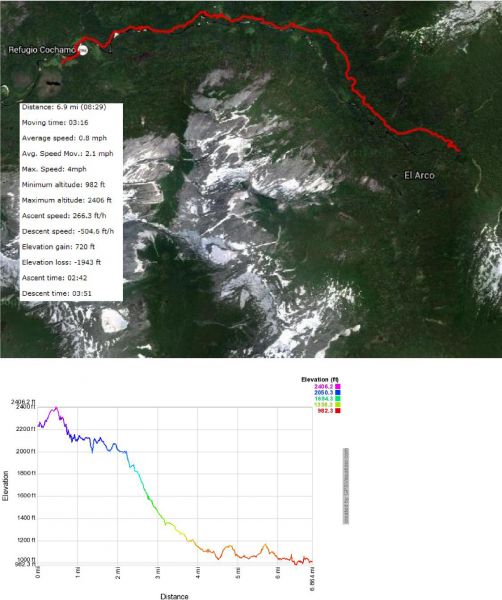 Cochamo Day 6 - Camp Aventura to Usted Esta Aqui 2016-03-18
---