Tue, Jan 1 2019 - 30th Annual New Years Day Trail-of-the-Hare CHEDDARHEAD Hike & Party (View Original Event Details)



| | | |
| --- | --- | --- |
| Trip Leader(s): | | Charlie Cottingham |
| Participants: | | Charlie Cottingham, Joe Blessing, Lyn S, Candy, Harry F, Laura X, Gaucho Mike, Melissa T, alanpugh, Maya, Lisa W, John, Jim, Greg Walling, Nice Nancy, Dustin, Sharon, Stacey Johnson, Robin Walling, Melinda Andre, Susan W, Tim W, Patrick Barry |



Write Up:
A big high-five to our fun-loving AOC members who rang in 2019 in such an unusual and unforgettable way! Hats off also to our friends in the Atlanta Hash House Harriers and Harriettes ("AH4") for doing their usual bangup job hosting this big annual event with its distinctly Wisconsin flavor, "cheesy" dry humor and all-we-could-eat-or-drink New Year's Day delicacies & refreshments.

The weather this year couldn't have been better! - a welcome break from the recent heavy rains, in the balmy low-60s with partly sunny skies. We began by helping one another (about 150 of us harriers, a.k.a "hashers") follow the "hare's" tricky trail. The flour splotches this year took us through a clever variety of heavily wooded terrain and neighborhood streets in SE Marietta, and the ~3-mile route included a healthy dose of off-trail "shiggy," i.e. briars, steep muddy creek crossings and swampy ground.
Our reward for reaching the end of the trail was the big outdoor "On-In" party, hosted this year by two beloved veteran hashers, "Primer" and "Service my Tool," in their beautiful back yard. The outdoor cookout fare was copious and delicious as always, with traditional blackeyed peas, ham & rice, hot grilled brats, Canadian-style "poutine" french fries, deep-fried fresh Wisconsin cheese curds, tasty desserts and kegs of ice-cold beer.

Sadly, this 30th annual Cheddarhead may have been in its final year, as recently divulged by Dave Paul, the friendly & amazing guy who founded the event in the '80s. Dave (a.k.a. "Public Enema") has done an incredible job managing it all these years, leading its crazy offbeat songs, hilarious ceremonies and our annual mass recitation of his "Wedge of Allegiance." Also "Enema" emcees the awarding of "cheesy" Wisconsin-style door prizes and the traditional "doing of down-downs" (trumped-up reasons to chug small cups of beer while being sung to by dozens of other hashers)! As a thoughtful commemorative gift this year, Public Enema and his partners in crime awarded every Cheddarhead registrant a colorful sew-on jacket patch with a "cheese-curd" bowling ball, 10 bottles of Wisconsin beer, and the inscription: "30 Years of the Cheddarhead Hash, New Year's Day, Atlanta GA."

"On-On," and a Happy New Year to all! - posted by Dirty Limerick (a.k.a. Charlie), Wed AM Jan 2nd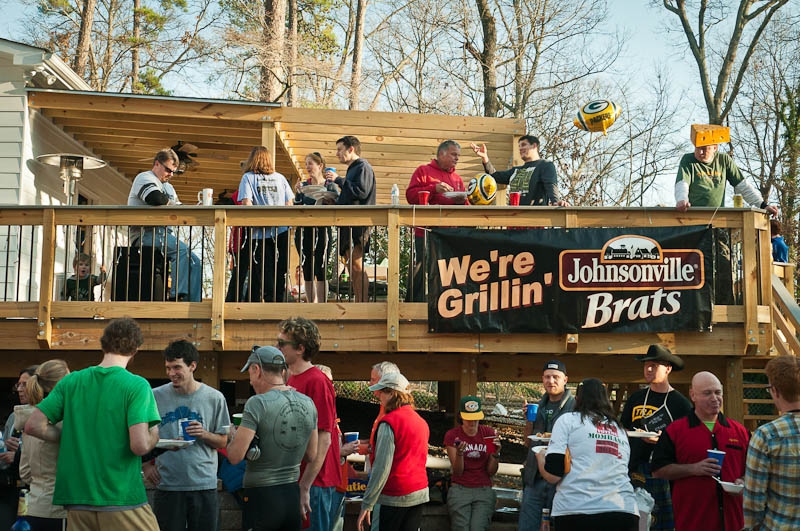 - Photo from "On-In" party in Primer & Service-my-Tool's back yard

Cheddarhead Auld Lang Syne
- With added 1st Verse and final AH4 "Cheddarhead Chorus" verse by Dirty Limerick, 2017-18
I'm wishing you a Happy New Year's Day
With a hearty "Auld Lang Syne,"
Let's raise a glass to the good times past
And a future oh so fine,
And as we celebrate the brand new year
We'll sing a song of cheer
For the boundless blessings of the earth
And loved ones far and near!
Traditional Chorus:
Should old acquaintance be forgot
And never brought to mind?
Should old acquaintance be forgot
And days of Auld Lang Syne?
For Auld Lang Syne, my dear,
For Auld Lang Syne,
We'll take a cup of kindness yet
For Auld Lang Syne!
Special Cheddarhead Chorus:
Should old acquaintance be forgot
As we hash the Cheddarhead,
You bet there's never been a bash
Where the guests were better fed!
So here's to all our cheesy hosts!
- Let's yell a Green Bay cheer,
And chug a sudsy down-down toast
To an awesome Hash House year!
---