Sat, Jan 28 2023 - Rappelling at Allenbrook (View Original Event Details)



| | | |
| --- | --- | --- |
| Trip Leader(s): | | Horhay |
| Participants: | | Horhay, Jim W, Hugh Baker, LuAnn, Ashley J, Luis, Sarah |



Write Up:
What a great day to step off the ledge my friend!
We stress the importance of safety on all events, this is no different! Rappelling is the most dangerous aspect of climbing and rightly so. Helmet are worn for a reason and we're all better for that. Thanks to all that came out, extra thanks to those that brought a rope too.
Glad some of you extended the event to include some top roping...we'll definately have to add some time to the overall event time so we can include that next go!
I don't know how I didn't get a nice group photo, but here's Ashley J Dropping in on a 2 tier ledge that's about 70' from top to bottom. Note her Rappel Extension + an Autoblock (for safety) ensuring a safe, controlled descent!
Well done to all you 1st timers - I know it's not the last!!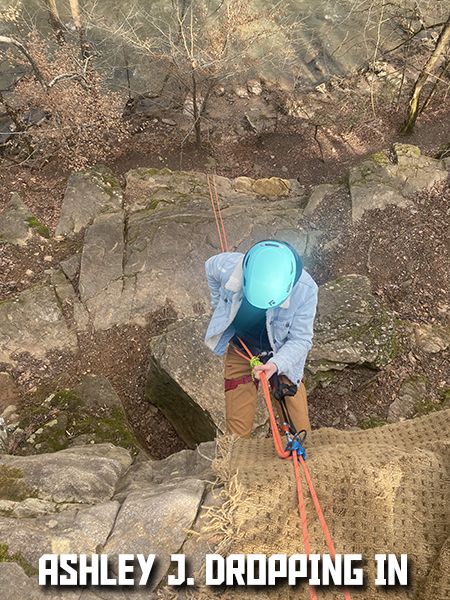 ---