Sat, May 3 2014 - Chattooga River Trail Backpacking Beginners Welcome (View Original Event Details)



| | | |
| --- | --- | --- |
| Trip Leader(s): | | Kristi, Michael Johnson |
| Participants: | | Kristi, Michael Johnson, Silvia, Scott Kozlowski, Barbie, Nancy L, Kevin Kelly, Greg Walling, Clare, Armin, Pete Sadel |






Click for Album
Write Up:
What a great weekend for backpacking with long-time and new friends. The weather was perfect for our first weekend of May, in the 70's during the day and 40's at night. A few first-time backpackers participated and did great; no doubt they are all going to be back for more backpacking adventures. We hiked about three miles in and took a beautiful large campsite (thanks Scott for grabbing it).
While hiking in not too far from the campsite, Kristi stumbled on a tree root, strained a muscle and was not much help with the fire gathering that went on after arriving at camp; thanks much to Scott for clearing out the fire pit, Armin and Michael for the majority of the wood gathering which took a lot of effort as the place is fairly cleaned out; Kevin and Pete for sawing up the dead logs... We all helped break it up, and we all enjoyed its warmth and light in the cool evening. The fire was started early on since there were a lot of gnats flying around our faces; the smoke definitely put a dent in that. Most of the crew visited the falls during the afternoon, and some of us did some quick swims in the cool water as the sun warmed up our river bank. Hanging out at the fire was really nice and comfy with previously set up stone chairs and what we came to call the couch, a few backpacking chairs and large logs.
Interesting conversations all weekend; food was a big topic (e.g., what's the difference between a bean and a legume?, what makes cheese addictive, should vegans have goose-down sleeping bags), various stories of past outdoor adventures and travels, news, music, etc. Discovered Barbie eats the Mary-Jane brand instant meals, as I do. Nancy thought she heard an animal at night. Dog Suzie kept her owner awake all night despite the lulling sounds of the river. Musical thanks to Scott for bringing his guitar, and to Armin and he for playing it most of the time; and to Michael for bringing in some harmonica late at night.. and (to Michael) for bringing some cold beers for post hike (the best co-leader!)
Lots of beautiful song birds on Sunday morning. We hiked out mid morning, most of us had lunch at Universal Joint in Clayton (with good service).
The Chattooga River never fails to offer its wild and scenic beauty and I think we all relaxed and chilled into the vibes of the forest and river. Thanks to everyone for participating! Good time!
-Kristi, May 5, 2014.
p.s. To see Michael's pictures, click the link above to right.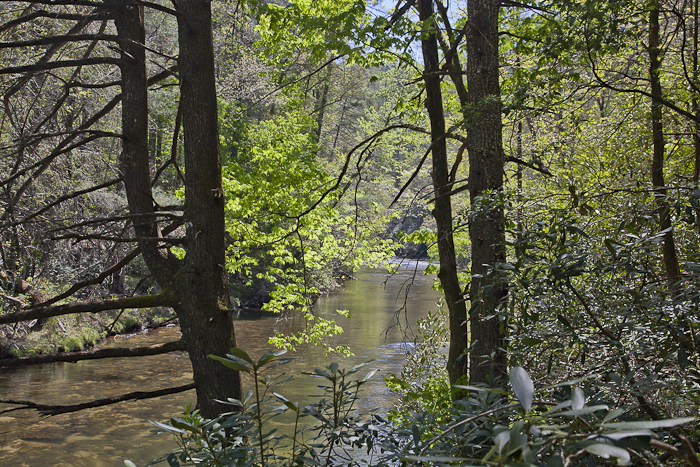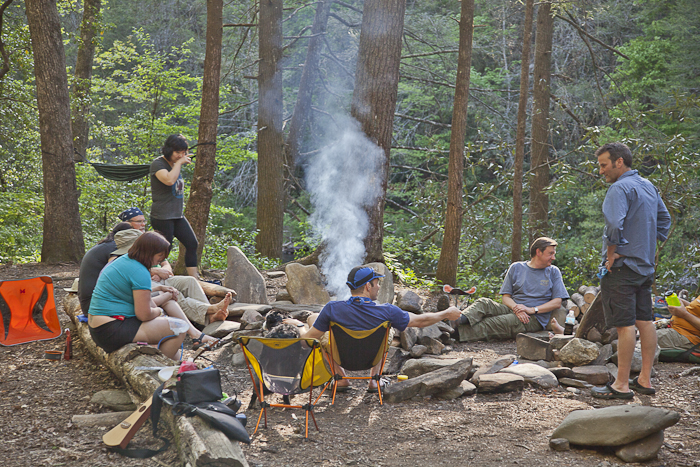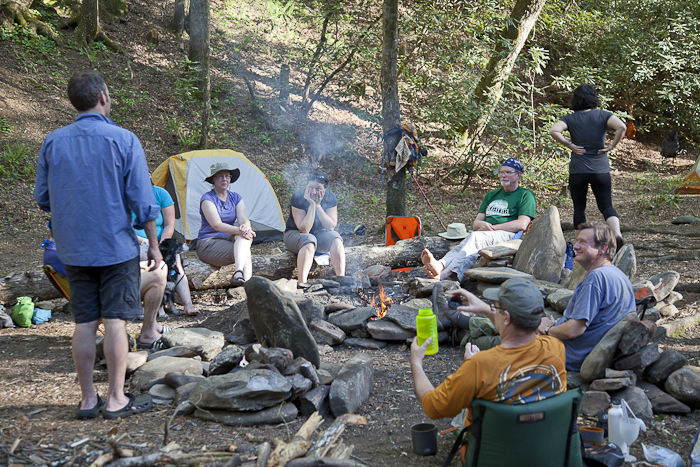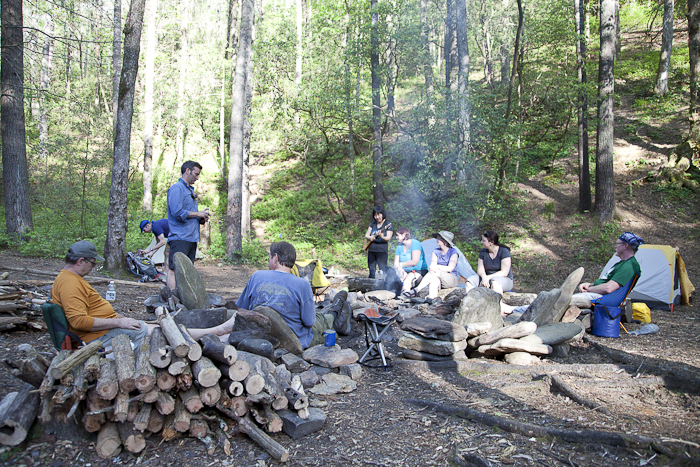 ---