Sat, Aug 2 2014 - Chattooga River/Ellicott Rock Backpacking (View Original Event Details)



| | | |
| --- | --- | --- |
| Trip Leader(s): | | Kristi, Michael Johnson |
| Participants: | | Kristi, Michael Johnson, Silvia, Jennifer S, Matthew, Ryan, Katie Morris, Matt |



Write Up:
The wet weather forecast tempted some of us to want to stay home for this trip, but as it turned out, we had only had about two hours of rain on Saturday afternoon; and that was after all the tents were up, tarp set up, firewood gathered... Great group of backpackers who came out for this one! Matt V brought a large 16'x16' tarp that was very much appreciated as all of us could hang out under it while the rain storm dropped a lot of water. Jennifer said, "If you're on this trip, you can be assured that that that person really loves the outdoors." And, we all did, and do.
When we started out Saturday morning, some day hikers with a small dog had stirred up a yellow jacket nest, making the trail virtually impassable. We ended up bushwhacking around the area to avoid them, but there were a couple more nests on the trail and one of our members took a couple stings, as well as a pup. The secret to hiking with yellow jackets is to spread the group out so there is a lot of space between each one, try to be soft footed and avoid poking the trail sides too much with trekking poles. No one was stung on the way out Sunday morning as we followed this practice.
Swimming was very cold as we were camped just downstream of where the East Fork enters the Chattooga River. Nevertheless some of us braved it to further immerse our bodies in the natural world, emerged refreshed and more alive for doing so.
Thank you to my good friend and co-leader for coming along, as well as everyone who really made this truly a wonderful relaxing weekend! I'm still thinking about the fable/story that Jennifer shared, the visuals of Ryan chopping some downed wood and making shavings with his knife - something you just don't do in the city; Silvia sitting along the river bank early Sunday morning - at peace; Micheal checking out these tall White Pines for climbing possibilities; Kiwi the pup running through the forest - so free and happy; the cozy shelter that Matt and Katie set up; and Molly, her coat so full of dirt! Good times, thanks to all!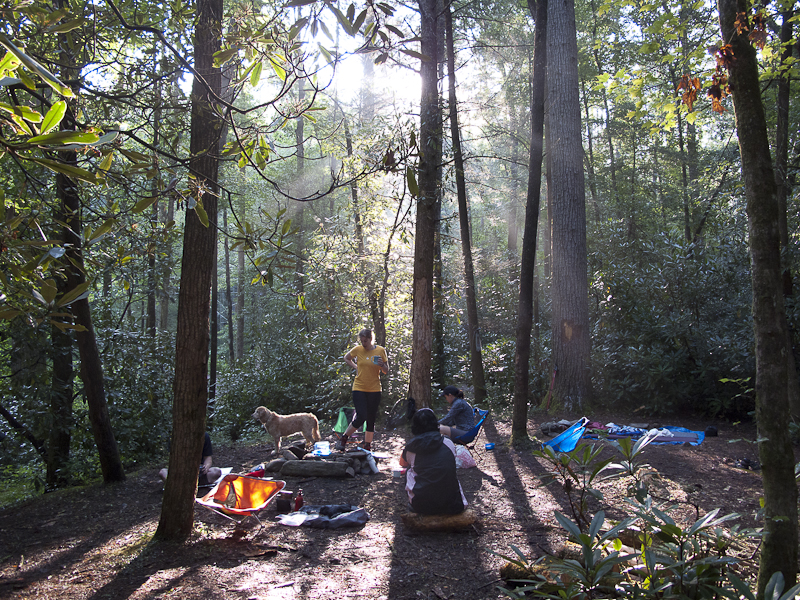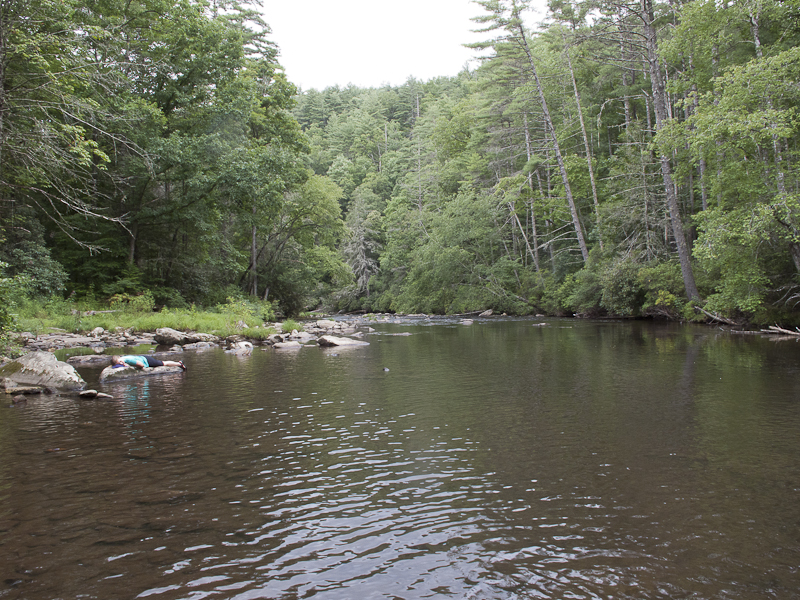 ---