IMPORTANT UPDATE: Please read and consider the changes in this event outlined below. After reviewing the changes confirm with Jim or Clay (Lisa is currently working out of town) that you still are interested in attending the event. Those who do not respond will be moved to the wait list.

As Lisa explained in a previous email, uncertainties in her schedule have led to Jim and Clay assisting as coleaders. All of your trip leaders are very excited about this event. After further research we have made the following changes:

1) Start Date: The event has been moved up one day and will begin on Tuesday, September 15.

2) Event Duration: 5 days, ending late on Saturday, September 19.

3) Trail Location: We will still be hiking on the Slovene High Level Route as originally planned. However, we will hike a slightly different section which better accommodates our transportation and shelter needs. The level of difficulty is comparable to the original route. See distances and elevations below.

4) Participation: The trip leaders reserve the right to review the fitness and experience of all registrants to ensure the registrant is prepared for a hike of this difficulty. If you do not have a history of D4 and D5 events in the AOC you may be contacted by a trip leader. International trips present unique challenges and circumstances and group dynamics are important. Therefore the trip leaders also reserve the right to consider the social history within the AOC of all registrants and to make the final determination as to whether the registrant is an appropriate candidate for this event.
*This Itinerary is subject to change * The Julian Alps in Slovenia are absolutely beautiful. We will backpack hut to hut in the Julian Alps of Slovenia. The Terrain varies from hiking on trails through dwarf pine, past mountain lakes and on long tranverses on balcony paths through ridges covered with flowers. The route we will take is filled with history following a WWI military paths. We will begin the journey in Trenta. The distance for the first day will be 5 miles and about 5 hours gaining 4750 feet and lose 0. This day will be an up hill climb. Zasavska koca na Rehodavicih hutwill be our destination to get our stamp and rest for the night. This hut is said to have stunning views. Day 2 will be about 6 hours and 7 miles. We will gain 197 feet and lose 2100. We will hike through the Triglav Lake Valley. There are seven beautiful lakes. Our evening wil be spent at hut Dom na Komni where will will get our second stamp. Day 3 is a historic walk passing old World War I military instillations. We will see an old military hospital and graveyard. There will be about 20 old military stone buildings for us to view. The views are said to be stunning on this day. The distance will be a little over 7 miles and 3773 of elevation gain. This day will most likely be almost 8 hours if we stop often for photos but possibly a little less. Our hut for the evening will be Planinski dom pri Kmskih jezerih where we will get the third stamp. The 4th day will be our longest day of hiking. We will travel about 10 miles and gain 787 feet of elevation but lose 3642 feet of elevation. This scenic path travels along the south hills of the Julian Alps. I am estimating 10 hours for the day but the book says 8. The evening will be spent in hut Koca na planini Razor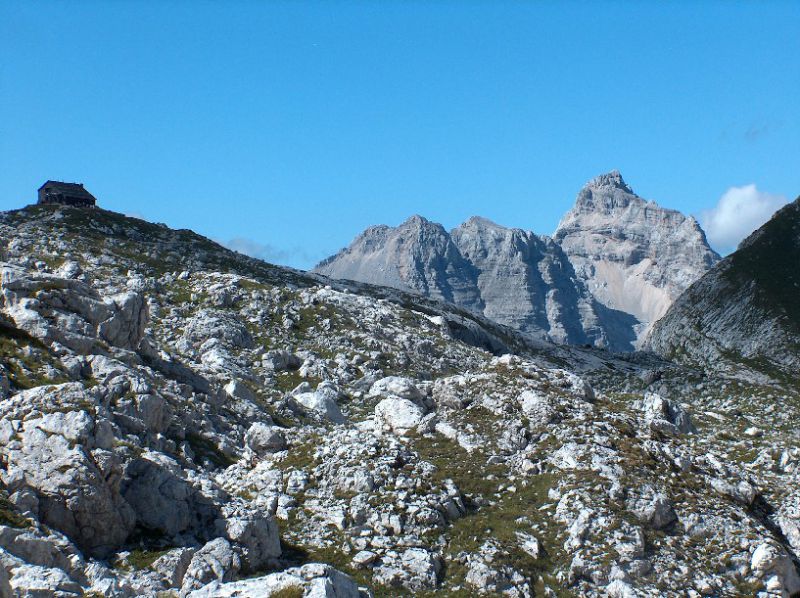 where we will get the 4th stamp. Day5: This will be another long day but we stay high up on the ridge for the day for glourious views. We will not pass any other huts this day but will have an alternative route down in case of bad weather. We will gain 3379 feet and lose 1673 feet. There will be great views from mt. Vogel We will stau at DomZorka Jelincica na Crmi prsti for the night. Day 6 will be our last day and just a little over 5 miles.we will gain 460 feet and lose 3839 feet of elevation. We will continue to walk the lower Bohinij Ridge down to the road of Petrovo brdo. The 6th day will take about 5 hours.This will be an explorer trip. We will pass other huts on our journey to get stamps or spend the night if not on schedule. The huts are between 11 and 21 euro per night. Some huts include a meal and others you must pay a small fee for a hearty meal. The higher huts only have rainwater. You will need to purchase bottled water and a lunch everyday at the hut for our daily journey. Beer and wine are also avalable for purchase. Bedding and pillowcase are provided by the hut. The type of bed and price will vary depending on what type of bed is available. We are going during the low season and sleeping accomodations should not be a problem. We can attempt to secure a hut reservation for each night when we arrive at the national park. You must have an adventurous spirit for this trip. If the selected hut is not available we may have to hike another half a mile or more to the next one. It is recommended that you bring approximately $60 per day for this adventure. Cash must be paid for your hut, food, water, lunch, snacks and incidentials. For those that want to climb the highest peak in the Julian Alps, Triglav stay an extra day.
websites to check out:
http://slovenia-tourist-guide.com/julian-alps.html
http://slovenia-tourist-guide.com/triglav-national-park.html
https://www.youtube.com/watch?v=1oVSnCQTvi4
https://www.youtube.com/watch?v=I8DlXa_933Y
http://www.summitpost.org/kredarica-hut-triglavski-dom-na-kredarici/349588