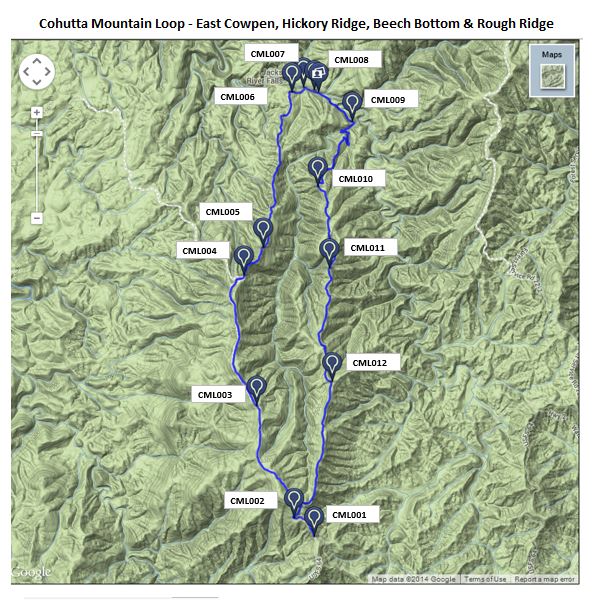 Dotted with place names like Crooked Dog Gap and Rough Creek, this 15.5-mile route mixes rugged ridgeline
climbs and quiet riverside campsites.
Distance: 15.5 miles
Concurrent Mapping and Localization (CML) points are below.
Map is at http://www.trimbleoutdoors.com/Maps/EmbeddedMap.aspx?tripId=36478&w=800&h=800&b=1
CML001 Location: 34.8815613, -84.5658722
From Three Forks parking lot, begin gentle ascent amid mature hardwoods
CML002 Location: 34.8852959, -84.5707321
L @ Y, bearing NW on East Cowpen Trail to begin the clockwise loop. Ahead, skirt the E edge of Cowpen Mtn. (4,151 ft.)
CML003 Location: 34.9073372, -84.5796661
Straight @ 3-way; to R, hemlocks and oaks shade campsite with space for 4 or 5 tents. Trail heads N past Buckeye Mtn.
CML004 Location: 34.9329491, -84.5826797
Cross wide spot on ridge; go straight @ T bearing NE on Hickory Ridge Trail
CML005 Location: 34.9384308, -84.5780411
Pass lone 12-ft. American holly tree; heading N, descend along gully on N side of Turkey Stand Lead
CML006 Location: 34.9689865, -84.5712128
Forest transitions from hardwood to hemlocks with lush undergrowth
CML007 Location: 34.9699326, -84.5683899
Beech Bottom: fish for trout, soak in stream, enjoy starry skies.
To continue, head SE on Jacks River Trail. Cross Jacks River twice.
CampsiteLocation: 34.9689903, -84.5648193
Small camp site here along Rough Creek; room for one or two tents
CML008 Location: 34.9693756, -84.5659027
Cross Rough Creek and turn R, traveling SE;
CML009 Location: 34.9631729, -84.556778
R @ Y into Rough Creek; climb side gully to reach N end of Rough Ridge
CML010 Location: 34.9504128, -84.5650253
Look SW for vantage of Rough Creek cutting through deep, forested gorge; pass spring just S of Crooked Dog Gap
CML011 Location: 34.9343452, -84.562294
Rollercoaster over oak-dominated hills and saddles on Rough Ridge
CML012 Location: 34.9119568, -84.561615
Straight @ unsigned 3-way; head S along crest away from Sugar Cove; in 2.1 mi., close loop @ CML002; backtrack to start
Here's an elevation profile of the hike: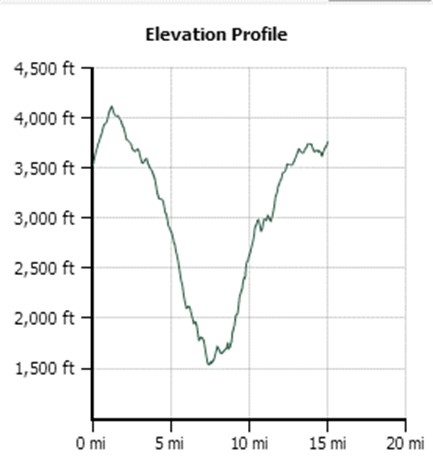 Survey

Elevation:
Total Gain: 4260 ft
Total Loss: 4018 ft
Net Change: 242 ft
Here's a sign at the intersection of Rough Ridge Trail and Jack's River Trail which we will encounter after our second Jack's River crossing.