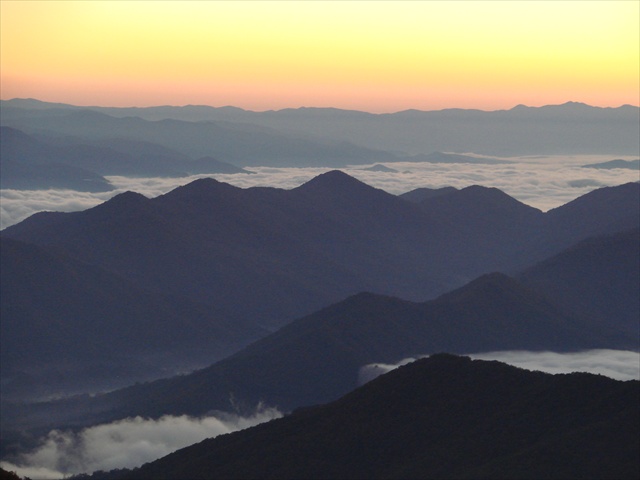 This hike is for very fit and experienced backpackers, since there is a 13,223 elevation change in 21.3 miles. But it's also for people who love to be in the wilderness. It's not all about fitness, it's about what we can do once we're fit.
We'll hike 3.5 miles to camp our first night on top of Bob Stratton Bald. This is a spectacular mountain vista high above the valleys with awesome views.
The 2nd day we'll hike down into the Slickrock Valley, with a short detour to have lunch on top of Hangover. Total distance will be about 7 miles, but we'll descend about 3500'! Over 10 yrs ago, I wrote the following description of this valley. Thanks to Kristi for forwarding this to me.
"Come join us in the valley of the giant toads and fat bats. We camp beside gentle rapids a short distance from Wildcat Falls. In a November trip I watched a small Black Bear walk across the top of the falls and disappear quietly into the forest. During the day, you can swim, hike, read, or do just about anything you want to do. Once we set up camp, we'll stay there until it's time to go back to the city. At night, for the more brave hearted, you can venture from the security of the campfire and look at the glowing worms or sit beside the giant croaking toads. Also, if you walk down to the top of the waterfalls and look up at the sky at twilight, you can watch the fat bats doing their best on bug control. Don't worry, no vampire bats here!"

The 3rd day, we're not breaking camp. Leaving Slickrock is hard to do, since it's such a beautiful valley. I can bring the group to Lower Falls as one option. But this will be completely up to you. So if you want to stay near camp, that's fine with me. If you want to explore a different area near our base, we can discuss it the night before at camp. This is a wild and scenic valley so I don't recommend hiking alone, even though I have many times...still, since it's for experienced backpackers only, I'm trusting you in advance to be able to handle yourself in the wilderness.
If the group decides to hike along Slickrock river on Saturday, water shoes will help the many river crossings. I plan on bringing a pair, because I love walking along and across that river.
The 4th day (Sunday) we'll hike up the ridge into Citico, and out about 11 miles, back to our cars. This will be a tough long hike, so we plan on getting an early start Sunday morning. This will allow us to enjoy the hike out as well, since the hike through the forest and along the ridge is quite beautiful, with a break for a quick lunch on the way.
If you haven't done D6 backpacking trips with us, I will need a way to find out your fitness level and your experience. This will not be a race, from my point of view, but to avoid injury or lack of time spent near each of our base camps, it's mandatory, that you are experienced in mountain backpacking. Thanks for your cooperation in advance.
We will allow a maximum of 10 people, but you will remain on the wait list until we clear your fitness and backpacking experience level. The list will be done first come, first serve, but you'll only have a short time to contact the trip leaders of your capabilities before you're skipped. It's not complicated, just be prepared ahead of time, and you'll be fine.
We will allow a maximum of 2 well behaved dogs, who are experienced in backpacking as well. This is not the trip to test your dog on mileage or sleeping in tents.
Both of those pictures were taken from Hangover Knob on previous backpacking trips.
Michael Johnson