This is a thirty mile round trip scenic bike ride on the Silver Comet Trail. The Silver Comet is a paved rails-to-trail bike trail from Smyrna to the Alabama line.
We will start at the Rambo Trailhead near Dallas, ride to Rockmart have breakfast at Waffle House in Rockmart, and then ride back.

The breakfast will break up the ride a bit, so perhaps the thirty three miles will not be so daunting to the less experienced cyclist. We will go at a moderate pace of around 10-15 mph or faster (You can pick and choose your own riding pace - fast, leisure, etc.), so with breakfast, expect to spend about 4 +/- hours on the trail.
Here is our trip:
Early on we will cross the Pumpkinvine Trestle, which is 750 feet long and 126 feet high.
Then for the next eight miles, we pass thru Paulding Forest, which is basically a hilly pine woods. The hills will not affect us however, since we will be on the old rail bed, with all its cuts and fills.
Before we emerge from the forest, we go thru the 800 foot long Brushy Mountain Tunnel - definitely stop to take your picture here!
Then it's mostly open pasture till we get to Rockmart. We will pass Coot's Lake on the way also.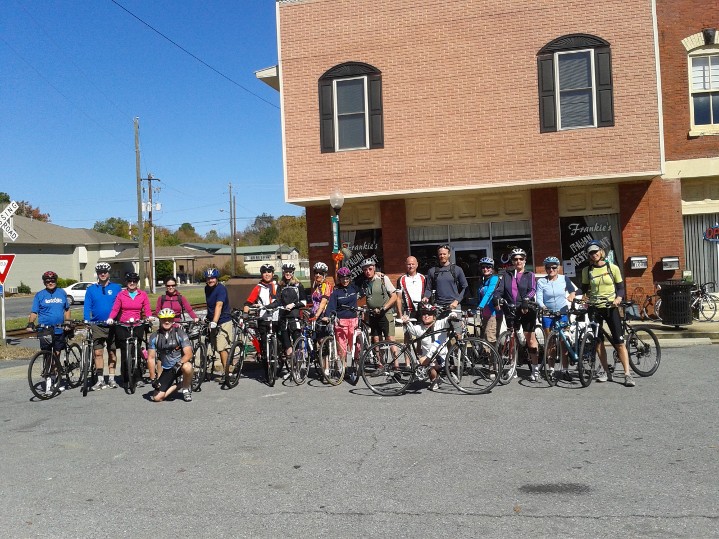 HELMET REQUIRED TO BE WORN - NO HELMET, NO BIKE RIDE

IMPORTANT NOTE: You are responsible for your bike maintenance or repairs on the trail.