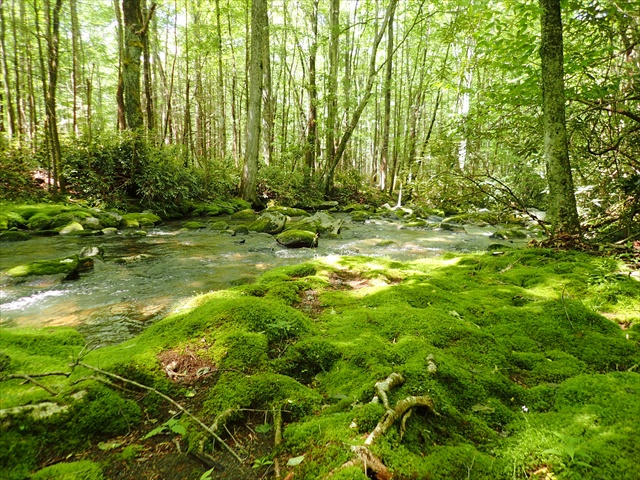 The United States Congress designated the Joyce Kilmer-Slickrock Wilderness in 1975 and it now has a total of 17,394 acres. North Carolina contains approximately 13,562 acres. Tennessee contains approximately 3,832 acres. It is managed by the Forest Service. The Joyce Kilmer-Slickrock Wilderness is bordered by the Citico Creek Wilderness to the west.
From Big Fat Gap, we will hike about 3 miles, loosing 1000' in the first 1.5 miles so it's relatively steep in places, down to Slickrock creek. We will make a couple of river crossings, before we get to camp near Wildcat Falls. I recommend having water shoes for these two crossings, and for possible ventures along and across Slickrock creek after setting up camp.

After we eat lunch, set up camp, and collect some firewood, you're free to do whatever you want in this beautiful valley. If you can handle cold water, you can swim, or sunbath on the rocks, hike along Slickrock Creek or just hang out around camp. If you're not experienced in navigation, you don't want to venture too far, since this is a remote wilderness, and many trails are not well marked, especially near the river, where you'll have many fisherman trails, that can easily lead you off the main trails.

On Sunday, we should break camp after a late breakfast and be on the trail by 11am. The weather could force us to leave a little earlier, but we'll discuss that on Saturday night. I love the mornings in the mountains, so it would have to be bad weather, like fog or rain to push us out earlier.
NOTE: We will allow a maximum of two well behaved dogs on this trip. See additional notes below.
Required Items to Bring:


Tent, Sleeping Bag, Sleeping Pad, Appropriate clothing, rain gear, headlamp, cooking utensils, food & water from Sat. lunch to Mondays breakfast.

Recommended Items to Bring:
Use our Event Checklists to make sure you have everything you need.


camera, hat, daypack/fanny pack, water filter, campfire beverages, fire starter, first aid kit