About the trip:
This will be a loop hike in the Great Smoky Mountain National Park. The first day will be a long climb with numerous wateralls. The second day will be a ridge walk taking in Thunderhead Mountain and Rocky Top, two of the most famous views in the National Park. June should be a great time for flowers as well.
Saturday: (11.3 miles, 3500') We will depart from the carpool at 8am, and arrive in the Smokies around 10am. Parking will be just before Tremont Institute at the West Prong Trailhead. The hike will start with a 3 mile walk along a gravel road, paralleling the Middle Prong Little River. (Note: If we take mulitple cars to the event there may be an opportunity to do a partial shuttle for this roadwalk section.) We will then proceed five miles up the Middle Prong Trail, which passes numerous waterfalls. We will veer right and proceed 4.2 miles up the GreenBriar Ridge Trail, before stopping for the night at Derrick Knob Shelter.
Sunday: (14.3 miles) Sunday morning we plan to leave the shelter about 7am, in order to complete the hike and arrive back at Atlanta at a reasonable time. We will proceed west along the appalachian trail ridgeline, taking in the great views at Thunderhead Mountain Rocky Top. We will veer right and descend once more to the valley and our cars via the Bote Mountain Trail and the West Prong trails.
Sites along the trail:
Middle Prong Trail : "Hands down the Middle Prong Trail is the best waterfall hike in the Smokies - at least from my perspective. The trail passes three major waterfalls, in addition to numerous smaller falls, cataracts and cascades." ( http://www.hikinginthesmokys.com/middle-prong-trail.htm)
Thunderhead and Rocky Top: "Rocky Top, which in my opinion offers the best views among the three summits, making it one of the best hikes in the Smokies" (http://www.hikinginthesmokys.com/thunderhead.htm)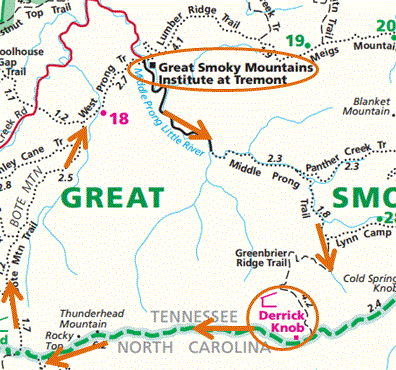 This is an advanced backpack and requires prior backpacking experience! If you do not have a history of D5-D6 backpacks with the club, you will be contacted to confirm that this trip is a good fit for you. Trip leadership reserves the right to remove anyone that they feel may not be able to complete the trip.
Please note that a tent is still required for this trip, even though we are staying at a shelter. Space in the shelters is not gauranteed.
Please bring $5 to pay for the backcountry permit. This is in addition to the money needed for your shuttle driver.