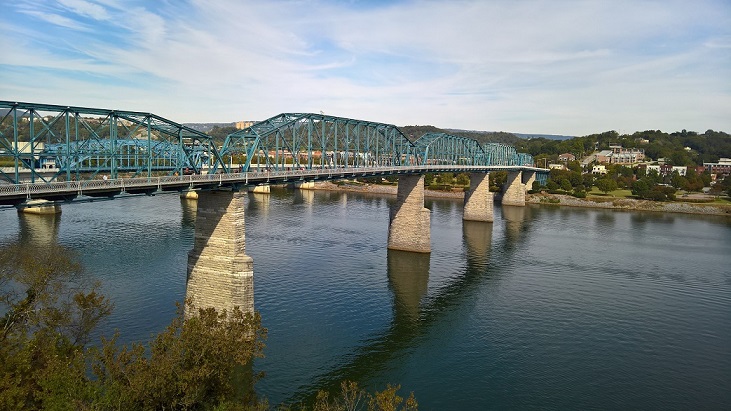 2 States + 2 Hikes = 2 X The Fun in Georgia and Tennessee!
&
Lunch or Dinner
This is an exploratory hike with first portion being in Cloudland Canyon and the second portion being in Downtown Chattanooga - mixing a trail hike with an urban hike. Depending on the time and group appetite, we will plan on eating lunch or dinner in Chattanooga. This will be twice as much fun!
Note: The expectation is that you will carpool and participate on both hikes - trail and urban, and join us for an optional lunch or dinner
*** 1st Event - Cloudland Loop Trail Hike ***
We will be hiking the West Rim Loop Trail in Cloudland Canyon. A 5-mile roundtrip from main trailhead. This was formerly rated as one of the top ten hikes in the U.S. by Backpacker Magazine. The West Rim Loop Trail is a lollipop style hike providing several overlooks that showcase the park's rugged geology, deep canyons, dense woodland, and views beyond. From the main trailhead, we will drop down to Daniel Creek and cross over it. The trail then proceeds uphill to a rocky promontory. Just after one mile, the loop component of the hike begins. At about mile four, we will complete the loop and then head back to the main trailhead, retracing our steps of the first mile. The trail is marked by yellow blazes and is rocky and rooty in several locations. You will not get lost!
*** 2nd Event - Chattanooga Urban Hike ***
We will depart Cloudland Canyon and head into scenic Chattanooga for a meal and a long break for rest and nourishment. Then off to our urban hike in the city. Who knows exatly where we will hike or what we will see, but we expect to walk another 2 miles, and maybe a quick stop over at the Moon Pie Bakery - http://moonpie.com/!