Let's show some love for the trails we so love!!!

Register here with the AOC & also pre -register at http://signup.com/go/VvavYQj
Arrive by 8:00 am to allow time for sign-in, and getting to the Ampitheater (Visitor Center picnic area) which is 5-10 minute walk from the overflow parking lot. We will group at the entrance to the overflow parking lot.

This is the write-up by the Kennesaw Mountain Trail Club:
Work Plan November 11, 2017 Trail Day
Registration will be at 8:00 am at Old Hwy 41
"kick-off" will be at 8:30 at Visitor Center amphitheater.
11:30am end work 12:00pm head home.
November 11, 2017 Trail Work Day Plan
The work planed is to perform trail maintenance on the mountain trail section from the rock stairs @ mid mountain fire road to the concrete steps leading to the mountain top parking lot. We plan to have a variety of work including; large rock placements, trail grooming, fence repair, social trail closure, r
Work for 11-11-2017 will be on the lower portion of the Mountain Trail below the fireroad. Big job! Due to safety considerations, Mountain Trail hikers will be rerouted to the smoother Picket Line Trail so that we can close the Mountain Trail in the work areas. We will have 9 key work areas, see the map below.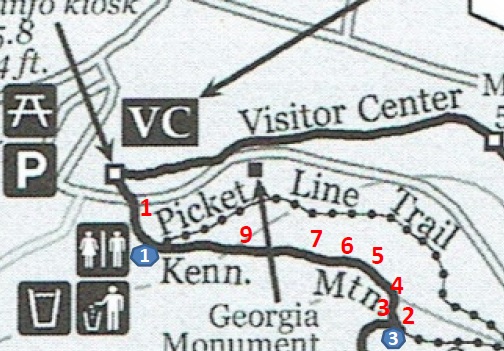 It helps us plan if you could pre-sign up on "Volunteer Spot" & if possible, (please also refer to FACEBOOK & like us!)

VOLUNTEER!! YOUR PARK NEEDS YOU!!
Please dress for work. All tools, material and equipment are provided. KMTC has used gloves for your use during work (may choose to bring own), we also provide water and snacks. Be prepared to hike to and from the work site.
We're looking forward to a safe and productive Trail Day.
Thank you for your participation and support in saving our trails for our enjoyment & for future generations!!!
VOLUNTEER!! YOUR PARK NEEDS YOU!!

Volunteers should wear work clothes and comfortable closed toed shoes.