Bring Your Own Boat & Shuttle for this point to point 13+ mile kayak/canoe event on the Chattahoochee River that is sure to be a blast! First of all you'll need a shuttle partner to join, usually a friend, loved one or just someone that's cray-cray enough to drop you off and pick you up at TWO DIFFERENT LOCATIONS.

The paddling part of this event may START at Gerrards Landing (GL) Park, but the shuttle cars will have to be dropped off at the Morgan Falls (MF) Landing parking lot (where the event ENDS), prior to our launching...so with that being said both vehicles will require the means to haul your two kayaks (or one canoe - if you double up). We'll drop off the cars at 9:30 a.m. at MF then scurry over to GL to get rev'ed up for a 13+ mile down the Hootch paddle. We'll go all the way to the dam just to get the extra view in, then reel things in with the gang at the MF & the HCO Paddle Shack. We'll probably be a little tired so I vote for an optional bite to eat somewhere close before heading back to the starting lot in GL.

This will be a 13+ mile paddle on mostly flat water. We will be going downstream, but there are some fast moving sections along Island Ford. This paddle trip is suitable for beginners, but remember, you will be paddling the entire trip and it's about 4 hours. Use caution if you have an aluminum canoe or carbon boat...the shoals near Island Ford have been known to ding, dent & puncture fragile materials.

Please arrive at Morgan Falls lot about 15-20 minutes early to do a meet & greet for new (or returning) AOC members and go over final details and what to expect. We'll be back on the road right away and hopefully be in the water at 10am! I'm not listing this as a "carpool" event, although it could fall in to that category...I just say two up with a fellow paddler and let's ditch the carpool tape, that is, unless we have 2 folks join in that can tote 6-8 boats ;) anyone....anyone, Bueller?
#PaddlesUP
::: The Paddle Map :::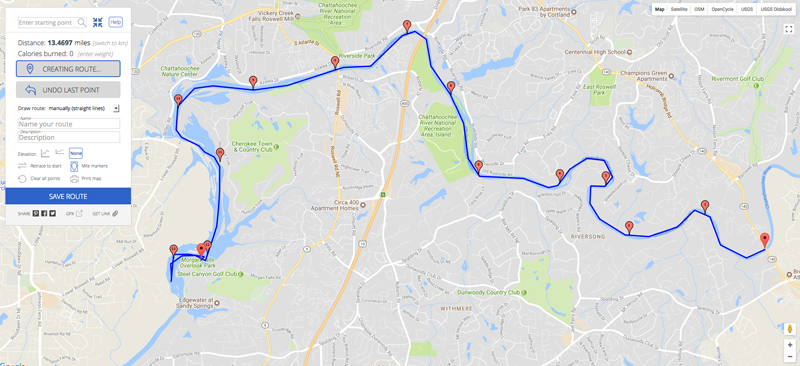 ::: The driving route :::