Scenic Country Bike Ride: 31 Mile Route
A.K.A. Bud Light Ride
'15 +/- Mile Post Event Ride Option Included'

Our Group Riding Plan
bbbbbbbbb
*****THIS IS NOT A BEGINNERS RIDE*****
Join us for this scenic and low traffic scenic country bike ride starting at the Budweiser Plant in Cartersville, GA. They allow bike riders to park at the plant and ride.
Our plan is to bike ride the 31 mile BBC route at a 2 wheel moderate pedal pace (not too fast, not too slow) and enjoy the country's rolling hills and amazing spring scenery. Finishing time will vary but targetting 3-4 hours +/-. After the event is completed, you have the option of riding an additional 15 +/- miles!
There are rolling hills, twists and turns, and some more challenging hills - please note: this is NOT a flat Greenway or Silver Comet ride, or speed race to see who can finish first. We will plan to stay together as a group, stopping every few miles to re-group & re-energize with a few gulps of water or Gatorade, and midstop restroom break at the local gas station/convenience store . We will also drop by the bicycle park for a group picture. This is a no-drop ride so no one will be left behind. However, if you're not able to keep up with the group, you may be asked to ride back on the shorter route to the starting point.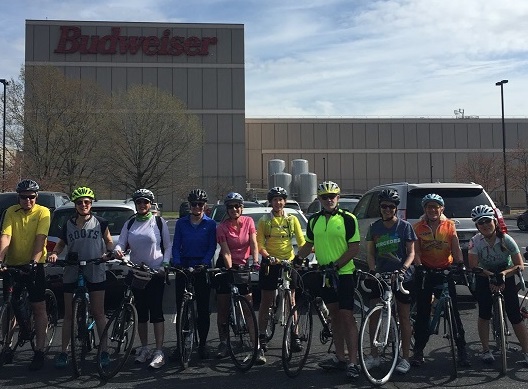 Important Notes
For safety, helmet required to be worn during this event. No helmet, no ride.
Wear light or bright colored clothing and working lights on both front and back of your bike for visibility.
We recommend a road bike although you can ride a hybrid.
Budweiser lets riders park in the lot to the right. Park on the side away from the factory along the edge of the lot (they are closed on Sundays). Please do not litter, change in the open, or urinate in their bushes.
Carry on person your cell phone in case you get a flat tire, beakdown, get lost, etc. and need to reach the trip leader.
If you're a Garmin user, please join our 'Atlanta Outdoor Club (AOC) Garmin Users' group to connect with other AOC Garmin users and track your activity. Join us at: https://connect.garmin.com/modern/group/2255568

Itinerary and route is subject to change before and during the event.

Our Scenic Bike Route