Let's show some love for the trails we so love!!!

If EVERY AOC MEMBER WOULD VOLUNTEER JUST 4 HOURS ONCE A YEAR, WHAT A DIFFERENCE WE COULD MAKE!! There is a job ALL physical capabilities can do.

Volunteers perform trail maintenance on the 20+miles of trails at the Kennesaw Mountain National Battlefield Park. Kennesaw Mountain Trail Club provides Crew Leader supervision, tools, work gloves (or bring your own), water and snacks. Volunteers should wear work clothes and comfortable closed toed shoes.
We will stay together working as a group & follow the instructions of our Crew Leader(s). We will learn the procedures of how to make our trails better for today & for the future.

Arrive by 8:00 am to allow time for sign-in. Park in the meadow across from the parking lot. We will group near the registration table.

This is the write-up by the Kennesaw Mountain Trail Club:
Work Plan August 11, 2018 Trail Day
Registration will be at 8:00 am at Cheathan Hill Road Parking Lot, southern end of the park.
11:30am end work 12:00pm head home
August 11, 2018 Trail Work Day Plan
Our workday for August 11 will be on the Kolb Farm West Trail at the John Ward Creek area on the west side. We will park and muster in the meadow across from the Cheatham Hill Road parking lot (NOT to be confused with Cheatham Hill Drive to the Illinois Monument). If you Google Map 902 Cheatham Hill Rd Marietta, GA 30064 it will show you the location.

Please note that it will be a 1 to 1 1/4 mile hike to the work site (and another mile back). We may ask a couple of volunteers and a crew leader to be at Powder Springs Road across from Kolb Farm to load materials.

We plan to muck out soft spots on the old Ticket To Ride turnpike and replace the muck with crusher run, cut up a blowdown, repair and cleanout the water diversion structures north of the turnpike, cut weeds encroaching on the trails, and repair rutting on the trail.

TRAIL CLUB WORKDAY _8-11-18

!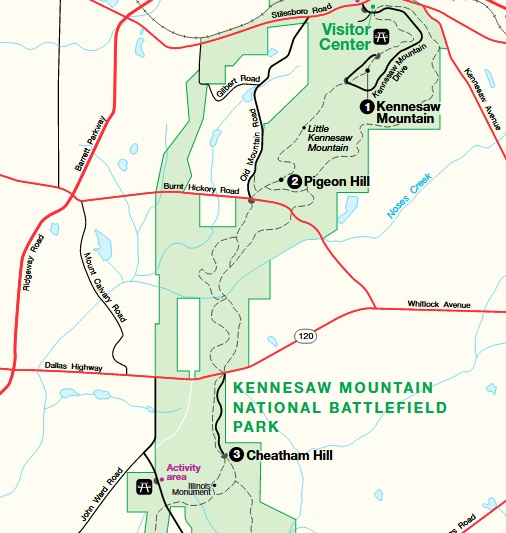 Don't start what you can't finish. If done early, help another crew trash the eroded areas. Make it fun, and above all –BE SAFE!
Next KMTC Trails Work Day is on

Saturday, September 8th

. Please mark it on your calendar!

VOLUNTEER!! YOUR PARK NEEDS YOU!!

Thanks,
Scott Mackay President
Bruce Rugg Trails Director
Kennesaw Mountain Trail Club
Please dress for work. All tools, material and equipment are provided. KMTC has used gloves for your use during work (you may choose to bring your own gloves). We also provide water and snacks. Be prepared to hike to and from the work site.
We're looking forward to a safe and productive Trail Day.
Thank you for your participation and support in saving our trails for our enjoyment & for future generations!!!
VOLUNTEER!! YOUR PARK NEEDS YOU!!

Volunteers should wear work clothes and comfortable closed toed shoes.