Event Overview and Where to Meet: Hope you can join us for this clockwise loop hike around Stone Mountain, mainly via the beautiful "Cherokee Trail" and its orange-blazed connecting trails. We intend to observe the CDC's COVID-19 guidelines regarding social distancing, masks, etc. and will adhere to the Club's temporary limit of 6 participants per event. We'll enjoy stops at the awesome Memorial Carving (photo above), old Grist Mill, historic Covered Bridge, Songbird Habitat Trail, Native Plant Garden and several fascinating "off-the-beaten-path" scenic spots, for a total distance of about 6.3 miles and about 700 feet of total uphill elevation gain. Along the way we'll occasionally do a little off-trail "bushwhacking"and also take a few breaks for observing the colorful native flora & fauna and shooting photos of the mountain and its lakeside & creekside scenery. We'll have spectacular views of the mountain from all sides and hike across portions of its bare rocky shoulder where thousands of tons of its famous granite were once quarried.
We'll gather for introductions and begin the hike beside the stone restroom building near Confederate Hall - our usual gathering spot for most AOC events at the Park. (See Directions below to that Trailhead. I also include directions for Free Parking and Free Park Entry if you prefer an easy walk into the Park from nearby Stone Mtn village.)
Park Features & Activities: Boasting 3,200 acres of natural beauty, Stone Mountain Park features a wide variety of amazing outdoor activities,adventures and attractions. Hikers can enjoy more than 15 miles of scenic nature trails throughout the Park or take a variety of paved walkways if you prefer. It's also a great place for bicycling, camping, paddling, fishing or playing golf. There are lots of fun annual events such as the Yellow Daisy Festival, Stone Mtn Christmas, and Snow Mountain. Visitors who wish to learn more about the mountain's fascinating history, geology and ecology can explore the Historical & Environmental Heritage Center and visit the other museum displays, etc. in Confederate Hall and Memorial Hall.
Click these links for more about the Park, itsTrails, etc:
http://en.wikipedia.org/wiki/Stone_Mountain
http://www.stonemountainpark.com/activities/recreation-golf/Hiking-Trails
http://www.stonemountainpark.com/faq/#Recreation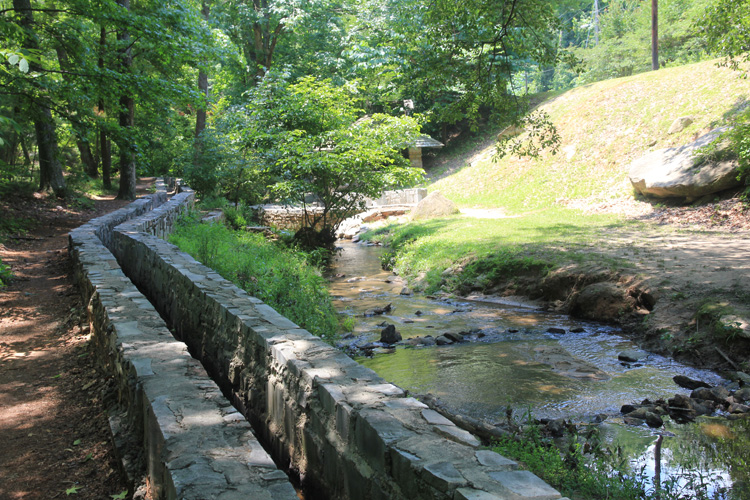 Above: Water sluice for the old Grist Mill by the Cherokee Trail
Fun Fact: How large is the granite that underlies Stone Mountain? Hint: Not the popular myth!