Join Ranger Hightower for a leisurely hike thru Jones Bridge learning all about the ferns & flowers along the trail. You MUST register with the Chattahoochee River National Recreation Area at 678-538-1200. Then register here with the AOC.
This is the write-up by Ranger Hightower: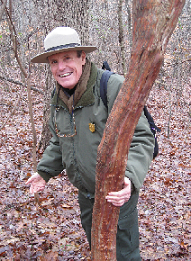 Description: Join National Park Service Naturalist Jerry Hightower for a wonderful spring walk on the Lutra loop trail through an oak/hickory forest as we cross over a small ridge and stroll along the floodplain to the northern most boundary of the unit. This is an excellent area for viewing wildlife. We will meander back along the river with the scenic shoals and rock formations, which include Native American nutting stones. We might catch a glimpse of an Osprey or a Great Blue Heron. The trail will offer a diverse collection of spring wildflowers and ferns, so please join us.
Location: We will meet in the parking area at the bulletin board. Directions: www.nps.gov/chat
Facilities: none
Difficulty: This hike is leisurely
Bring: Remember to dress for the weather and wear very comfortable hiking shoes. Dress in layers so that you can adjust to changes in the temperature and your activity level. Carry water. You may wish to bring binoculars, hand lens, notebook, and camera. Note: A $5. daily entrance fee or an annual pass is required.
Reservations are required by calling 678-538-1200.