Event Overview and Where to Meet:
Welcome to my first "Stop and Smell the Roses Hike". These hikes are intended to be a series of slower paced hikes varying from D1 to D4 depending on the venue. The hike venues will be specifically chosen for their photographic views. So, if you know nothing about photography, are an advanced amateur, or higher join me for this hike. Bring you camera, phone, or video camera; we will be stopping so that we may share our love for capturing nature and teaching others how we did it. There should be time for lots of pictures, two to three-minute videos, and digital recording of nature's sounds. Due to this these hikes will be a little longer in time than equivalent hikes. Others that may enjoy this hike are those wanting a slow-paced hike with frequent stops. IF YOU WANT A FAST-PACED HIKE PLEASE DO NOT SIGN UP.
We will meet by the restrooms for introduction. The event will start with us leaving by the east entrance following John B. Gordon Dr. to Robert E. Lee Blvd. We will turn left following Robert E. Lee Blvd. in a clockwise direction. There will be stops at Grist Mill and Washington W. King Bridge for pictures. We will cross Washington W. King Bridge and return so that pictures can be taken from both sides of the bridge. Proceeding along Robert E. Lee Blvd. until we meet Stonewall Jackson Dr., we will cross the bridge over Venable Lake and return allowing time for pictures. Continuing along Robert E. Lee Blvd to Confederate Hall, we will turn left on Jefferson Davis Dr. and right on John B. Gordon Dr. returning to the parking lot to complete the hike. Brief stops will be made during the entire route for those needing to take great pictures.
The start time for this event is 8:10 to allow for time to complete the hike and than attend the concert.
For those that that want to stay and hear the Carillon Concert, the concert starts at 12. It is about 200 feet from the parking lot to the Amphitheater.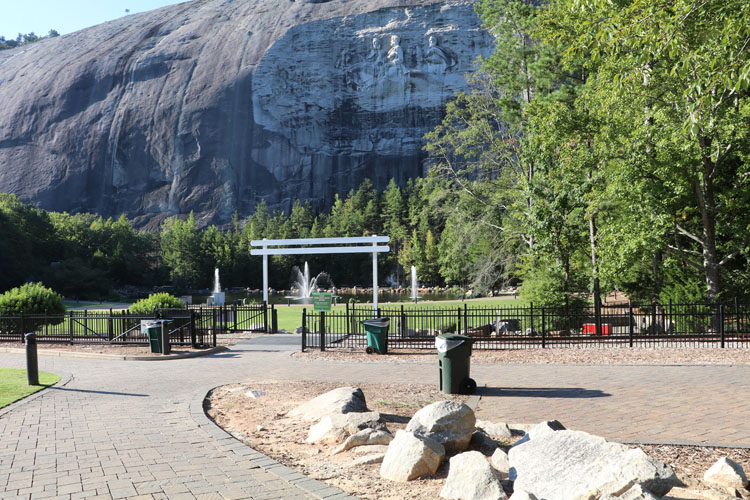 Question: How tall is the Carllon and how many bells does it have?