PLEASE READ ALL OF THE DETAILS CAREFULLY BEFORE SIGNING UP. THIS IS A WAITLIST ONLY EVENT; THIS IS WHY THE MAXIMUM GROUP SIZE IS LISTED AS 2. All registrants will initially be placed on the waitlist to be evaluated by the Trip Leaders prior to being moved to the attendee list. THERE WILL BE A MAXIMUM OF 12 PEOPLE WHO CAN ATTEND THIS EVENT.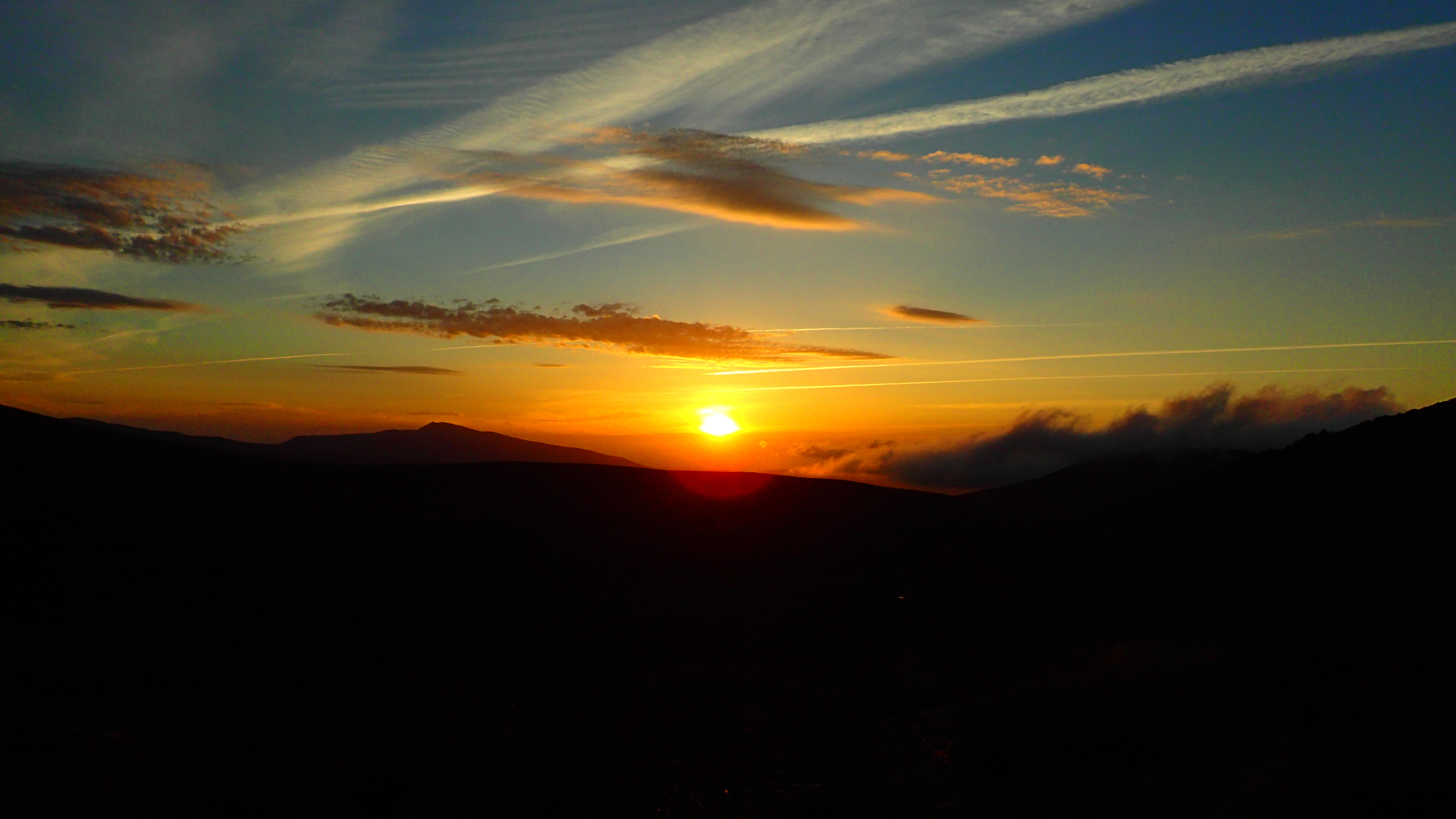 Join us for a 15-day adventure to one of the most exotic and beautiful places in the world. Our journey will include 4 days of backpacking, plus 10 additional days exploring some of the unique features and famous landmarks of New Zealand's South Island. We'll experience waterfalls and seal pups at Kaikoura, the Marlborough wine country, Pancake Rocks and blowholes at Punakaiki, canoeing the Waiau River Gorge, thermal pools at Hanmer Springs, and backpacking the Heaphy Track - one of New Zealand's Great Walks.
We will explore the varied ecosystems of the top third of the South Island, both east and west coasts. Our scenic 1,000-mile journey will start and end in Christchurch. Along the way we will see spectacular rainforest waterfalls, soaring mountains above alpine valleys, glacial lakes, and rugged beaches.
The maximum group size for this event is 12. Given the daily elevation gains achieved during this event, along with the challenge of multiple back- to-back hikes, only intermediate and advanced hikers with significant D4 and D5 experience should register. All registrants must be recommended by an AOC trip leader and shall initially be placed on the waitlist so that the Trip Leaders can evaluate the registrant's fitness and experience level. See Registration Requirements below.
ITINERARY DETAILS - This itinerary is subject to change depending on Hut Ticket availability and other factors. If you sign up, please be prepared to be flexible.
Saturday, November 14th: Christchurch
Attendees arrive in Christchurch, procure their own accommodations for Saturday night near Hagley Park (on your own). Please note: you will lose a day on your flight to NZ, as you will cross the International Date Line (as a bonus you will get it back on the way home!). A morning arrival is best to give the good part of a day in Christchurch for recovery. We recommend arriving on the morning of Saturday, November 14th.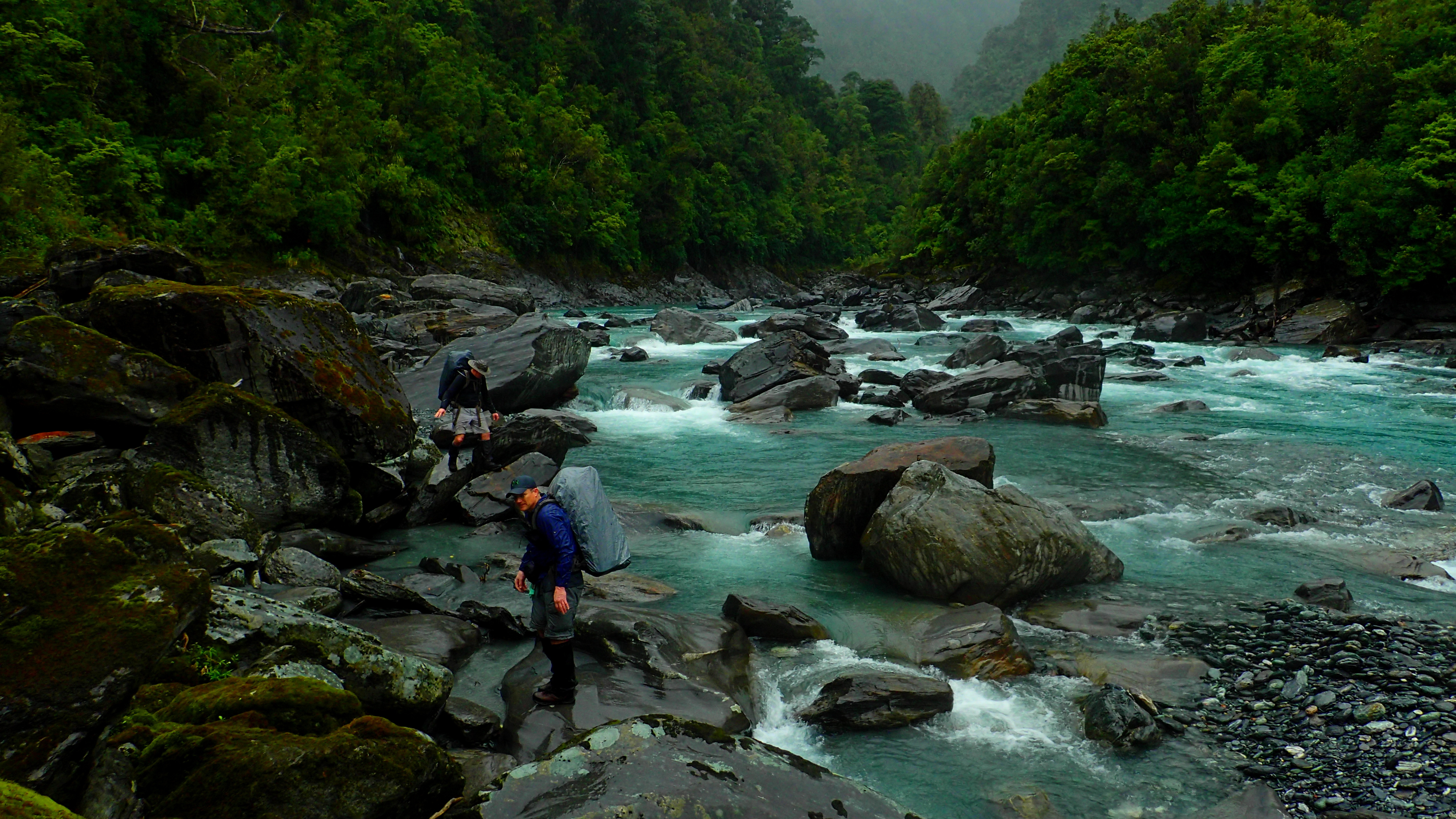 Sunday, November 15th: Christchurch to Blenheim
Official start of AOC event. ALL participants will be required to meet at the Christchurch Railway Station, Troup Drive, Addington, Christchurch at 9 am. Together we will drive in our 15-seater van to Blenheim, stopping for lunch in Kaikoura. After lunch, we will take the short Ohau Stream and Waterfall Walk to look for seal pups playing in the waterfall. Upon our arrival in Blenheim, we'll go grocery shopping for supplies. Be prepared for about 4 ½ hours driving time (192 miles), not including stops.
Ohau Hike: Difficulty: D1 Elevation Gain: 200 feet Distance: 1 mile Pace: Easy
Monday, November 16th: Blenheim
Hike: Waikakaho/Cullen Creek Walkway Difficulty: D4 Elevation Gain: 2300 feet Distance: 9 miles Pace: Moderate
Today we will get an early (8 am) start for a long out-and-back day hike to an abandoned mine.
In 1888, gold and quartz were discovered in this area. Within weeks, hundred of men flocked to the area and the township of Cullensville was established, with three hotels, two billiard saloons, a bank, courthouse, and five bakeries. Although none of the buildings remain, the area is rich in history. We'll start by crossing Prospector Creek, following the track which was cut from rock walls by the miners, and hugs the side of the mountain. Then we'll climb steadily to Waikakaho Saddle, passing mountain cabbage trees and exotic pine forest. We will follow the old gold miners' trail to the village clearing. We'll turn around and retrace our steps back to the carpark.
Tuesday, November 17th Blenheim
Hike: Sawcut Gorge Streambed Difficulty: D2 Elevation Gain: 500 feet Distance: 4 miles Pace: Easy (*water shoes required)
In the morning we'll drive to Sawcut Gorge for a tramp, which is a fun streambed hike through New Zealand's finest slot canyon. In the afternoon - for those who choose this optional activity - we'll enjoy a wine tour (additional cost). We will be picked up from our lodging and transported safely back "home" at the end of the tour. On our half day tour we will get up close and personal with the Marlborough wine region and visit 3-4 wineries. Dinner will be at our accommodations (BBQ) or somewhere out after the wine tour (attendees pay).
Optional Wine Tour (extra cost) will be this or similar tour: https://hopngrapetours.co.nz/book-now/
Wednesday, November 18th: Takaka
Today we will depart our accomodations at 9.30am and make the 3 1/2 drive to Takaka where we will stay the night prior to our Heaphy Track experience the following morning. Our accommodations this evening will be shared twin hotel rooms.
After lunch we will do a 2-3 hour hike around the Farewell Spit and Puponga Farm Park tracks.
Thursday, November 19th: Backpack - Brown Hut to Perry Saddle Hut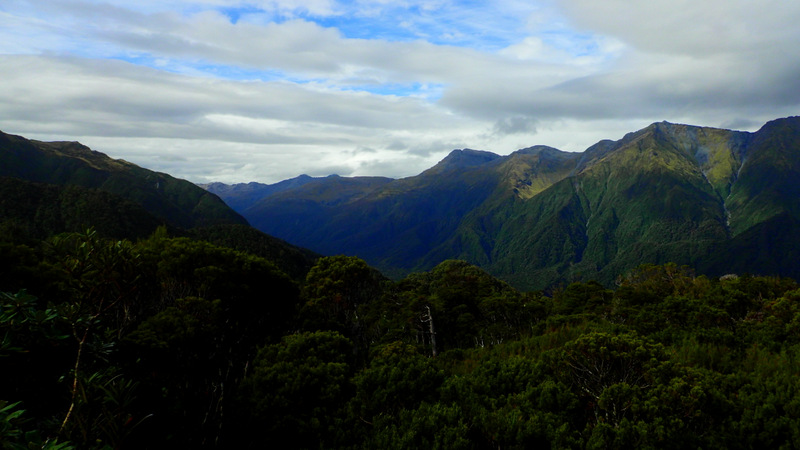 Backpack: Heaphy Track Day 1 Difficulty: D5 Elevation Gain: 2,700 ft Distance: 10.9 miles PACE: Easy to Moderate
We will get a very early start today to head to the Heaphy Track, departing our accommodations at 6 am (45 min drive). We'll start at the Brown Hut and tramp to Perry Saddle Hut.
About 590 feet upstream from the hut, we'll cross the bridge over the Brown River, then a grass flat, before winding up a well-defined track and into the bush. The track climbs gradually, following a route once surveyed for a road. After approximately 4 hours, Aorere shelter is reached. From here, the Aorere Valley is seen extending northwards and on clear days it is possible to see Mt Taranaki/Egmont. Thirty minutes before Perry Saddle Hut, a short track leads to a viewpoint at Flanagans Corner. At 3,000 feet, this is the highest point on the track.
Perry Saddle Hut is 2,887 feet above sea level. Near the hut in Gorge Creek is a deep but cold pool, popular for swimming.
We plan to go at our own pace, take our time, enjoy it, and soak it up. Everyone hikes at their own speed.
https://www.hikingproject.com/trail/7030120/heaphy-track-brown- hut-to-perry-saddle-hut
Friday, November 20th: Backpack - Perry Saddle Hut to James Mackay Hut
Backpack: Heaphy Track Day 2 Difficulty: D5 Elevation Gain: 1,969 feet Distance: 15.1 miles PACE: Easy to Moderate
Undulating terrain starting at 2,887 feet and ending at 2,297 feet.
We'll start our day walking through tussock clearings and patches of beech. Where the valley widens, the expansive tussocklands of Gouland Downs are revealed. Takahē, which are rare, flightless native birds, have been released here – we may be lucky enough to see one. We'll pass the famed pole where walkers before you have tied their old boots on our way to Gouland Downs.
Look and listen out for great spotted kiwi/roroa and takahē around Gouland Downs.

The track continues past moss-covered beech forest and through the tussock to Saxon Hut. It continues on to James Mackay Hut, which offers views of the Tasman Sea and Heaphy River mouth 2,460 feet below.
http://kevinstravelblog.com/heaphy-track-day-2-perry-saddle-hut-to- james-mackay-hut
Saturday, November 21st: Backpack - James Mackay Hut to Heaphy Hut
Backpack: Heaphy Track Day 3 Difficulty: D4 Elevation Gain: 300 feet Distance: 12.8 miles PACE: Easy to Moderate
Starting elevation: 2,297 feet. Ending elevation: 16.4 feet.
Lots and lots of downhills today. Beech forest gives way to nīkau palms as we descend to the Heaphy River and Lewis Hut, where we will most likely encounter the infamous West Coast sandflies. The 488-foot long Heaphy River bridge is the largest suspended deck bridge built by the Department of Conservation. The track then takes you through a forest of kahikatea, rimu and rātā. Towards the river mouth, nīkau palms become more common, and the roar of the ocean on the wild West Coast grows louder. Optional swimming is available here, unless heavy rains have made the current too swift. The river mouth is at the junction of two pounamu (greenstone) trails, and archaeological expeditions have uncovered evidence of occupation by Maori that extends back 500 years.
Sunday, November 22nd: Backpack - Heaphy Hut to Kohaihai River mouth
Backpack: Heaphy Track Day 4 Difficulty: D4 Elevation Gain: 328 feet Distance: 10.1 miles PACE: Easy to Moderate
On our final day of the backpack, the track south to Kōhaihai follows the rugged coastline of the West Coast, and passes through forests of rātā and karaka trees, vines and groves of nīkau palms. Soon Scotts Beach appears. The clearing here is a good spot to rest before climbing over Kōhaihai Bluff. The track follows the bank of the Kōhaihai River for 1,312 feet to the car park. We will stay together hiking this day, We'll retrieve our vehicle and make the 2 1/2 hour drive (104 miles) to Punakaiki where we will be staying.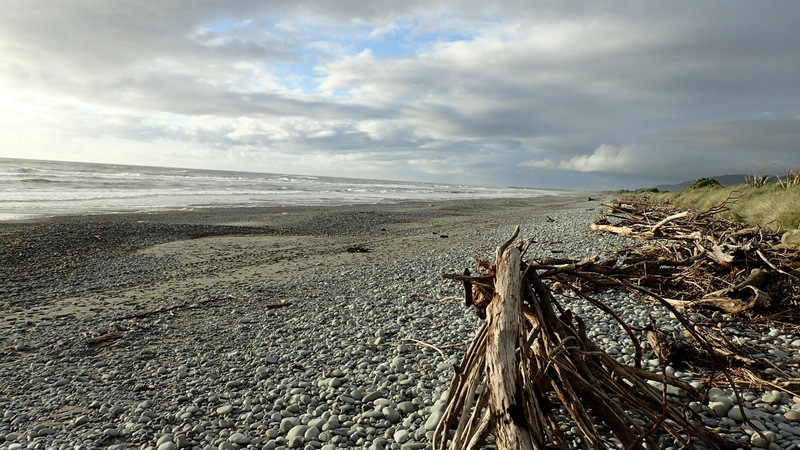 Monday, November 23rd: Punakaiki
We'll take a rest day to relax after completing the Heaphy Track. Optional activities include hanging out on the beach, cave tubing, exploring the town, etc. or booking your own local tours. Our van will be headed out to take one of our leaders cave tubing. Other tours will require you to arrange your own pickup or transport.
Examples of optional excursions include activities similar to the following:
https://hakatours.com/activities/underground-rafting
http://www.pancake-rocks.co.nz/content/horse-treks
http://truenz.co.nz/horsetrekking/west- coast/punakaiki-horse-treks
Tuesday, November 24th: Punakaiki - Avalanche Peak Hike
Hike: Avalanche Peak Difficulty: D5 Elevation Gain: 3600 feet Distance: 4 miles PACE: Easy to Moderate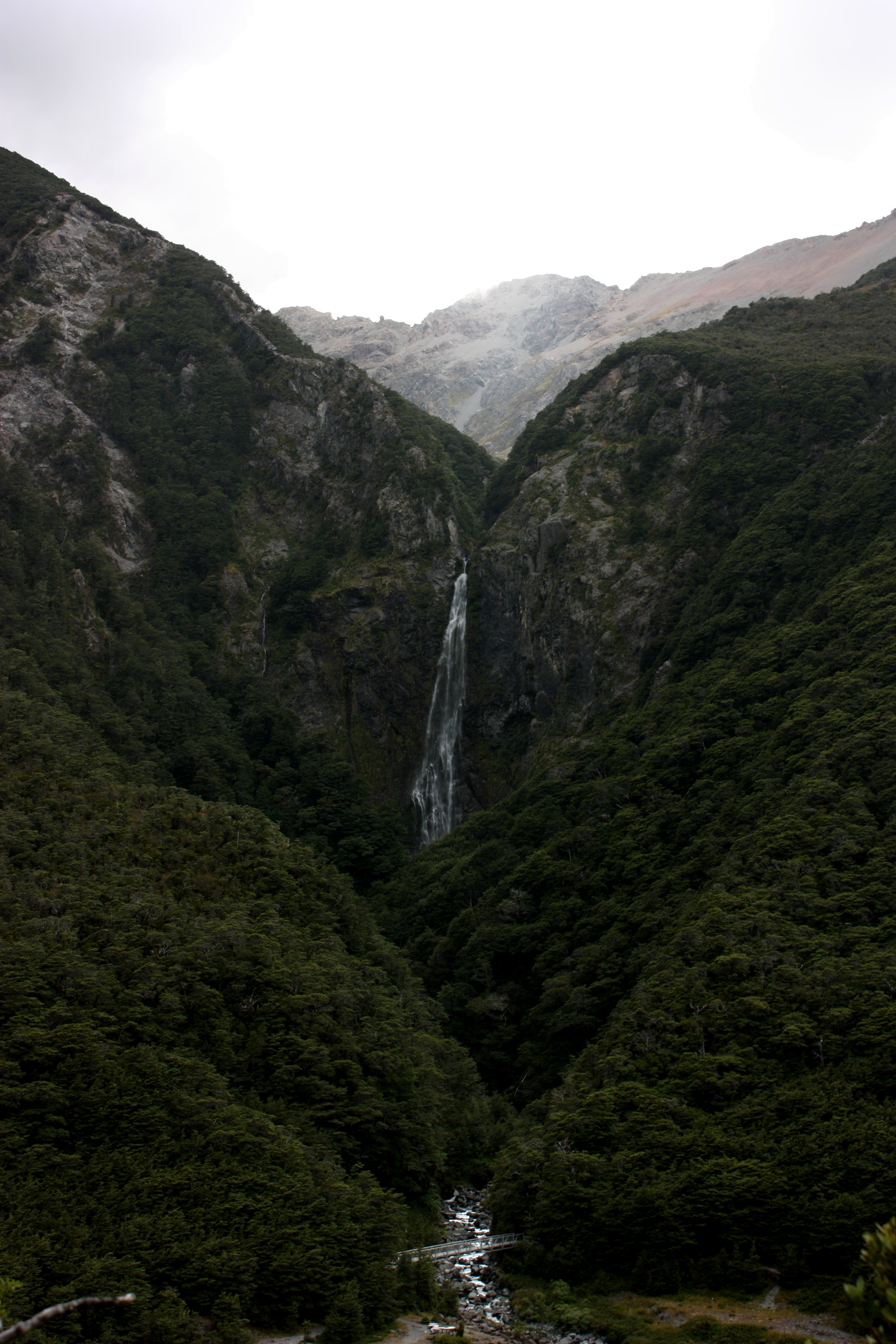 We'll be rested and ready to tackle a strenuous tramp today. Although the hiking distance to the peak is only 2 miles, we will ascend over 3,600 feet in that climb! And of course then we will have to descend 3,600 feet in just 2 miles back down.
https://www.doc.govt.nz/parks-and-recreation/places-to- go/canterbury/places/arthurs-pass-national-park/things-to- do/tracks/avalanche-peak-route/
https://www.theoutbound.com/new-zealand/hiking/hike-up- avalanche-peak
After finishing Avalanche Peak, we plan to hike the river at Cave Stream Scenic Preserve. The cave passage meanders and twists in pitch darkness for 1200 feet between the two entrances. The cave ends in a deep pool with a 10 foot high waterfall. A ladder of iron rungs in the rock climbs up beside the waterfall, and a chain will help us crawl along the overhang ledge to the exit.
Caving: Cave Stream Difficulty: D2 Elevation Gain: Negligible Distance: 0.3 miles PACE: Easy
http://www.arthurspass.com/pdf/cave_stream2.pdf
https://www.doc.govt.nz/parks-and-recreation/places-to- go/canterbury/places/cave-stream-scenic-reserve/things-to-do/cave- stream-tracks-and-cave-walk/
Backup plan: If the water levels are too high at Cave Stream, we'll stop at the scenic town of Moana for a tramp along the Carew Falls Track. This gentle track winds up through forest in the Lake Brunner Scenic Reserve to reach the top of the waterfalls. We can sit on large granite boulders and enjoy the view out over the western end of Lake Brunner.
Time: approx. 1 hour Distance: 1 ½ miles round trip
https://www.backpackerguide.nz/10-hikes- around-lake-brunner/
https://www.doc.govt.nz/parks-and-recreation/places-to-go/west- coast/places/lake-brunner-area/things-to-do/tracks/lake-brunner-kotuku- whakaoho-short-walks/
Wednesday, November 25th: Punakaiki
Hike: Motukiekie Beach Difficulty: D2 Elevation gain: Negligible Distance: 3 miles PACE: Easy to Moderate (* bring water shoes) ***Low Tide Only***
Today we'll explore Pancake Rocks and do some hiking in the area.
https://www.doc.govt.nz/parks- and-recreation/places-to-go/west-coast/places/paparoa-national- park/things-to-do/tracks/pancake-rocks-and-blowholes-walk/
https://www.tripadvisor.com/Attraction_Review-g660716-d1117929- Reviews-Pancake_Rocks_and_Blowholes_Walk- Punakaiki_West_Coast_Region_South_Island.html
After admiring the wonders of Pancake Rocks, we will move on to our Motukiekie Beach Walk. It is imperative that we complete this hike at low tide, so again we will need all attendees to be flexible. Our planning will be rewarded with a 6 ½ mile tramp along what has been touted as "the South Island's most dramatic bit of walkable coast." High cliffs, arches, caves, and waterfalls gushing off cliffs and perhaps ribboning across the beach will be part of the experience.
Thursday, November 26th: Hanmer Springs
Hike: Conical Hill Difficulty: D2 Elevation gain: 500 feet Distance: 1.5 miles PACE: Easy to Moderate
Today we'll check out of our beach house and take the 3 ½ hour (160 mile) drive to Hanmer Springs. We'll enjoy 1. a short day hike up to the overlook, and 2. soak in the thermal pools
https://hanmer-hurunui.co.nz/? _ga=2.120204555.242192339.1539033896-1835596517.1539033896
https://www.nzherald.co.nz/travel/news/article.cfm? c_id=7&objectid=11643835
Friday, November 27: Hanmer Springs
Canoeing/Rafting: Waiau River Difficulty: D3 Distance: 10 miles PACE: Easy to Moderate
And now for something completely different. We will experience a leisurely day trip canoeing along the Waiau River Gorge followed by Jet Boating. On this day tour our experienced guide will help us negotiate the river in safe, durable and fun inflatable vessels, taking us through the scenic gorge in the beautiful village of Hanmer Springs.
At the beginning of the day our guide will kit us out in our safety gear and teach us all of the techniques needed for the day's excursion. Along the way they will provide us with entertaining and informative commentary on the surroundings. After all the exertion of canoeing we can sit back and enjoy a delicious picnic lunch on the river bed followed by an exhilarating return journey in a jet boat!
https://www.everythingnewzealand.com/canoeing- thrillseeker-adventures-hanmer-springs-1300/
Saturday, November 28: Hanmer Springs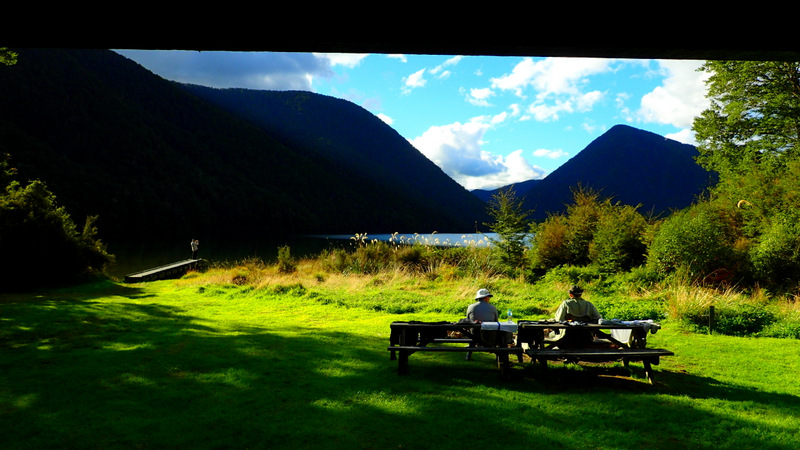 For our final full day on the South Island, we will explore the iconic Lake Daniell track. It has been said that this out and back trail can hold its own when compared with any of the Great Walks.
Hike: Lake Daniells Difficulty: D3 Elevation gain: 500 feet Distance: 10.5 miles PACE: Moderate
https://www.doc.govt.nz/parks-and- recreation/places-to-go/west-coast/places/lewis-pass-scenic- reserve/things-to-do/tracks/lake-daniell-track/
Sunday, November 29: Christchurch
Time to go home! This morning we will get up early to drive back to Christchurch, ending our official trip between 10 am and 12 pm. This will be the official end of our AOC event.