Join Ranger Hightower, "Mr. Chattahoochee", for a leisurely hike thru West Palisades Paces Mill Unit learning all about the ferns & flowers along the trail. He will also be teaching us about th history of West Palisades. You MUST register with the Chattahoochee River National Recreation Area at 678-538-1200. Then register here with the AOC.
"All I hope to do is influence, encourage and mentor young people to be the future stewards of this very special spot. In the days of my youth when I walked along this river, there was no I-285, no I-75 crossing, no sound or sign of civilization, except the occasional flyover from Dobbins Air Force Base. Some say the Chattahoochee fills my veins, not blood."
This is the write-up by Ranger Hightower:
Blood Rock Ridge Loop Trail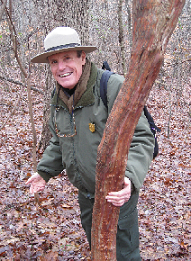 Description: Join National Park Service Naturalist, Jerry Hightower, for a leisurely hike along the river, across scenic Rottenwood Creek, and through the forest around Blood Rock Ridge. This is a wonderful opportunity to view Great Blue Herons fishing, hear the call of the Belted Kingfisher, and see wonderful wildflowers, wildlife sign, and a bit of geology.. Learn fascinating facts and a fable or two about the diverse and abundant wildlife. Enjoy great views of Long Island Shoals as you walk along the trails amongst ferns, wildflowers, and flowering shrubs. Discover the grim story of Lightening Rock.
Location: We will meet in front of the restroom building; 3445 Cobb Parkway, Atlanta, Georgia 30339
Facilities: Restrooms at parking area -
Difficulty: Moderately easy
Bring: Water and maybe a snack. Remember to dress for the weather and wear very comfortable hiking shoes. Dress in layers so that you can adjust to changes in the temperature and your activity level. You may wish to bring binoculars, hand lens, notebook, and camera. Note: A $5 daily entrance fee or an annual pass is required.
Reservations are required by calling 678-538-1245
Ranger Jerry Hightower is probably one of the most high-profile members of the Chattahoochee River National Recreation Area team. Spending his whole life on the river, Jerry now dedicates his life to helping protect and serve the park he also had a hand in founding.
Jerry grew up not too far from East Palisades and Powers Island and remembers the Chattahoochee River as one of his favorite "playgrounds" and one the best classroom he ever learned from as a child.
While active in the Army, Jerry became involved in the conservation movement. Determined to protect the river that taught him so much, he represented the Wildlife Federation and the Friends of the River in the League of Conservation Voters.
In 1978 when the park was created, Jerry was able to begin a career as a park ranger to safeguard the river he loved his entire life. His official title now is Park Ranger, though colleagues and visitors alike know him for much more.
There is no typical day for Jerry as a ranger as his job entails so many different aspects of education and interpretation. Jerry visits local schools to teach young children about Chattahoochee River NRA and how they can work to guard it and help it flourish. He performs roving and basic interpretation, leading hikes and canoes trips and teaching visitors about the history and wonder of the park. He leads environmental education programs, helps around the park headquarters, offers teacher training, and so much more.
Jerry's passion is environmental education. He loves introducing people to the wonders and extraordinarily diverse resources of the Chattahoochee River National Recreation Area. Jerry believes teaching others about natural resources and how to defend them is the key to saving national parks and even our own backyards.
"I've got to have faith in generations I will never know," says Jerry. "My success or failure [as a ranger] isn't measured by me or anyone today, but by the actions of generations to come."
Though he finds it difficult to choose one moment as his favorite memory in Chattahoochee River National Recreation Area is paddling the river at night and spotting a great blue heron flying across the face of the full moon.