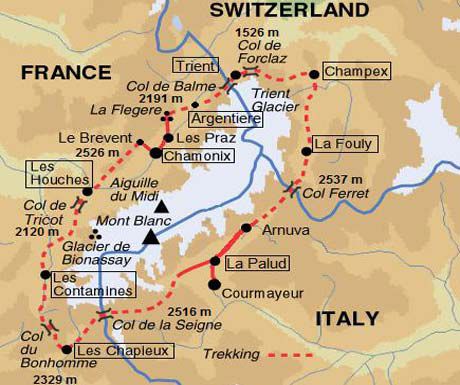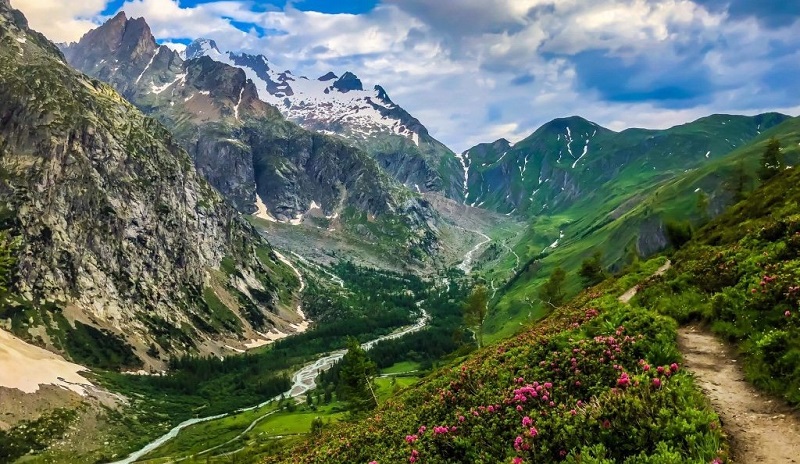 <<< Summary >>>
Come join the like-minded adventurers for a fortnight tour with some of the finest scenery in the world. This classic alpine route, the famous 'TMB' or 'Le Tour du Mont Blanc', circumnavigates Western Europe's highest mountain over passes and through the valleys of three contrasting countries. This is a circuit with spectacular ranges of granite spires and glacier peaks. We will savor the culture and cuisine of France, Italy, and Switzerland and enjoy the majestic beauty of their legendary alpine scenery.
We will complete our TMB in 14 days and 13 nights. It is designed for members with positive, adaptive, and flexible spirits. Good physical fitness and endurance are also required. I've spent a lot of time evaluating details over a dozen outfitter itineraries; and this final version is a great balance between cost and comfort. It also covers the entire TMB's 107 miles in 9 trekking days and 3 rest/ exploring days to provide a good balance of challenge and enjoyment.
Outfitter will transfer our luggage in the morning to the next town. This will allow us only carry a daypack on the trail. More details will be provided once registration and participant list are confirmed.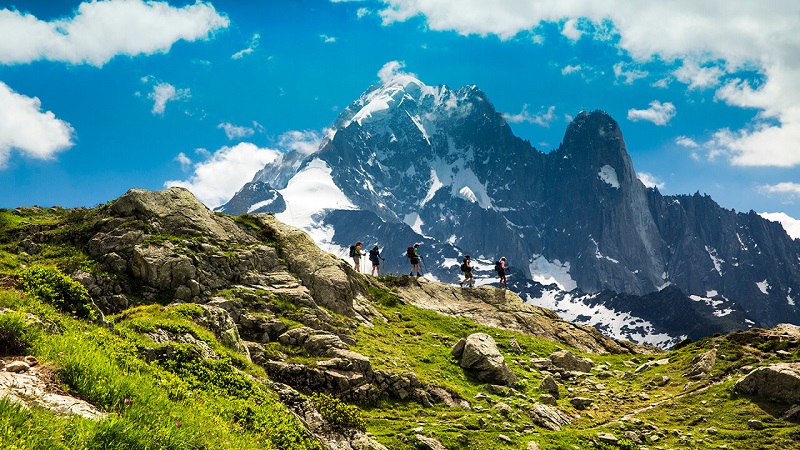 Day 1: 2022-07-09 Saturday.
Arrive hotel in Les Houches before 5 pm. We will have a trip meeting at 6:30 pm details TBD.
Day 2: Les Houches to Les Contamines 19 km /11.8 miles, 7 h
Day 3: Les Contamines to Les Chapieux 20 km /12.8 miles, 8-9 h
Day 4: Les Chapieux to La Palud 30 km /18.6 milies, 9 h
Day 5: Rest day to explore La Palud and Courmayeur
Day 6: La Palud to La Fouly 28 km /17.3 miles, 7 h
Day 7: La Fouly to Champex 13.5 km /8.3 miles, 4.5 h
Day 8: Rest day to explore Champex
Day 9: Champex to Trient 15 km/9.3 miles, 5.5 h
Day 10: Trient to Argentiere 20 km /12.8 miles, 6 h
Day 11: Argentiere to Chamonix 12 km /7.5 miles, 5 h
Day 12: Rest day to explore Chamonix
Day 13: Chamonix to Les Houches 14 km /8.6 miles, 6 h
Day 14: The fortnight group TMB trip ends after breakfast
<<< Optional urban hikes and sightseeing before and after the group TMB trip >>>
Day -4 to -1: Paris, France.
Day 14 to 17: Barcelona, Spain.
Day 18: Paris, France.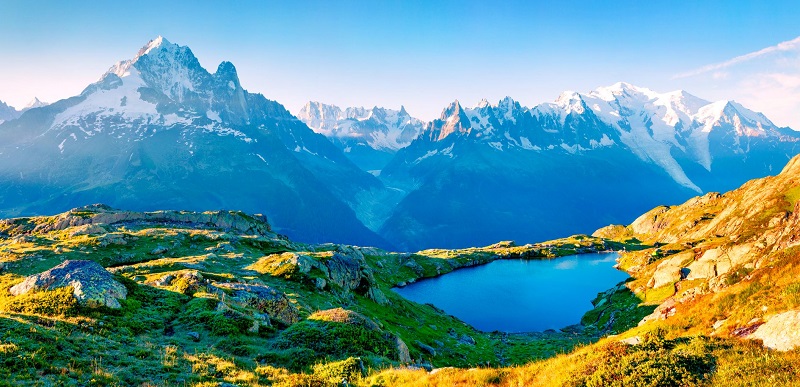 <<< Difficulty Level >>>
Our event will be at the AOC D6 difficulty level. The average daily elevation change is about +/- 3,300 feet. The continuous nature of daily outings requires all participants to be physically prepared and trained before taking this trip.
<<< How to prepare >>>
We all have to be physically prepared before taking on such an epic trip. Best physical conditions enable us to take in everything surrounding us and fully enjoy the amazing natural beauty instead of being out of breath and feeling tired every time going uphill. We must do fitness training a couple of times a week for a minimum 6 to 9 months, and also hiking the steepest mountain hills available to us. Personally my favorite is Kennesaw Mt. which is local, beautiful, and very convenient.
There are no vertigo-inducing sections on the entire TMB when we stick to the itinerary; and avoid the 'variations'. Some of the sections can be shortened if desired by the use of cable cars or (in Italy) a local bus service.
Following guide books are excellent resources for the preparation of TMB tour.
Tour du Mont Blanc: Real IGN Maps 1:25,000 - no need to carry separate maps (The Great Treks of the Alps)
The Tour of Mont Blanc: Complete two-way trekking guide (Cicerone Trekking Guides)
Tour du Mont Blanc: Includes 50 Large-Scale Walking Maps & Guides to 12 Towns and Villages - Planning, Places to Stay, Places to Eat (Trailblazer)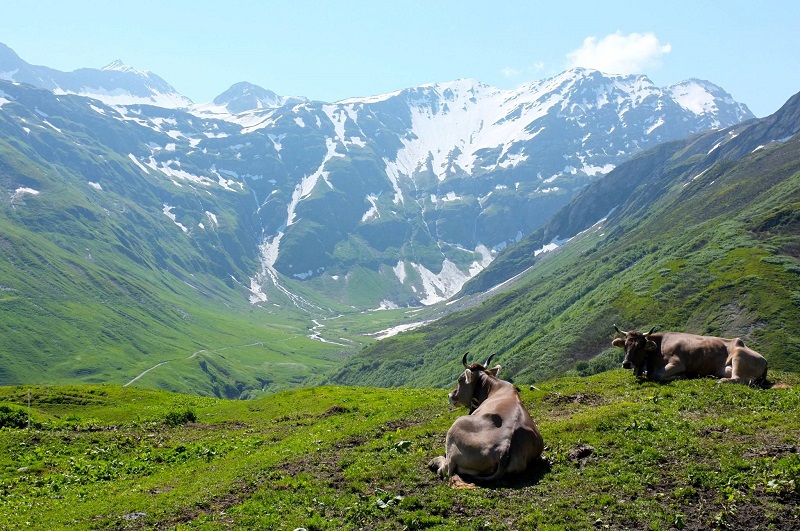 <<< How to get there >>>
Take flight to Geneva and arrive in the morning or early afternoon local time. The flight is most likely scheduled the day before our "Day 1" because of the time difference and trans-Atlantic flight. Take a 60 miles bus ride from Geneva airport to Les Houches, the first town in the valley of Chamonix, France. It is best to reserve the bus ticket in advance to get the better price.
Alternative travel plans to Milan or Paris are also possible from there to go to Les Houches. Some more information is listed below.
<<< How to sign up >>>
This web page is designed so that you can only put yourself on the waiting list. Once you're verified to be suitable for this trip, you will be moved to the participant list. A good reference is you can comfortably finish Kennesaw 10 in 4 hours.
Solid AOC D5 records are required.