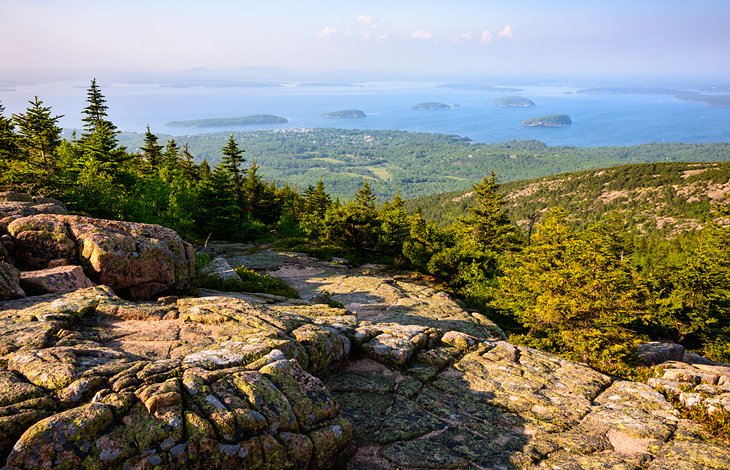 <<< Summary >>>
Come join the like-minded adventurers for a weeklong exploration of Acadia National Park. It is located along the rocky coastline of Maine, occupying most of the 108-square mile island of Mount Desert Island and several neighboring smaller islands in the Atlantic Ocean. Mount Desert Island's appeal is the combination of majestic rounded mountain vistas with the nearby ocean and the beautiful forested valleys, streams, and lakes in between.
One of the must do's when exploring Acadia is to enjoy fresh lobster, clam chowder, and blueberry pie at one of the roadside lobster pounds or restaurants in the area.
This trip will explore Acadia National Park in 8 days and 7 nights. These carefully evaluated and selected daily outings are all among various top 10 lists published by travel experts for Acadia National Park.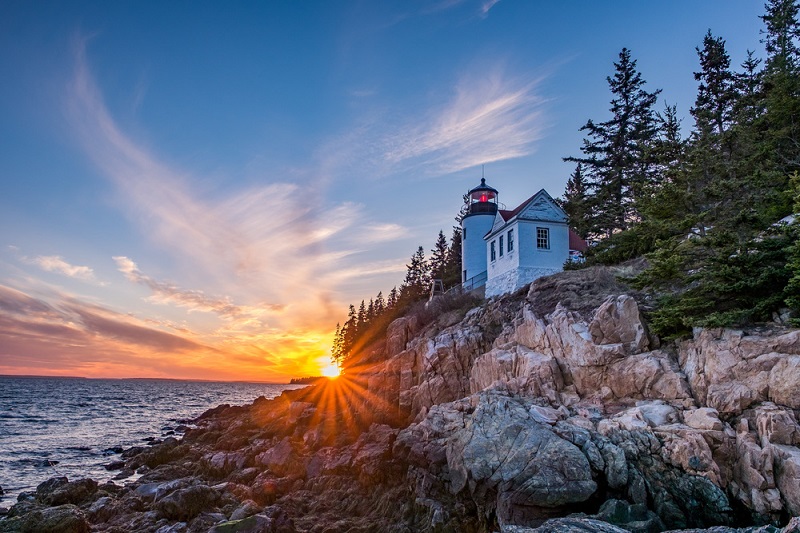 <<< Logistics >>>
We'll meet first thing in the morning from Day 2 to Day 7.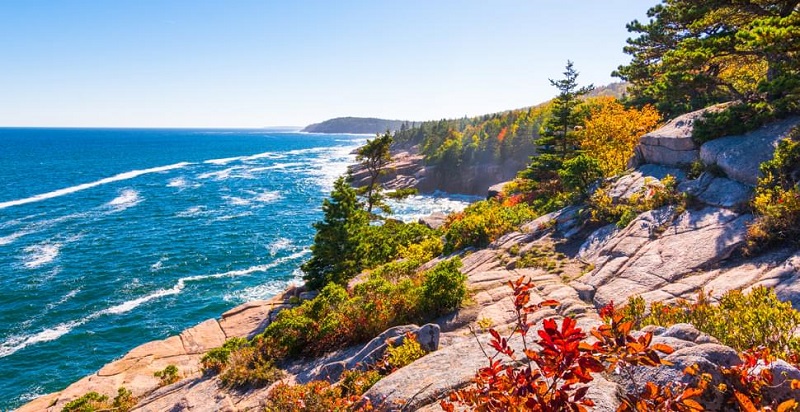 <<< Itinerary >>>
Day 1: 2021-07-10 Saturday.
Arrive at Acadia National Park in Maine; and check in lodging. This is a good day spending some time explore downtown Bar Harbor shops and attractions; or driving the famous 27 miles Park Loop Road to get an overview.
Day 2: We'll meet at 8:00 am at Hulls Cove Visitor Center. (8 miles)
Cadillac Mountain. The summit of Cadillac Mountain is one of the "must see" spots in Acadia. It's the highest point on the North Atlantic seaboard.
We'll take South Ridge Trail to the summit. We'll check out the summit loop trail to find a good spot for lunch; also scouting out the sunrise viewing spot for the week. We'll take North Ridge Trail back to our cars.
This will be a point-to-point one way route. We'll take 2 routes of free Island Explorer bus (Island Loop/#4 and Blackwoods/#10) to get to the starting point. We must be on time. If we miss the bus, then we'll have to wait for 1 more hour for the next bus.
Day 3: (13 miles)
We'll meet at 6:30 am at the Precipice Trail parking lot for an early morning hike. This is a very popular hike in the park, so we have to start early to have better chance of getting parking space.
Precipice Trail (3.2 mile/ 1000 feet ascent); rated strenuous with iron rungs. According to the Nation Park Service, this trail is not recommended for people with a fear of heights. It is perfectly okay if you want to skip this morning hike. There is more info of this trail at https://www.nps.gov/thingstodo/hike-precipice-loop.htm
We must remember to buy the Cadillac summit reservation ticket online at 10:00 am EDT. This is required for the sunrise watch 2 days later.
We'll have free time after the morning hike to eat breakfast. We'll meet again at the Acadia Mountain trealhead parking lot at 11:30 am.
Acadia Mountain/ Flying Mountain/ St Sauveur Mountain Loop Trail (6 miles); we'll find a good spot for our lunch break.
We'll hike Ship Harbor Trail (1.5 miles) and Wonderland Trail (1.5 miles) in the afternoon.
Dinner at Thurston's Lobster Pound at address: 9 Thurston Rd, Bernard, ME 04612.
After dinner: Bass Harbor Lighthouse Trail (1.5 miles) to enjoy the famous sunset at 8:16 pm. This is one of the iconic light houses in Maine.
Day 4: We'll meet at 8:00 am at Hulls Cove Visitor Center. (18 miles)
Carriage Roads 18 miles: Witch Hole Pond, Eagle Lake, and Jordan Pond Loop.
We have 2 options today: biking or hiking. Bicycle rental shops are available in Bar Harbor, and they can deliver to any starting point.
Carriage Roads are wide and nicely graveled for us to explore. No cars are allowed on them. It's a great way to visit park's major sites from Carriage Roads network.
Jordan Pond House, rated one of the best restaurants in any national park, is conveniently located on the south side of the pond and offers up excellent views of the Bubbles (South Bubble Mountain and North Bubble Mountain) across the water. We'll make lunch reservation for our group.

Day 5: (9 miles)
We'll meet at 4:45 am at Cadillac Mountain summit.
Watch sunrise 5:02 am. Make sure to bring Cadillac summit reservation ticket, headlamp, some hot drinks, and dress warmly.
Catching the sunrise is the absolute must do this week. On a morning with interesting clouds in the sky, the view is spectacular!
We'll watch sunrise at Cadillac Mountain summit. It's the first place to see the sunrise in America for much of the year. We'll need to bundle up in warm jacket to watch lights break over Frenchman Bay. We'll hike down the Cadillac Mountain Summit Loop trail to some less crowded spots for our viewing.
Plan B: watch sunrise. We'll meet at 4:45 am at the Otter Point parking lot.
If we have difficulty getting the required Cadillac Mountain summit reservation ticket two days before at 10:00 EDT, our plan B is to watch the sunrise at Otter Point.
After watching sunrise we'll have free time to eat breakfast and self-touring. We'll meet again at the Sand Beach parking lot at 10:00.
We'll hike Beehive Trail (1.6 miles rated strenuous with iron rungs), Great Head Trail, Ocean Path Trail, Thunder Hole, Otter Cliffs, and Gorham Mountain trails.
Day 6: We'll meet at 6:30 am at Jordan Pond parking lot. This parking lot fills up quickly. (14 miles)
Jordan Pond Path, South Bubble, Eagle Lake, Corners Nubble, North Bubble Trails (7.5 miles).
We'll have lunch at the famous Jordan Pond House. We'll make lunch reservation for our group.
After lunch: Pemetic Mountain (6.5 miles) by Pemetic South Ridge Trail, Pemetic North Ridge Trail, and Carriage Roads.
Day 7: We'll meet at 9:00 am at Sargent Mountain Trailhead. (12 miles)
Sargent Mountain and Penobscot Mountain (9 miles) including Cedar Swamp Mountain, The Amphitheater, Mitchell Hill, Penobscot Mountain, Sargent Mountain, Gilmore Peak, Parkman Mountain, and Bald Peak.
We'll also visit Hemlock Bridge, Waterfall Bridge, Amphitheater Bridge, and Little Harbor Brook Bridge.
Hunters Beach Trail: A trip to Acadia National Park would not be complete without hiking to one of Mount Desert Island's cobblestone beaches. Located on the southern coast of the east side of the island, Hunters Beach is a beautiful cove covered with ocean-tumbled rocks and a babbling brook flowing through the rocks into the ocean.
Day 8: Our group event ends today.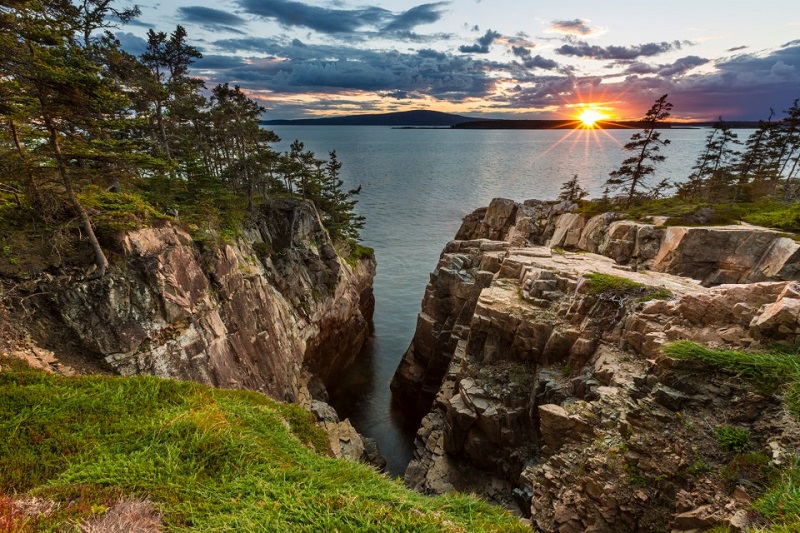 <<< Difficulty Level >>>
Our outings will be at the AOC's D3, D4, and D5 difficulty levels. The continuous nature of daily outings requires all participants to be physically prepared and trained before taking this trip. It is also perfectly okay if you want to skip a day to rest, or explore some of the popular areas on your own.
<<< How to get there >>>
There are 4 different airports to choose to go to Acadia National Park. It is all about getting the balance of favorable airline ticket price and driving distance to reach Acadia NP.
Logan International airport, Boston MA. This is the most popular airport and most likely getting the best ticket price. Driving time to Acadia NP is about 5 hours along the beautiful New England coastline.

Manchester, NH. Southwest airline has routine flight with possible promotional ticket price. Driving time to Acadia NP is about 4 hours.

Portland, Maine. Driving time to Acadia NP is about 3 hours.

Bangor, Maine. Driving time to Acadia NP is about 1 hour.
<<< How to sign up >>>
This web page is designed so that you can only put yourself on the waiting list. Once you're verified to be suitable for this trip, you will be moved to the participant list.