***** NOT A BEGINNERS RIDE *****
For new members and/or members without recent documented AOC D3 bike riding related experience, please email the trip leaders explaining your recent long distance riding experience & history. You may be moved to the waiting list until we hear back from you and approve you for the ride.
This is a no- drop road ride so no one will be left behind, but if you can't keep up with the group and/or follow the bike route directions, you may be asked to turn around or Uber your way back to the finish. You must feel comfortable riding on busy and crowded streets and bike paths in a group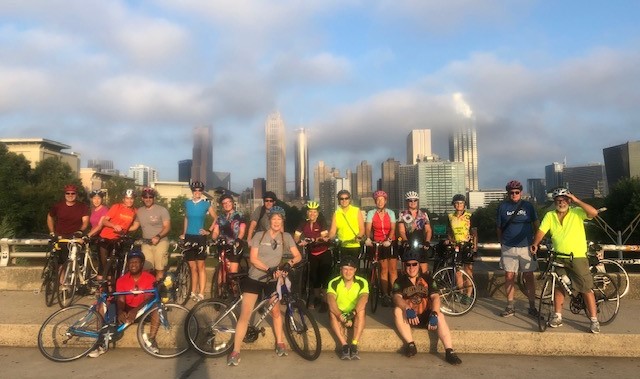 "Nothing compares to the simple pleasure of riding a bike." — John F. Kennedy
Spinning Time On The Beltline
Circles get a bad rap...
Feel like you're riding in circles? Spinning like a top? Don't let life throw you for a loop!
Cinch up your belt, grab your bike and come spin with us on one big circle! We're circumnavigating Atlanta on the BeltLine.
Atlanta has an amazing number of parks connected like the green jewels of a necklace along the existing and proposed BeltLine loop including:
Piedmont Park
Freedom Park
Historic Fourth Ward Skate Park
Grant Park
DH Stanton Park
Adair Parks (I and II)
Rose Circle Park
Gordon-White Park
Mozley Park
Washington Park
Hemphill Water Reservoirs Park
Bobby Jones Golf Course
Tanyard Creek Park
Winn Park
We'll traverse city streets, visit interesting in-town neighborhoods, view some of the amazing skyline vistas around the city and revel in the shady spots in the many parks along the way!
- Optional Breakfast -
You're invited to join us at Julianna's Crepes for a bite to eat and/or refreshment after the ride. Plz bring $$$ to pay for what you eat & drink :)
Julianna's Crepes
775 Lake Ave NE, Atlanta, GA
+1 404-436-1825
http://www.atlantacrepes.com/
https://www.tripadvisor.com/Restaurant_Review-g60898- d4979409-Reviews-Julianna_s_Crepes-Atlanta_Georgia.html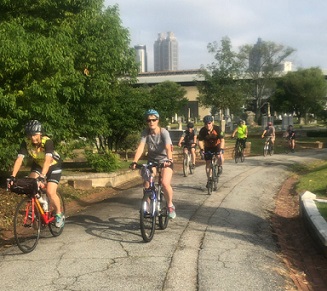 Our Group Riding Plan
Our plan is to cycle 28 +/- miles on and around the Beltline Trail. We will start and finish our ride at Krog Street Market.
Starting time is at 7:30 AM near the bike racks at the side entrance of Krog Street Market. You will want to arrive 7:20 AM to check-in.
We will ride at a two wheel moderate pedal pace (Not too fast, not too slow) and enjoy the city and parks on our route.
This is NOT a flat greenway, Silver Comet ride, or speed race to see who can finish first - there will be traffic, hills, paved and uneven roads, and many stops & turns during our ride.
We will plan to stay together as a group, stopping at most turns and parks to re-group & re-energize with a few gulps of water or Gatorade.
Our Route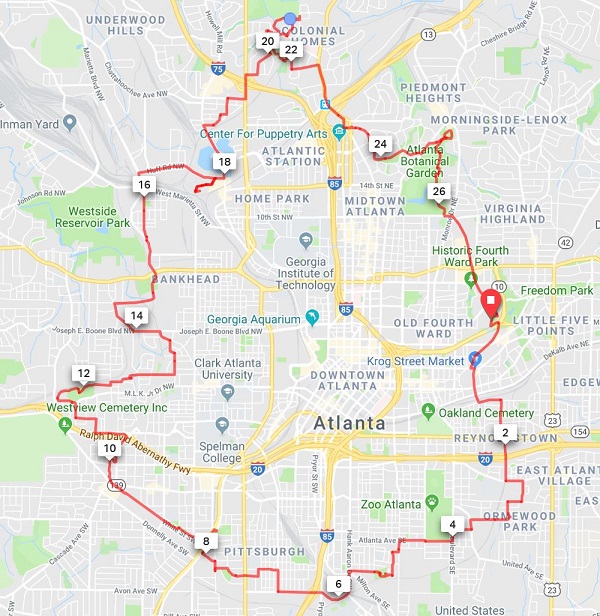 Distance

Elevation gain/loss

Start & Finish Location
Krog Street Market
99 Krog Street
Atlanta, GA 30307
http://www.krogstreetmarket.com/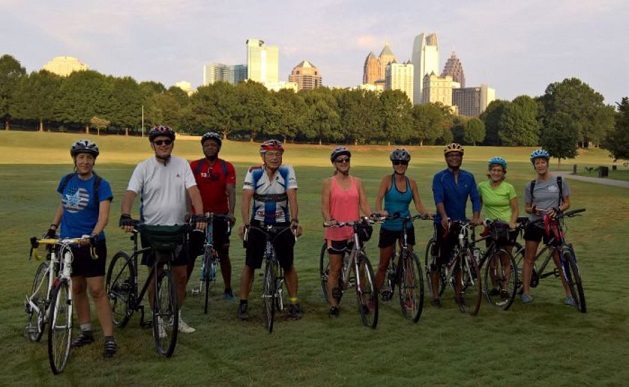 Important Notes
For safety, helmet required to be worn during this event. No helmet, no ride.
Wear light or bright color clothing and working lights on both front and back of your bike for visibility.
We recommend a road or hybrid bike.
Carry your phone for emergencies, GPS, Uber, etc.
Carry a whistle for signaling - emergencies, flats, breakdowns, lost, etc..

Inspect & pump up your bike tires the night before the event, not the morning of...we plan to start our ride @ 7:30 AM Sharp!
Required Reading - bike signals & commands: https://cyclingtips.com/2009/09/verbal-and-non-verbal- communication/
***Be courteous to other members on the waiting list - if you're not able to attend the event afterall, please don't wait to drop the day before or morning of the ride. Try to give as much notice as possible so other members can make their plans to attend the ride.
Carry extra $$$ or credit card for meal, beverages, snacks, emergencies, etc.
If you're a Garmin user, please join our 'Atlanta Outdoor Club (AOC) Garmin Users' group to connect with other AOC Garmin users and track your activity. Join us at: https://connect.garmin.com/modern/group/2255568

Itinerary is subject to change before and during the event.

Items to Bring