***** NOT A BEGINNERS RIDE *****
For new members and/or members without recent D4 bike riding related experience, please email the trip leaders explaining your recent long distance riding experience & history. You may be moved to the waiting list until we hear back from you and approve you for the ride.
This is a no-drop road ride so no one will be left behind, but if you can't keep up with the group and/or follow the bike route directions, you may be asked to turn around or Uber your way back to Serenbe. Road bike strongly recommended, unless you can keep up with the other cyclists on a hybrid bike. Lastly, you must feel comfortable riding on the road in a group w/traffic.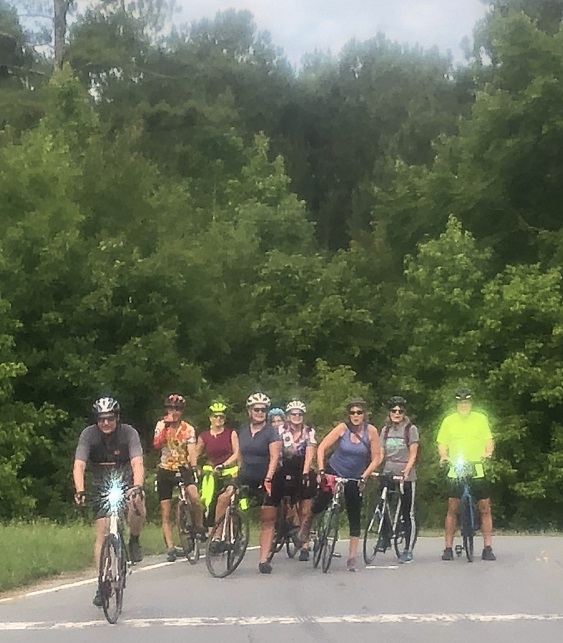 Our Group Riding Plan

Join us for this mid-morning autumn scenic and low traffic bike ride, starting and finishing at the Blue Eyed Daisy Bake Shop in the charming town of Serenbe. Our plan is to cycle the 42 mile route of beautiful winding roads in the country - with several up and down hills!
We will ride at a two wheel moderate pedal pace (Not too fast, not too slow) and enjoy the winding rolling hills.
This is NOT a flat greenway or Silver Comet ride, or speed race to see who can finish first. We will plan to stay together as a group, stopping every few miles at each turn to re-group & re-energize with a few gulps of water or Gatorade.
- Start & Finish Location -
Blue Eyed Daisy Bake Shop
- Start & Meeting Time -
10 AM SHARP Departure (Meeting time: 9:55 AM)

- Optional -
After our ride, we will drop in the Blue Eyed Daisy Bake Shop for a bite to eat and/or refreshment - they serve breakfast and sandwiches. Plz bring $$$ to pay for what you eat & drink :)
Important Notes
For safety, helmet required to be worn during this event. No helmet, no ride.
Wear light or bright colored clothing and working lights on both front and back of your bike for visibility.
You will definitely need to carry a spare tire tube in case you get a flat. You don't want to ride without one!
We strongly recommend a road bike although you can ride a hybrid, if you are a very strong cyclist and can keep up on the hills.
Carry your phone for emergencies, GPS, Uber, etc.
Carry a whistle for signaling - emergencies, flats, breakdowns, lost, etc..

Inspect & pump up your bike tires the night before the event, not the morning of...we plan to start our ride @ 10 AM Sharp, so please arrive 5-10 minutes earlier for check-in and important instructions!
Required Reading - bike signals & commands: https://cyclingtips.com/2009/09/verbal-and-non-verbal-communication/
If you're a Garmin user, please join our 'Atlanta Outdoor Club (AOC) Garmin Users' group to connect with other AOC Garmin users and track your activity. Join us at: https://connect.garmin.com/modern/group/2255568

Be courteous to other members on the waiting list - if you're not able to attend the event afterall, please don't wait to drop the day before or morning of the ride. Try to give as much notice as possible so other members can make their plans to attend the ride.
Itinerary is subject to change before and during the event.

Our Scenic Bike Route
https://ridewithgps.com/routes/29835953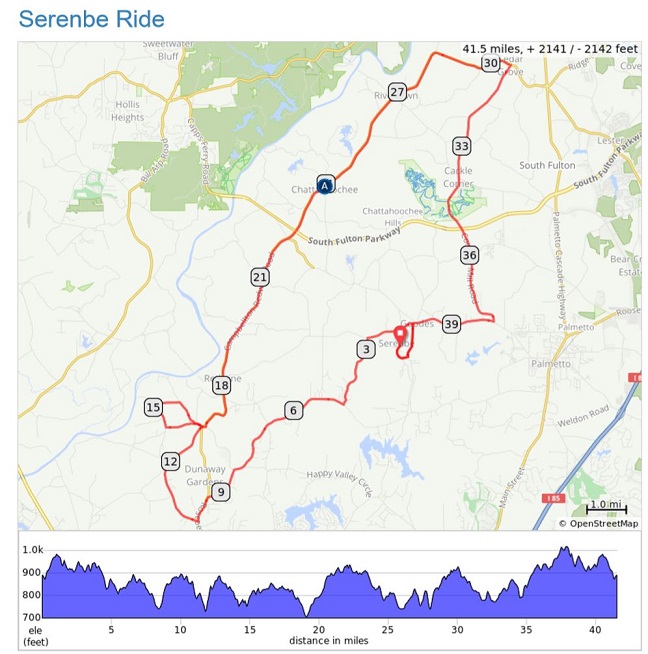 Elevation gain/loss

Directions & Turns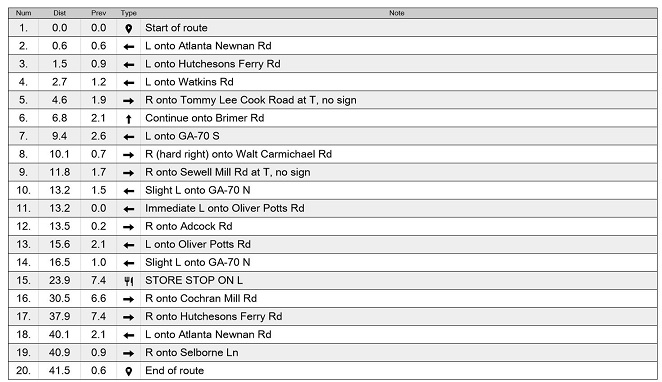 Links
Serenbe Information: https://serenbe.com/
Blue Eyed Daisy Bake Shop: http://blueeyeddaisy.com/
Route Map: https://ridewithgps.com/routes/29835953
What to Bring