This outing is planned for hiking and exploring South Dakota in 10 days and 9 nights. It is designed for members with positive, adaptive, and flexible spirits. Good physical fitness and endurance are also required.
This web page is designed so that you can only put yourself on the waiting list. Once you're verified to be suitable for this trip, you will be moved to the participant list.
Meeting place: from 9/21 (Wednesday) to 9/28 (Wednesday)
Every morning we'll first meet in the lobby of Foothills Inn at address: 1625 N Lacrosse St, Rapid City, SD 57701.

<<< Itinerary >>>
Day 1: 9/20 (Tuesday)
Take flight from home town to Rapid City, SD and check in Lodging.
Day 2: 9/21 (Wednesday) we'll meet at 8:00 am.
Mount Rushmore National Memorial.
After spending time exploring Mount Rushmore, we will hike from Mount Rushmore to Horsethief Lake & back. It's about 9 miles. This is a D4 event.
Trailhead is located at the southern end of the Mount Rushmore parking lot. Cross SD 244 on the curve with a highway railing. Climb over the railing and the well-used dirt trail can be easily spotted. There is a small trailhead panel with a map at the starting point of Blackberry Trail.
After 0.9 miles on Blackberry Trail, we'll encounter a T intersection with Centennial Trail #89, and we'll go west-northwest (right) for 2.5 miles. We'll stay north (right) at junction with Horsethief Lake Trail #14. At 4.5 miles, we'll arrive at the Horsethief Lake. After taking our break at the lake, we'll turn around and retrace our way to get back to Mount Rushmore. We'll spend plenty of time exploring Mount Rushmore and its facilities.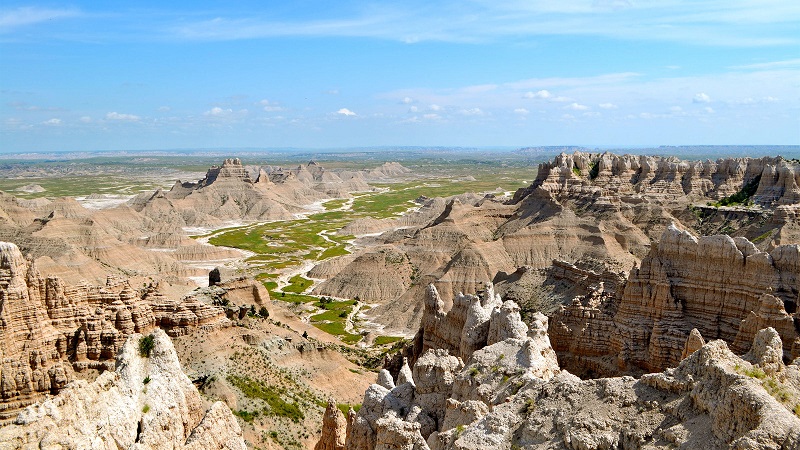 Day 3: 9
/22 (Thursday) we'll meet at 8:00 am.

Badlands National Park.
We will first make a stop at Wall Drug Store to take a general tour at 510 Main St, Wall, SD 57790. It is a very interesting place with plenty of stores to visit and shop.
We will then follow highway I-90 to Visitors Center of Minuteman Missile National Historic Site at 24545 CottonWood Road, Philip, SD 57567. We'll visit its museum and take a general tour.
We will then take SD-240 to Badlands NP Ben Reifel Visitor Center to review its exhibits. Ben Reifel Visitor Center is at 25216 SD-240, Interior, SD 57750. We will then take our lunch break at the next door Cedar Pass Lodge.
After lunch we'll drive to Door (and Window) Trailhead about 2.3 miles from the Visitor Center turn right and following SD-240 E Road.
We will hike Door trail 0.8 miles, Window trail 0.3 miles, and Notch trail 1.5 miles. We will get to see a variety of very special and famous Badlands formations.
We'll then hike the Castle Trail from the same trailhead parking lot. This out-and-back route is not strenuous itself, but there is very little shade and lots of exposure! So be prepared for that. The total out-and-back Castle Trail is 12 miles. Depending on how much time we have, we will most likely only hike a small portion of Castle Trail. This is a D4 event.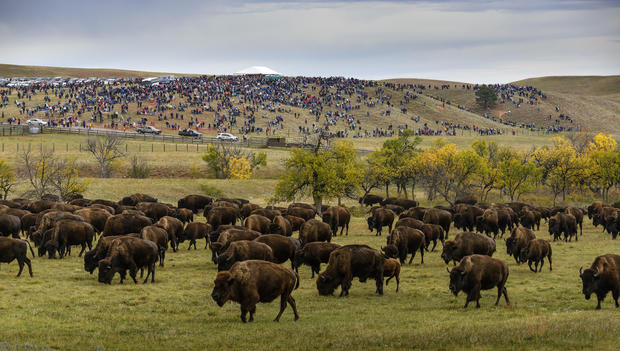 Day 4: 9/23 (Friday) we'll meet at 5:00 am.
Custer State Park.
It is the Annual Buffalo Roundup & Arts Festival in Custer State Park.
Custer State Park is a South Dakota State Park and wildlife reserve in the Black Hills. The park is South Dakota's largest and first state park, named after Lt. Colonel George Armstrong Custer. The park covers an area of over 71,000 acres (287 km2) of hilly terrain.
The park is home to a famous herd of 1500 free roaming bison. Elk, coyotes, mule deer, white tailed deer, mountain goats, prairie dogs, bighorn sheep, river otters, pronghorn, cougars, and feral burros also inhabit the park.
The park is well-known for its scenery, its scenic drives (Needles Highway and the wildlife loop), with views of the bison herd and prairie dog towns. This park is easily accessible by road from Rapid City.
We plan to arrive by 6:15 am to avoid getting stuck in the traffic. It's recommended we bring our own folding chair or something for seating. They are available at Rapid City Wal-Mart. Roundup is from approx. 9:30-11:30 am. Breakfast and Lunch will be available on site for purchase. Park entrance license is not required on the Roundup day. Porta-pottys are available. We will leave the Roundup & Arts Festival in the afternoon.
We will make a stop at the Custer State Park Visitor Center to review its exhibits and movie. We'll then spend plenty of time in the afternoon driving through the Wildlife Loop Road to view the famous wildlife in the Custer State Park. This is a D1 event.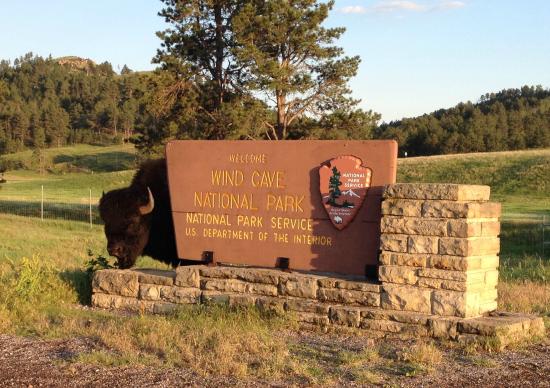 Day 5: 9/24 (Saturday) we'll meet at 7:30 am.
Wind Cave Nationa Park.
We'll first make a stop at Wind Cave NP Visitor Center to take its Natural Entrance Cave Tour.
The tour lasts 1 hour and 15 minutes, is 2/3 mile long, and encounters 300 stairs (mostly down). The tour enters the cave near the natural entrance and exits by elevator. It's much colder in the cave so a jacket or sweater is a good idea. Ticket is $12 for those are 61 and under, and $6 for those are 62 and above. We plan to get in the 9:00 tour.
After cave tour, we will take a break and then trek the 11 miles combo loop trail of Centennial, Sanctuary, Highland Creek, and Lookout Point Trail.
This is a route highlights the varied terrain of the park. It is the perfect way to see first-hand the different ecosystems that Wind Cave National Park has to offer. We'll be able to enjoy both high prairie environments as well as more riparian regions. There are sweeping vistas, rolling hills, cool streams, and the diversity of plant, animal life, and prairie dog towns along the way.
From the visitor center we'll take SD-87 N road heading north for about 2 miles to the Centennial and Lookout Point trailhead. This is a D3 event.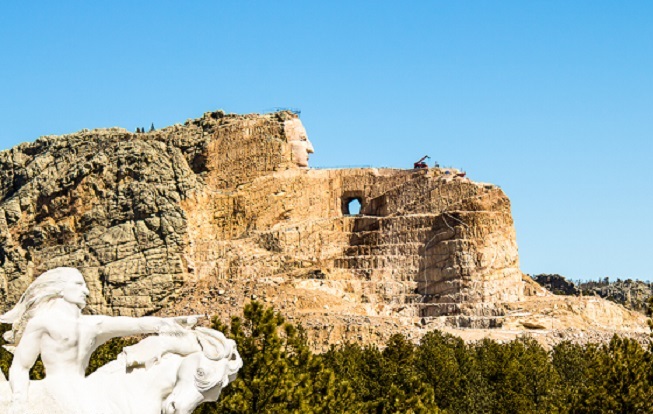 Day 6: 9/25 (Sunday) we'll meet at 8:00 am.
Crazy Horse Memorial

It's the annual Fall Crazy Horse Volksmarch. This event is sponsored by the Black Hills Chapter of the American Volkssport Association (AVA) and hosted by Crazy Horse Memorial. This annual autumn hike is held on this Sunday. It is the public's second chance of the year to hike up the world's largest mountain carving in progress. The out and back hiking is about 6 miles with 500 feet elevation gain. We'll take our lunch break after hike, and spend plenty of time touring the Memorial and its facilities. Memorial will not charge the regular $30 entrance fee per car if every person brings 3 cans of food. At the Volksmarch registration desk, it is $3 cash per person.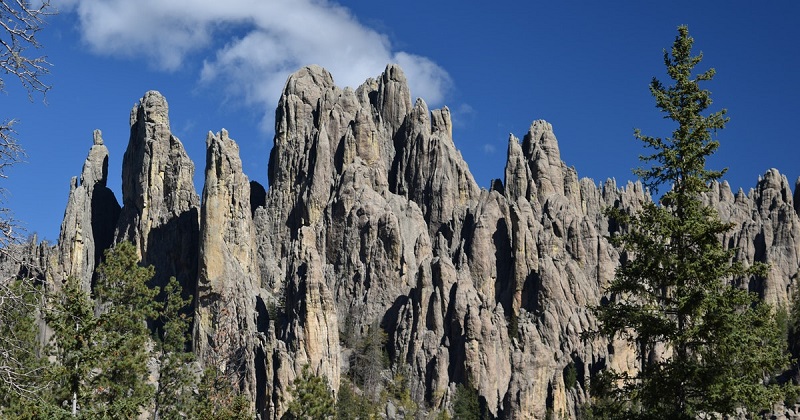 Cathedral Spires
We will hike the near-by Cathedral Spires trail in the afternoon. It is a 2 miles hike out and back with 530 feet elevation gain. It is rated as a strenuous trail by the park.
Cathedral Spires can feel deceptively easy at the beginning, but once reaching some of the short rock scrambles, one can understand the difficulty rating. Be prepared to climb over some rocky stretches of trail as it gradually gains elevation. Despite these tricky spots, there is also a fair amount of level trail. A nice feature of this trail is the area of flat, open ground at the end where we can enjoy a very nice break among the spires.
Cathedral Spires trailhead is about 2.2 miles east of Sylvan Lake following SD-87 S road. This is a D3 event.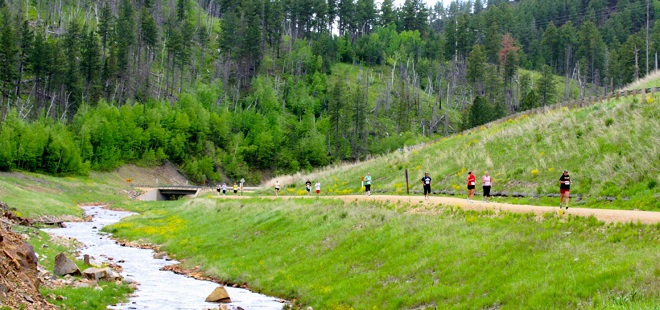 Day 7: 9/26 (Monday) we'll meet at 8:00 am.
Biking the George S. Mickelson Trail section from Rochford trailhead to Hill City trailhead.
The George S. Mickelson Trail was completed in September of 1998. Its gentle slopes and easy access allow people of all ages and abilities to enjoy the beauty of the Black Hills. There are more than 100 converted railroad bridges and four hard rock tunnels along the 109 miles route.
The distance of our section is about 22 miles with easy and gentle grade. The total elevation gain is about 800 feet and spread out over a long stretch of about 7 miles. The scenery is very pretty and calming. We go one way from north (Rochford) to south (Hill City). Bicycle rental shops in Hill City will also provide shuttle service to Rochford trailhead. We will make bike rental and shuttle service arrangement for anyone interested in biking. Bike rental is about $40 per person; and the shuttle is about $84 per van for up to 6 persons to share. There is a $4 cash permit charge per person for using this trail at trailhead.

Day 8: 9/27 (Tuesday) we'll meet at 8:00 am.
Spearfish Canyon
We'll first visit the Spearfish Canyon with two canyons, Spearfish and Little Spearfish, come together to offer spectacular views. We will trek in the Spearfish Canyon where Orion Pictures "Dances with Wolves" was filmed. The movie, released in 1990, was nominated for twelve Academy Awards and took home Oscars for Best Cinematography, Director, Film Editing, Original Score, Sound, Original Screenplay and Picture.
Once we get to Spearfish, we'll take US Highway 14A (Spearfish Canyon National Scenic Byway) going south about 14 miles to Savoy. Then take FR 222, Roughlock Falls Road, for 4.7 miles to the trailhead of Little Spearfish Loop Trail in the Timon Campground.
We will take Little Spearfish Loop Trail first for about 7 miles with about 850 feet elevation gain. We'll then drive to the top of Roughlock Falls parking lot and walk around there. We'll then drive back to Savoy at the parking lot of Spearfish Falls trailhead next to Spearfish Canyon Lodge. This trail is less than a mile. This is a D3 event.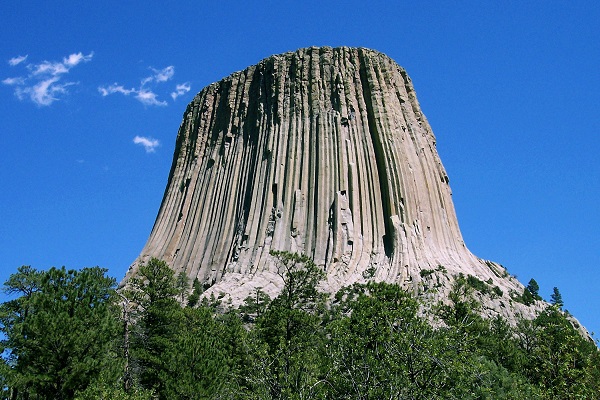 Devils Tower National Monument, Wyoming.
We'll visit Devils Tower in the second half of the day. We'll take the most scenic route of I-90 W and US-14 W to WY-24 E to fully enjoy our driving and viewing plenty of beautiful vistas. It's an easy and relaxed 1-hour drive. We'll spend some time touring the Visitor Center before hiking the most popular Tower Trail in the park. It's a short and easy 1.5 miles on the paved surface.
It starts across the parking area from the Visitor Center. After a steep section leads us to a junction; we'll then go around the base of the Tower in either direction. The trail goes through ponderosa pine forest and the boulder field. Interpretative signs explain some of the geology and ecology of Devils Tower National Monument. There are benches along the path to take a snack break and enjoy views of the Tower. We'll then take the same route driving back to Rapid City.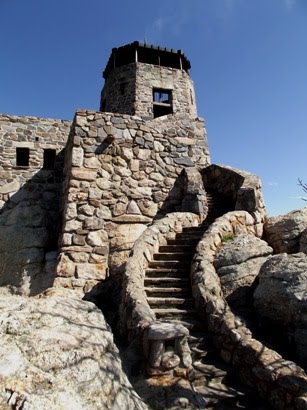 Day 9: 9/28 (Wednesday) we'll meet at 8:00 am.
Black Elk Peak.
This is the highest Mt. in SD standing at 7,242 feet. It is also the highest point in the US east of the Rocky Mountains. We'll start from the Sylvan Lake trailhead parking lot in Custer State Park to the summit. This trailhead parking lot is about 0.3 miles pass the first General Store parking lot by the Sylvan Lake.
The Black Elk Peak Loop trail goes up past Little Devils Tower along the Little Devils Tower Trail #4, joining with the Cathedral Spires Trail #4A, and continuing on to meet up with the Norbeck #3 trail to finally reach the summit of Black Elk Peak.
Along our way we will go by the side trail to the Little Devils Tower. This excursion makes our distance a little longer than just going to the summit, but it is so well worth the effort. The panoramic views from the top of Little Devils Tower are breathtaking!
The return brings us down a different path using the Harney Peak #9 (South) trail. This will allow us to see different views on the way back.
This trail is in the rocky terrain and the scenery is beautiful with many look out points offering extraordinary views of the entire Black Hills and the surrounding area. There are 0.75 miles of trail near the top are sandy and slippery. There are also stairs close to the peak to climb to the summit. The total distance is about 10 miles. This is a D4 event.
Depending on how much time we have, we'll have the option to hike Sylvan Lake Shore Trail (1 mile) and Sunday Gulch Trail (3 miles) from the same Sylvan Lake trailhead parking lot.
We will have a farewell dinner tonight for the whole group. I will make dinner reservation for everyone.

Day 10: 9/29 (Thursday)
Our group event ends today.