Welcome to my Second Stop and Smell the Roses Hike. These are intended to be a series of slower moderate paced hikes varying from D1 to D4 depending on the venue. The hike venues will be specifically chosen for their photographic views. So, if you know nothing about photography or are an advanced amateur or higher join me for this hike. Bring you camera, phone, or video camera; we will be stopping so that we may share our love for capturing nature and teaching others how we did it. There should be time for lots of pictures, two to three-minute videos, and digital recording of nature's sounds. Due to this these hikes will be a little longer in time than equivalent hikes. IF, YOU WANT A FAST-PACED HIKE PLEASE DO NOT SIGN UP. Others that may enjoy this hike are those wanting a slow-paced hike with frequent stops.
Hike Plan: We will meet at the Park Visitor Center, with restrooms.After introducing at the Visitor Center we'll caravan in our vehicles about 1 mile southward to the gravel Iron Hill parking lot and trailhead (on the right) where we'll park again and reconvene for the hike. We follow the trail in clockwise direction taking all spurs so that we get the great views of the lake that will be occurring this time of year and both distance and elevation.
Brief History of the Iron Hill Area: Iron mining here goes back to before the American Revolution. Several attempts were made between the mid-1700s and 1837, all ending in failure. Jacob and Moses established the first furnace (a "bloomery") on Stamp Creek that year. Known as Etowah Bloomary, this forge was replaced in 1841. Mark Cooper bought the mill in 1843 and founded the the city of Etowah. Because of its ability to produce iron, the city was a major target of the Union Army during General Sherman's Atlanta Campaign. General Jacob Cox took the city as temporary commander of the XXIII Corps, Army of the Ohio, on May 26, 1864 after a brief battle. The destroyed city of Etowah was never rebuilt.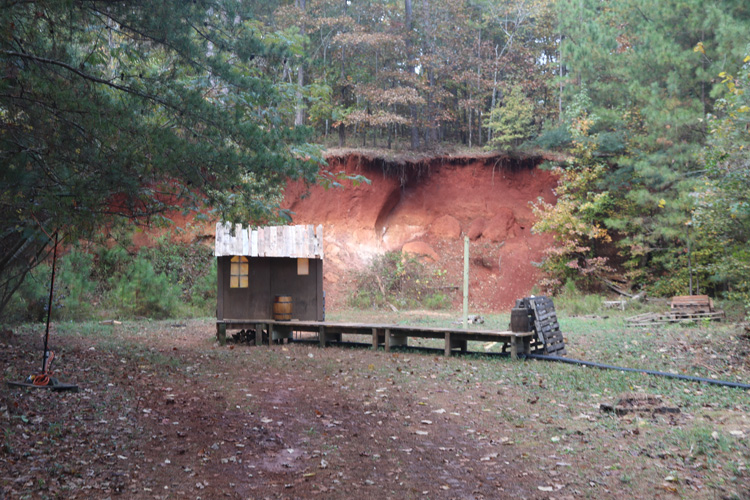 Iron Mining Pit located on the trail.

Riddle: Why is Red Top Mountain RED? (Hint: The answer is in both the Event Title and the Picture above.