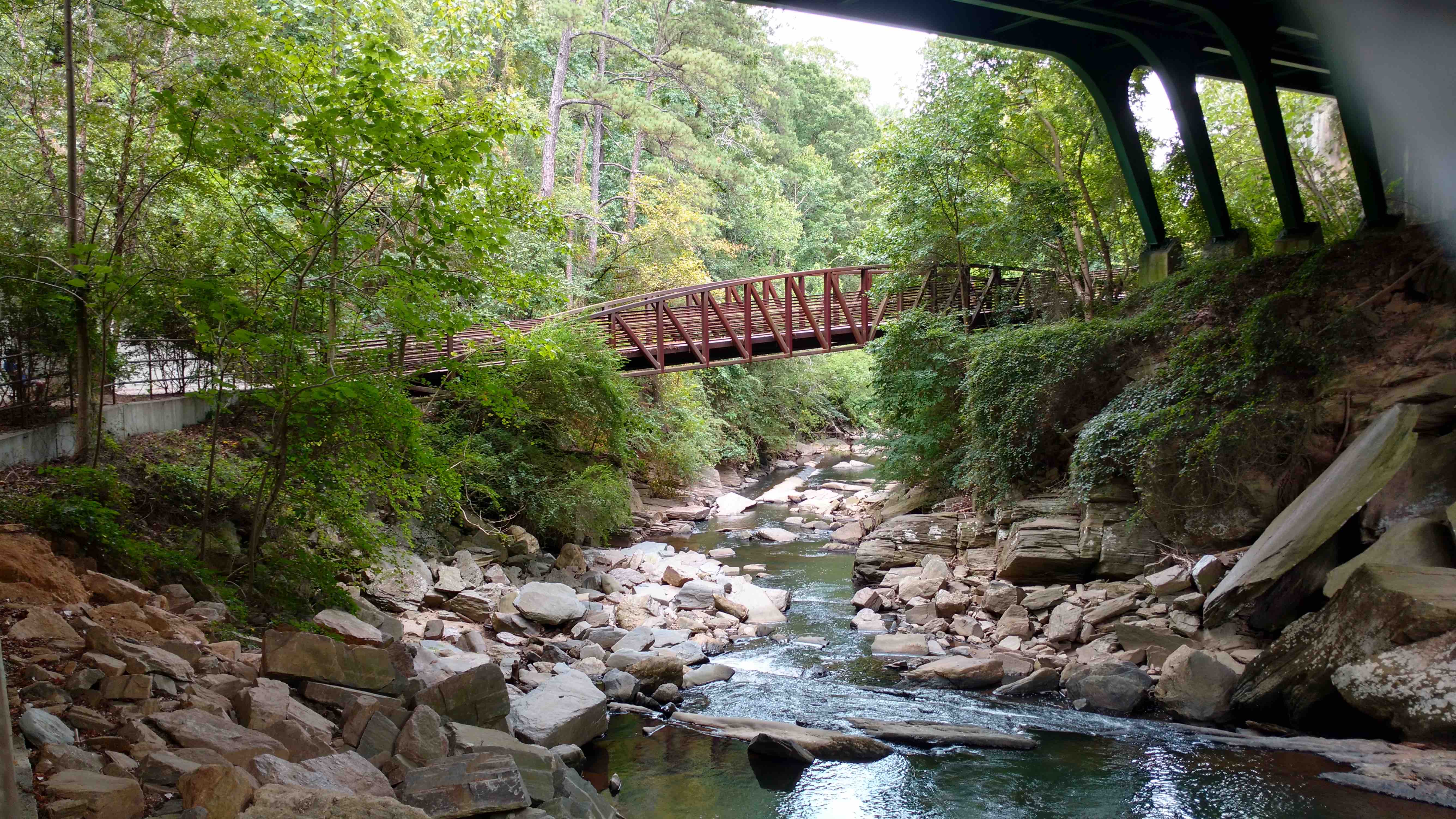 It might be January, but we're in Georgia! Anyone up for cycling 28+/- hilly miles through the diverse and beautiful scenery of Atlanta? We will spin through midtown's city streets, along meandering streams underneath interstate overpasses, past shady river views along the Chattahoochee, and into some of the hilly neighborhoods (mostly) inside the perimeter.
The ride begins at Piedmont Park, winds through Ansley Park toward Peachtree Street, then follows Peachtree Creek behind Bobby Jones golf course and traverses neighborhood streets until we reach the Chattahoochee river at West Palisades. From there, we cycle on paved trails along Rottenwood Creek, which is beautiful despite the unfortunate name, before continuing past Cochran Shoals and Powers Island toward the opposite side of the Chattahoochee at East Palisades and heading back toward Piedmont Park. It takes about 3 hours for the ride, including a couple of scenic stops along the way.
This is not a casual ride. If challenging hills are the highlight of your ride, you will love this one! For those of you who ride the Big Creek Greenway on Tuesday evenings, think quadzilla hills with killer scenery!!!
We will be biking on both paved trails and paved streets. Although there isn't a lot of traffic during the early weekend mornings, you must be comfortable with biking on streets alongside cars and city traffic. We will be moving at a moderate pace, and average about 12 mph, excluding stops and photos shots. We expect to be finished by 1:30 PM. If you sign up, please allow flexibility with finishing time.
- Important Notes -
1. For safety, helmet required to be worn during this event. No helmet = No bike ride, bye, bye
2. Wear light or bright colored clothing and working lights on both front and back of your bike for visibility.
3. Bring a spare inner tube & repair kit in case you get a flat.
4. We recommend bike or helmet mounted mirror since we'll be riding on the streets.
5. This is a 'no drop ride', so no one will be left behind, but you are expected to keep up with the group.

6. Itinerary is subject to change and event finish time is a rough estimate.

7. Have your cell phone with you and 'on' during the ride for emergencies, flats, gps map and location, communication with trip leaders, etc.
8. Carry the trip leader(s) phone number with you.
9. If you're a Garmin user, please join our 'Atlanta Outdoor Club (AOC) Garmin Users' group to connect with other AOC Garmin users and track your activity. Join us at: https://connect.garmin.com/modern/group/2255568