Take a day or two off and come join me for a self-supported, winter backpacking thru-hike of the glorious FOOTHILLS TRAIL ( https://foothillstrail.org/ ). We'll be kicking off early Friday to get a jump on local traffic and to get shuttled to to TRSP. Once set Table Rock State Park is where we'll kick off this event :: headed in a south westerly direction to Oconee State Park. Divided up into 4 uneven days to match the uneven approximate 17,500 feet of elevation and 77 miles we plan to test you to see if you got what it takes:
THURSDAY (Day 1) :: Projected mileage 15*
FRIDAY (Day 2) :: Projected mileage 27*
SATURDAY (Day 3) :: Projected milage 26*
SUNDAY (Day 4) :: Projected mileage 9*
This is NOT a beginners backpacking event; this is a challenge of sorts + an overall test of one's daily ability. If you're AOC resume has lots of D5-D6-D7 events it will be a great time, I'll probably still vet everyone just for safety concerns, but don't apply if your events tend to be in the D2-D3- D4 neighborhoods.

DAY 1: Hauling arse from ATL to Oconee (see COVID-19 footnote) and set up for the shuttle; we'll get signed in (see Peregrine Award on FTC's site), and get on the trail as soon as humanly possible. We have a lot of steep terrain today - Pinnacle and Sassafras Mountain greet us with an almost all uphill beginning to the day. The plan is to be backpacking quickly so we reach our projected mileage goal b4 sunset (hopefully it's not that late). Gather water and gear up for a big day on Saturday! We'll get dinner rolling and get food in bearbags and stowed b4 hunkering down for the night. I don't plan on hanging around any fires this trip, but if someone feels they have the energy for that...more power to them.
DAY 2: A LONG day awaits and an early alarm will be set to get the full kick of a 26 mile day with weight on its way. Not exactly sure what time that alarm will go off but rest assured it will probably be dark when we roll out. Along the way there's absolutely amazing scenery and finding water along the way should *not* be a problem. A quick lunch stop may take place in a scenic locale, but most of the snacks will be consumed on the fly. What a day...once we're setting up for the night, it will be much of the same...water gathering, inhaling calories, hanging bearbags and catching Zzz'z.
DAY 3: Well, today is another long day, an almost mirror image of Saturday. The schedule will be planned according to how we're feeling as far as a wake up call, but planning another early start to be sure we get the necessary miles in. That way we we're set for a short day on Monday. A majority of the day has more elevation loss than gain, so we'll be testing the toe boxes out on our boots/shoes...and of course we'll have a bit more wiggle room today so we'll be shootin' from the hip on a lunch stop and breaks. Set up for the night will be depend on how far and how strong we're feeling for Monday, but I'd like to be sure it's less than 10 to get out on Monday...so as we set up for sleep on the last full day we can be sure to replace those calories and get ready to hit the rack for some much needed sleep.
DAY 4: We're outta here gang! So hopefully we're set on schedule for less than a 10-miler to Oconee State Park and gather the other car(s) at TRSP and head out. No trail lunch stop planned today, just business as usual...but I might need an adult beverage or two after kicking dirt for 77 miles...so here's to the E-W thru hike of the FOOTHILLS TRAIL.
The elevation map below Magenta - Day 1. Red - Day 2. Blue - Day 3. Green - Day4: Each day has "estimated" miles shown...not to scale, not in stone. Most of us (including myself) have the national holiday off on Monday...so if the "fit hits the shan" on one of those days we might have a little wiggle room. That is a LAST RESORT and I do not consider that as the plan.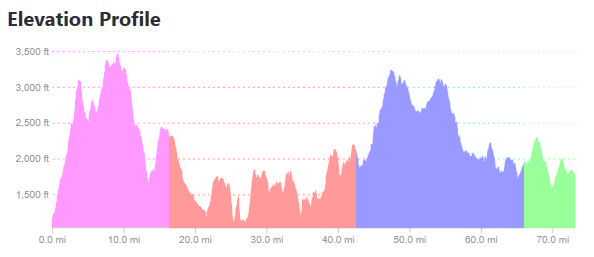 Lunch at Habanero's is a highly suggested option b4 heading home, hence the short day ;)
*denotes approximate distances, don't get feelings hurt if we extend mileage or cut things short. There has been a couple of bridges that have been destroyed from recent storms (this was originally written up in the Spring of '19), so water crossings are possible - having an open mind is probably a great thing.
Self-shuttle could be possible if we get two people willing to drive, otherwise I have some ph#'s for local shuttle services...that detail may involve some cost sharing, but we know more as the event approaches...if you can drive, please let me know at the time of sign up.
*NEW SINCE COVID-19
Since we're not allowed to Carpool to events - I suggest that we all arrive at Oconee - park all of our cars there - hire Taz to shuttle us (masks are required in his vehicles) to TRSP ... for ease of logistics I want all of us at Oconee to shuttle UP to TRSP to start, plus it will help lighten the fees for shuttling.