Join Ranger Hightower for a moderately paced hike thru Island Ford learning all about the vegetation & wildlife along the trail. You MUST register with the Chattahoochee River National Recreation Area at  678-538-1200. Then register here with the AOC.
This is the write-up by Ranger Hightower: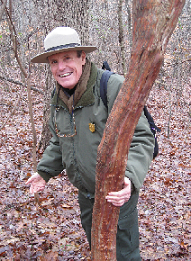 Description:
Join National Park Service Naturalist Jerry Hightower for a Hike through the oak hickory forest along the ridges overlooking Island Ford Shoals.  Hike along the river and see where the prehistoric Sixes Trail crossed the river at Island Ford and walk into a naturally occurring rock overhang used as shelter by the first human residents of the river corridor.  We should see signs of the abundant wildlife, such as paw prints in the soft mud.  However, seeing great blue herons taking flight, salamanders in a stream, or an osprey overhead is not uncommon.

Location:  
We will meet at the park visitor center located in the Historic Hewlett Lodge at 1978 Island Ford Parkway, Sandy Springs, Georgia 30350.  Use 9160 Roberts Drive, Sandy Springs, Georgia 30350 for navigation devices.  www.nps.gov/chat
Facilities: Restrooms are located in the visitor center
Difficulty: Moderate

Bring: Remember to dress for the weather and wear very comfortable hiking shoes.  Dress in layers so that you can adjust to changes in the temperature and your activity level.  Carry water. You may wish to bring binoculars, hand lens, notebook, and camera. 
Note: A $5. daily entrance fee or an annual pass is required.
Reservations are required by calling 678-538-1200.