if the web site allows more than 10 on the active list, I will have to move all those over the limit to the waiting list.
This is NOT a beginner's hike because the brisk pace over rough terrain presents significant challenges that require one to build up speed and endurance. Please be sure you've done some ready for a challenging hike before you tackle this one. If you don't have an AOC record of suitable hikes, we'll be contacting you to ascertain your fitness level We don't want to slow down the group to wait for people who can't keep up the pace, nor do we want to push you beyond your limits.
BE SURE YOU HYDRATE WELL THE DAY BEFORE THE HIKE and bring water/electrolyte drinks to the hike. Adequate fluids are essential.
We'll start at the MIDDLE parking lot. (Hewlett Pond Parking Lot) This lot is NOT the first lot on the left, nor is it the Visitor Center lot; rather, it's the lot before you come to the pond, on the left side of the road. . . about .6 miles from the entrance. We've found that parking in this lot is always light, and it affords a variety of routes to hike.
We'll start the hike promptly at 10:30 am. Arrive at least 5 minutes early to meet everyone before we start, and/or to purchase a $5 parking pass if you don't own an annual pass. If you think you might need to use the restroom before we start, give yourself an extra 15 minutes, as you'll have to drive to the Visitor Center and then drive back to the trailhead parking lot.
BE SURE TO LEAVE VALUABLES AT HOME OR AT LEAST WELL OUT OF SIGHT WHEN HIKING. CAR BREAK-INS HAVE OCCURRED IN ALL OF THE CNRA AREAS.
No more than 3 dogs on the hike, so if 3 dogs are already listed, please do not add yours. If you bring your dog, it must be kept on leash at all times. The reputation of the AOC is damaged when we break the leash law! Please - - no aggressive dogs who might challenge other dogs or people on the hike.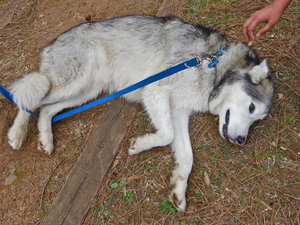 This is Willow, an example of a suitable, non-aggressive dog! :-)