* NOT A BEGINNERS RIDE *
* This event is dependent on state and local government direction and AOC Leadership direction
* We will adhere to any social distancing directives that may be in place
  * This event requires registrants to have completed a minimum of recent road rides of 50-60 miles, with rolling hills
* Must be able to complete at least one 70-75 mile road ride 2-4 weeks prior to main event ride 
* Must feel comfortable riding in traffic and being chased by unleashed country dogs
* All registrants are subject to review, screening and approval by the trip leader(s)
* If you're a new member or don't have a riding history with us, please email the trip leader(s) explaining your recent biking experience & history. You may be moved to the waiting list until we hear back from you and approve you for this event
* This ride is exploratory so participants should be flexible & adventurous!
* Itinerary is subject to change before and during event - if weather or other circumstances not permitting, event may be rescheduled to the following weekend, future date, or subject to cancellation
  Join us for this scenic fall foliage group bike ride on the Silver Comet! We'll ride out to the Georgia/Alabama state line (mile marker 61.2) and then return to the Floyd Road Trailhead. The total mileage will be about 114 miles.  We will be sharing more details about planned rest stops along the route.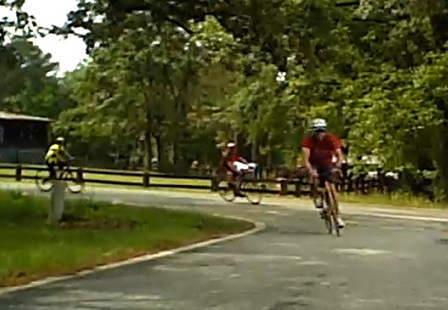 Our Group Riding Plan       
Our plan is to group ride 114 miles on the Silver Comet Route at a 2 wheel moderate pedal pace (not too fast, not too slow) and enjoy the beautiful rolling hills and amazing fall foliage scenery.  We will give ourselves  approximately 12 +/- hours to complete the event so we can achieve our riding goal and cross it off our bucket list.
There are hills, some more challenging, please note: this is NOT a flat greenway or Silver Comet ride, or speed race to see who can finish first.  Endurance, determination & fun is the name of the game! We will plan to stay together as a group, stopping every few miles to re-group & re-energize with a few gulps of water or Gatorade and snacks. 
Up front notice: This is a no-drop self sustained ride so no one will be left behind, but if you can't keep up with the group, you may be asked to turn around - you're ultimately responsible for finding your way back to the start. 
      Our Scenic 114 Mile Bike Route 


Important Notes
For safety, helmet required to be worn during this event.  No helmet, no ride. 
Wear light or bright colored clothing and working lights on both front and back of your bike for visibility.
We recommend a road bike although you can ride a hybrid.
Carry your cell phone for emergencies, Uber, GPS mapping, etc.
If you're a Garmin user, please join our 'Atlanta Outdoor Club (AOC) Garmin Users' group to connect with other AOC Garmin users and track your activity.  Join us at:  https://connect.garmin.com/modern/group/2255568  

Itinerary is subject to change before and during the event - please check the posting and notes section often for updates and changes!