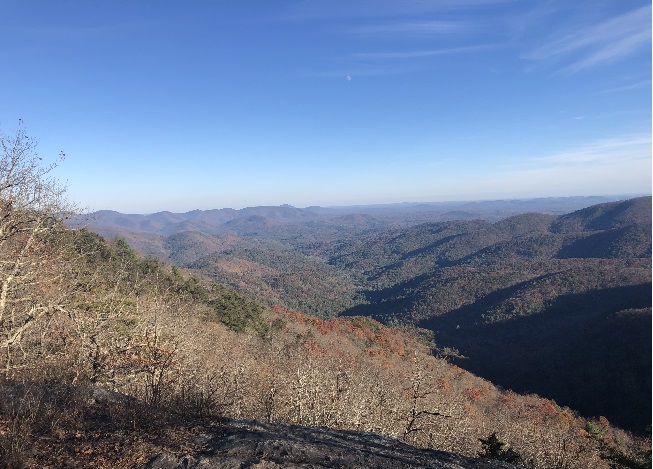 This is a fun and challenging day on the Georgia AT. The out and back round trip is 22 miles with 5,770 feet elevation gain. These measurements are provided by Georgia Appalachian Trail Club.
We'll meet and start from Woody Gap parking lot. We'll follow AT NoBo to Preachers rock for some quick views and a group photo. Then, we head to Big Cedar Mt at 1.3 miles, Jarrard Gap at 5.7 miles, Bird Gap at 7.2 miles, Blood Mountain at 8.6 miles, and Neel Gap at 11 miles.
We'll take a short break at Neel Gap. We can refill water, visit the restrooms and have our lunch. After the break we'll retrace and follow the AT SoBo to get back to our cars. We may decide to take an alternate route on the Freeman Trail on the return, but we'll make that call during our lunch break at Neel Gap. This is a bit longer, but less elevation gain by avoiding Blood on the return.


1. The pace for this hike is MODERATE, which means we will average 2.5 mph. If you can't maintain this pace all day then please don't sign up. this is a tough D6 hike, not for beginners. This is also not a trail run, but feel free to go at your faster pace I will not try to keep up. I like trail running but I enjoy hiking at my own slower pace.

2. The weather will be a variable, autumn hikes can have cool, windy conditions or it could be hot. Make sure you bring proper clothes and dress in layers to cover any condition.
3. If we don't maintain pace then we could be walking in the dark, so bring a headlamp. It may mean I have to turn you around before you get to Neel gap and you may not get credit for this hike. You should have done some recent D5/D6 hikes to attempt this hike.
4. No dogs on this hike.
5. Masks aren't required but we will maintain social distancing.