Event Overview and Where to Meet:
Welcome to my "Stop and Smell the Roses Hike" series of hikes. These hikes are intended to be a series of slower paced hikes varying from D1 to D4 depending on the venue. The hike venues will be specifically chosen for their photographic views. So, if you know nothing about photography, an advanced amateur, or higher join me for this hike. Bring you camera, phone, or video camera; we will be stopping so that we may share our love for capturing nature and teaching others how we did it. There should be time for lots of pictures, two to three-minute videos, and digital recording of nature's sounds. Due to this these hikes will be a little longer in time than equivalent hikes. Others that may enjoy this hike are those wanting a slow-paced hike with frequent stops. IF YOU WANT A FAST-PACED HIKE PLEASE DO NOT SIGN UP.
We will flow the paved trail following the Chattahoochee southwest until it comes to Willeo Road, about 2 miles. We will turn around returning by the same path to the parking lot. We will than follow the Chattahoochee northeast until it comes to GA400, another mile, and return to the parking lot.
We will meet in front of the restrooms. Please arrive by 7:45 am for a restroom stop and introductions. We will start promptly at 8:00 am.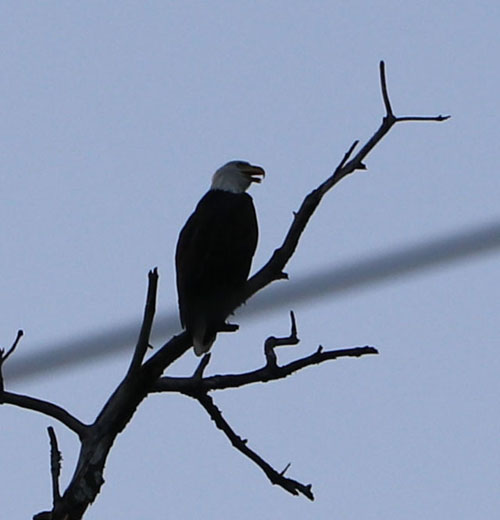 Eagle Along Azelea Drive