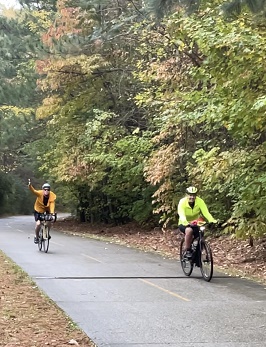 NOT FOR BEGINNER RIDERS
* This event is dependent on state and local government direction and AOC Leadership direction
* We will adhere to any social distancing directives that may be in place
* This event requires registrants to have completed a minimum of recent multiple 45+ mile road rides with rolling hills
* All registrants are subject to review, screening and approval by the trip leader(s)
* If you're a new member or don't have a riding history with us, pl ease email the trip leader(s) explaining your recent biking experience & history. You may be moved to the waiting list until we hear back from you and approve you for this event
* Itinerary is subject to change before and during event
This is a 50 mile round trip bike ride from the Rockmart trail head to the Georgia/Alabama State Line and back. We plan to ride one mile beyond the Alabama State Line. We'll be riding at 10-15 mph and will get a little spread out. So be comfortable with that. We will re-group both on the way out and on the way back at Cedartown Depot trail head.
******
- Optional -
This AOC 50 mile bike ride event will officially finish/end in Rockmart after the completion of 50 miles. However, outside of this AOC event, you have the option to continue riding with others who might want to ride another 50 miles on the Silver Comet Trail to complete a century ride of 100 miles. However, this option is not part of the official AOC event and you assume all personal liabilities and responsible for your own safety.
******
Please arrive a little early to prepare for the ride and make introductions before we hit the trail at 7:30 AM sharp! I look forward to seeing you for a great ride.
http://www.silvercometga.com/silver-comet-map/silver-comet- map.shtml
****Should it rain or look like rain this trip may be cancelled****
HELMET REQUIRED TO BE WORN - NO HELMET, NO BIKE RIDE

IMPORTANT NOTE: You are responsible for your bike maintenance or repairs on the trail. Please check your bike out the day before.