Bring your passion for biking as we pedal and explore some of Atlanta's interesting variety of city scenes, classic parks, cool creeks, and funky urban vibe. We may stop for some classic Atlanta skyline snapshots, street art, and some great views on our 25 mile scenic bike ride through Piedmont Park, Fourth Ward, Eastside Beltline, Freedom Parkway Trail, Westside Beltline Connector and Proctor Creek.
*The ride is suitable for a hybrid, road bike, or mountain bike*

"Nothing compares to the simple pleasure of a bike ride."
John F. Kennedy
- Optional -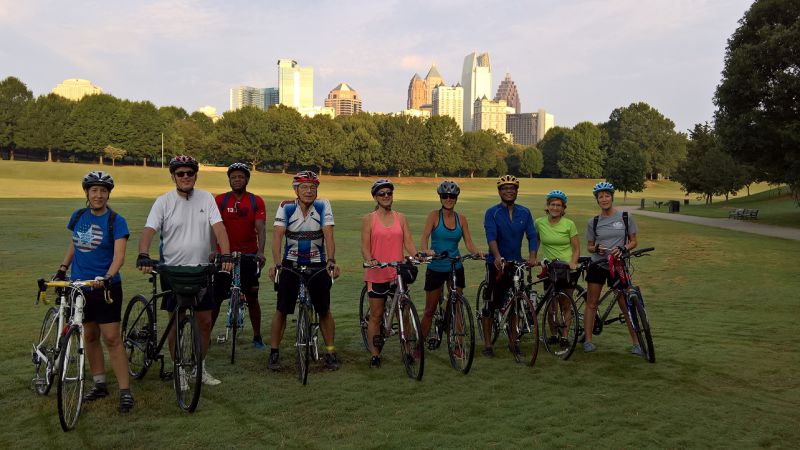 The bike route will wind through Piedmont Park, with a few stops for photos, then connect to the Eastside Beltline Trail toward Krog Street Market. At some point, we'll hop over to the Freedom Parkway Trail, head toward the Jackson Street bridge for a great view of downtown, then head farther down the Freedom Parkway Trail toward Centennial Olympic Park and beyond. We will then bike on the new Westside Beltline Connector trail (which will eventually connect Atlanta to the Silver Comet Trail!!!) before hopping over to the Proctor Creek Trail, then turn around and head back to our starting point.
Optional: If we're lucky, King of Pops will have a cart with their delicious popsicles parked along the trail in Piedmont Park near the end of our ride! We can stop for a treat if the group would like a little cool down just before the end of a fun ride so bring a few $$ if you'd like to try one of their unique popsicle flavors
This is not a casual ride. We will be biking on both paved trails and paved streets. Although there isn't a lot of traffic during the early weekend mornings, you must be comfortable with biking on streets alongside cars and city traffic. We will be moving at a moderate pace, and average about 12 mph, excluding stops and photos shots. We expect to be finished around noon. If you sign up, please allow flexibility with finishing time.
Notes:
1. For safety, helmet required to be worn during this event. No helmet = No bike ride
2. Wear light or bright colored clothing and working lights on both front and back of your bike for visibility.
3. Bring a spare inner tube in case you get a flat.
4. We recommend bike or helmet mounted mirror since we'll be riding on the streets.
5. This is a 'no drop ride', so no one will be left behind.

6. Itinerary is subject to change.

7. If you're a Garmin user, please join our 'Atlanta Outdoor Club (AOC) Garmin Users' group to connect with other AOC Garmin users and track your activity. Join us at: https://connect.garmin.com/modern/group/2255568
8. Download the route using RideWithGPS.
Join us at: https://ridewithgps.com/routes/36261349