Join us on a fun exploratory trip along the part of the new beltline extension and exploring the bike trails along the way to Krog Street tunnel.
We will start at Sweetwater Brewery and bike approximately 0.9 miles on back streets to the start of the beltline extension, here we will get off our bikes and push them approximately 300-350ft taking in all the artwork through the unpaved tunned and ride the beltline extension to Montgomery Ferry Dr, here we will depart the beltline and ride for a short distance along Monroe Dr until we enter Piedmont Park.
After entering piedmont park, we will ride approx. 10 miles miles on the various paved trails through Piedmont park turning around at the Krog street tunnel, on our way back we will take a slightly different route then retrace our path back to Sweetwater brewery.
There will be an optional brunch (paid for by participants) and tour of the brewery (free), Sweetwater will also provide participants with free samples to take home.
Approximate route: https://www.google.com/maps/d/edit? mid=18AfB1RkiCGgV9ZPni-okfFsv999Mdh4F&usp=sharing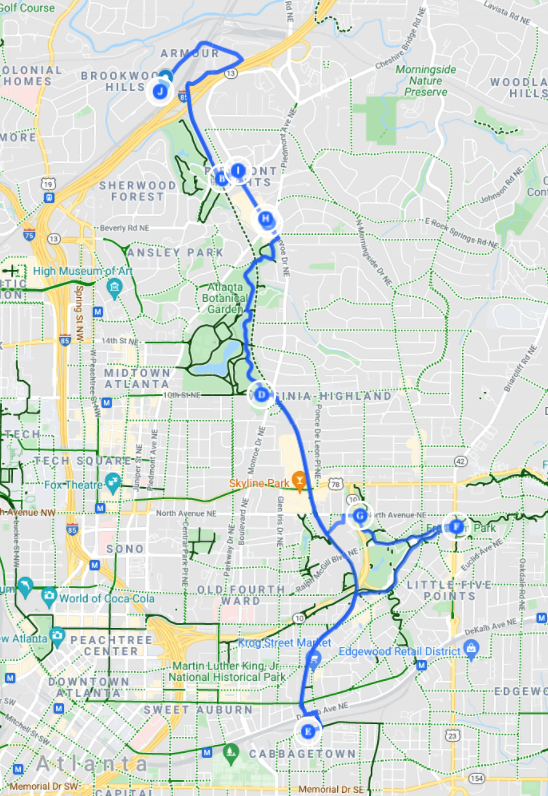 The AOC encourages responsibile drinking. 
 *** NO HELMET NO RIDE ***
Thank you to Laura Buckmaster at Sweetwater Brewery for makign this happen!