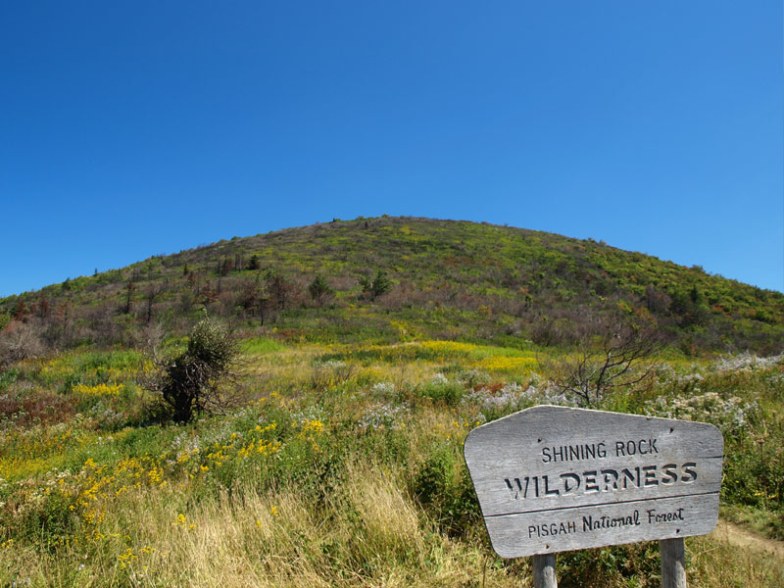 <<< Shining Rock Wilderness >>>
The maximum group size is 10 in this area set by the US Forest Service. We'll have to follow its requirements. Be prepared to stay over 6,000 feet elevation on this event with much cooler weather than in our city.
Covering over 18,000 acres, the Shining Rock Wilderness is the largest wilderness area in North Carolina. It's off the Blue Ridge Parkway south of Asheville. Shining Rock summit is featured with massive boulders of white quartz shining under sunlight with enormous brilliance.
<<< Itinerary >>>
We'll meet and start from the Sam Knob Trailhead at the end of Black Balsam Knob Road approx. 1 mile off the Blue Ridge Parkway.
We'll first climb about 400 feet in less than a mile to the top of Black Balsam Knob sitting over 6,000 feet elevation with its awesome 360-degree views. We'll follow the Art Loeb Trail (ALT) section 3 to our next summit of Tennent Mt. also over 6,000 feet elevation with amazing panoramic mountain views. We'll continue the ALT-3 through Grassy Cove Top, Flower Knob, Shining Rock Gap, and then reach Shining Rock Mt. On the way back, we'll take a section of Ivestor Gap Trail south bound, then re-connect ALT-3 south bound going over Tennent Mt. and Black Balsam Knob the second time before returning to our cars.
We'll go at a moderate pace to fully take in the wide-open beautiful mountain views in the Shining Rock Wilderness. We'll take plenty of water and snack breaks along our way.
Getting a parking space in this popular area has always been a challenge to its visitors. I'm hoping going there on a Thursday will give us some more luck. We'll have to be flexible and see what happens.

The event duration does NOT include our travelling/ driving time. Our duration time is an estimate, and we need to have some flexibility.
If your experience is not from the club, please include it in a note when you register. TL reserves the right to remove registrants without sufficient track record for the safety of everyone. We encourage our members to actively participate with joyful experience, and most importantly to stay healthy and safe at the end of each event.