Putting a Spin on Thursday - Cycling @ Big Creek Greenway Trail - 6:15 PM Start Time!
- Weather Dependent -
"Nothing compares to the simple pleasure of a bike ride." - John F. Kennedy
This is a scenic bike ride bof sorts along the Greenway starting in Roswell. We'll go out about 8-9 miles or so and then turn around and head back the same way. Those wanting more mileage can go further, or wanting less mileage may head back sooner. It's out and back so you must be able to return the same distance you go out. We will also include Marconi as an option. Our pace is planned to be moderate and will plan to stay together unless someone wants to go faster or slower. Maximum Greenway bike speed is 15 MPH. However, this is not a beginners or slow ride.
NOTE: For safety, helmet required to be worn during this event. No helmet, no bike ride.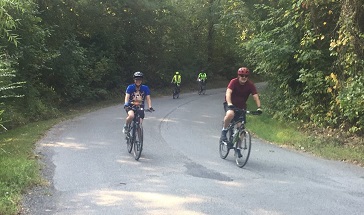 Reminder: If you're a Garmin user, please join our 'Atlanta Outdoor Club (AOC) Garmin Users' group to connect with other AOC Garmin users and track your activity. Join us at: https://connect.garmin.com/modern/group/2255568
WHAT IS A GREENWAY?

A greenway is a linear park. A greenway is about people and the land they love. It is about conservation. It is about recreation and alternative transportation. It is about environmental education. It is about connecting the quality of life Alpharetta now has with the future plan that will help maintain that quality of life. Our greenway is an investment in the future of Alpharetta...an Alpharetta that is green, with open spaces for people as well as natural areas for plants and animals.
The Big Creek Greenway is primarily a 12-foot wide concrete path that meanders through the deciduous woods along Big Creek. The greenway offers an ideal setting for walking, jogging, inline roller blading, and biking.