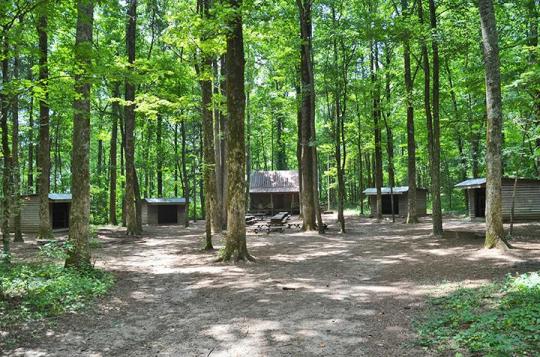 Black Rock Mountain State Park, named for its sheer cliffs of dark-colored biotite gneiss, encompasses some of the most outstanding country in Georgia's Blue Ridge Mountains. Located just north of Clayton, GA, astride the Eastern Continental Divide, at an altitude of 3,640 feet, Black Rock Mountain is the highest state park in Georgia. Numerous scenic overlooks provide spectacular 80-mile vistas of the Southern Appalachians, and several hiking trails lead visitors past wildflowers, streams, small waterfalls and lush forests making it one of Georgia's best state parks.
We will camp (a.k.a. car camping) at the Tsatu-gi Pioneer Camp site at Black Rock Mountain State Park. Black Rock Mountain pioneer camping is not your traditional pioneer campsite. You have the option of sleeping in one of four adirondack style buildings (each with 8 bunk bed frames) or pitching your tent for the traditional experience. The bunks are first come first serve. The campsite has a large cabin with a table, a few couches, electricity and a microwave. The cabin has a loft that will sleep up to 6 people. The site has pit toilets and a outdoor cold water shower. Shower passes, for use at the bathhouse at the tradition campground, can be purchased at the visitor's center.
Unlike other pioneer camping trips you may have attended with AOC, with the exception of dinner on Saturday night, everyone will be responsible for your own meals. There is a microwave in the cabin but you may want to bring your own stove to cook your meals. Clayton, Ga is a 12-minute drive with many restaurant options. On Saturday noght we will have a cookout. Hamburgers and all the fixings will be provided. We ask that all campers bring a side dish to share.
We are allowing a total of 6 well behaved dogs on this event. If you are bringing a dog, you will need to bring a tent. Dogs are not allowed in the adirondack shelters.
The Plan:
FRIDAY: The group arrives at the campsite after 1:00pm. We set up camp, cook dinner, and enjoy our creations by the fire. Later, we sit around the campfire toasting 'Smores, and telling (mostly true) stories. Accomplished musicians are encouraged to bring their instruments.
SATURDAY: Campers have several options:
a) Hike one of the trails at Black Rock Mountain State Park
James E Edmond Trail - 7.2 mile loop rated difficult to strenuous
Tennessee Rock Trail - 2.2 Mile loop rated moderate to difficult
Black Rock Lake Trail - 0.85 mile loop rated easy

b) Hike one of the many trails in the Clayton, GA, area including sections of the Appalachian Trail.
AllTrails list of great hikes near Clayton. https://www.alltrails.com/us/georgia/clayton
c) Raft the Chattoga River with one of the local Outfitters.
d) Visit Tallulah Gorge State Park.
e) Visit Moonrise Distillery for local moonshine or some of the local vineyards - Stonewall Creek Vineyards, Tiger Mountain Vineyards and 12 Spices Vineyards.
f) Sleep in, eat when hungry, read a book, hang a hammock and enjoy the day hanging around the campsite.

SUNDAY: Wake up, eat up (our breakfast), pack up (our gear), clear up (the campsite), and head out.