Masks are required in this part of town to enter any public buildings, restaurants, establishments, etc.
Itinerary and running route is subject to change so please be flexible.
Come join us for this casual Saturday morning scenic urban run starting at Cabbagetown Park. You have the option of running between 10 to 12 miles and at your own running pace - this is not an urban hike or walk. What better way to start a Saturday morning than with a scenic urban run!
Optional: Afterwards, feel free to join us for a quick bite to eat at DAS BBQ (You're responsible for paying for your own meal & beverage) next to the Oakland Cemetery. Mask is required to enter the restaurant.
We will start our morning run at Sweet Cheats Bakery at Cabbagtown Park. You are welcome to run or run/walk at your own pace but will be responsible to find your way back if you're not able to keep up or follow the group. We will jog from Cabbagetown Park to Oakland Cemetery and visit some famous tombstones including Kenny Rogers (American singer, songwriter, musician, actor, record producer, and entrepreneur), Bobby Jones (One of the greatest golfers who ever lived), and Margaret Mitchell ('Gone With The Wind' author). We will proceed down Memorial Drive beside or inside the cemetery and wind our way back through the streets of Cabbagetown and the Krog Street Bridge tunnel. We may stop for a quick water or bathroom break as we dash by the Krog Street Market (Carry your mask). We will turn onto the Eastside Beltline Trail which runs 2 miles to Piedmont Park passing by Ponce City Market to the end of the Beltline. Continuing our run, we will jog past Park Tavern and through the winding paths of Piedmont Park. After Piedmont Park we will dash by Ansley Park and towards the Ansley Mall area, turn around, and coast back via the Beltline to Cabbagetown Park.
The total distance will be approximately 10-12 miles. For those runners not feeling it after some miles, you have the option of heading back on your own to Cabbagetown, but must complete at least 10 miles running and/or walking to receive AOC event credit.
Please carry your cell phone in case you fall back, separate from the group, decide to turn around, lost, gps mapping, pictures, or for emergencies.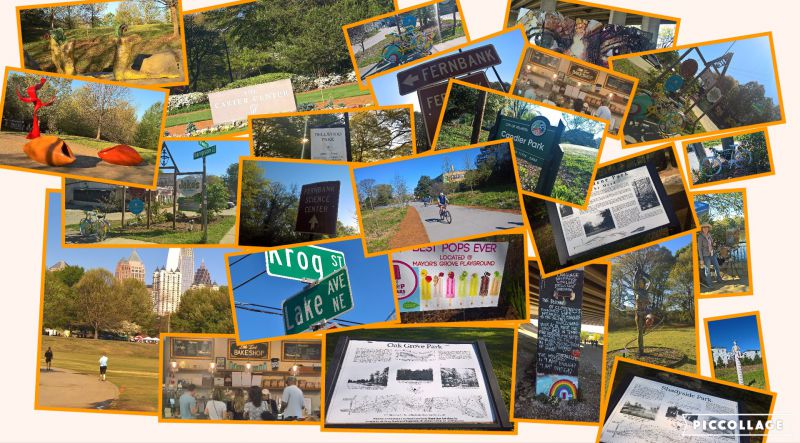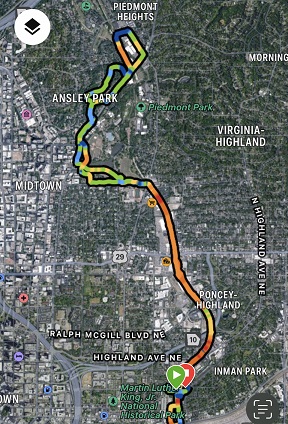 - OPTIONAL BBQ LUNCH -
Menu: DAS BBQ
350 Memorial Drive SE
Atlanta, GA 30312
(404) 850-7373