<<< Summary >>>
Come join the like-minded adventurers for a weeklong exploration of the 'Crown of the Continent' Ecosystem. Venture out to see and enjoy Glacier Mountains, cerulean lakes, meadows bursting with wildflowers, the iconic Going to the Sun Road, and Glacier's famous wildlife.
This trip will explore Glacier National Park in 8 days and 7 nights. It is designed for members with positive, adaptive, and flexible spirits. Good physical fitness and endurance, and solid AOC D5 records are required.
These carefully evaluated and selected daily outings are all among various top 10 lists published by trail experts for Glacier National Park, the number one hiking place in North America.
<<< Logistics >>>
We'll meet first thing in the morning from Day 2 to Day 7.
Meeting Place: West Glacier Mercantile, 150 Going-to-the-Sun Road, West Glacier, MT 59936.
<<< Itinerary >>>
Day 1: 2023-08-12 Saturday.
Arrive at Glacier Park International Airport in Kalispell, MT; and check in lodging. This is a good day to drive around the Flathead valley and stock up your grocery and all the supplies for the week.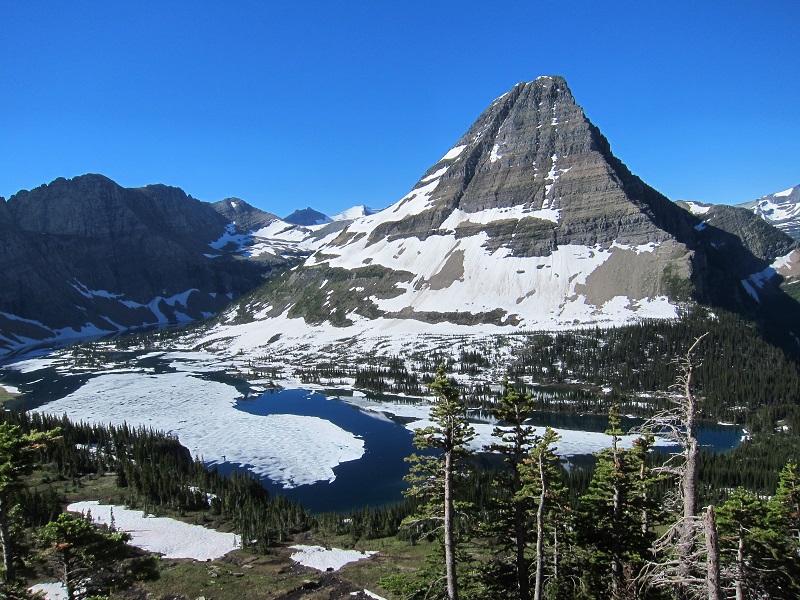 Day 2: Meeting Time: 6:00 am.
Ptarmigan Tunnel & Iceburg Lake in Many Glacier area. (D5: 16 miles/ 2,800 feet ascent)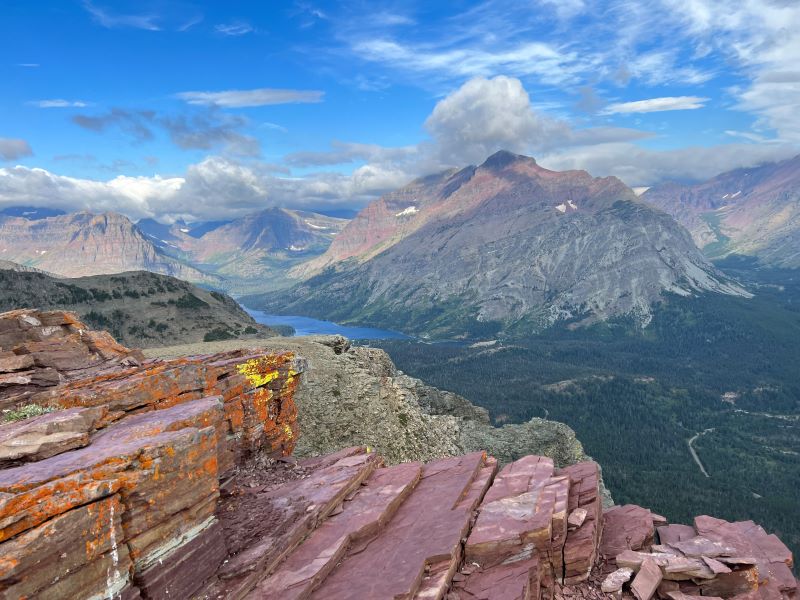 Day 3: Meeting Time: 6:00 am.
Highline Trail to Grinnell Glacier Overlook in Logan Pass area. (D5: 15.2 miles/ 3,400 feet ascent)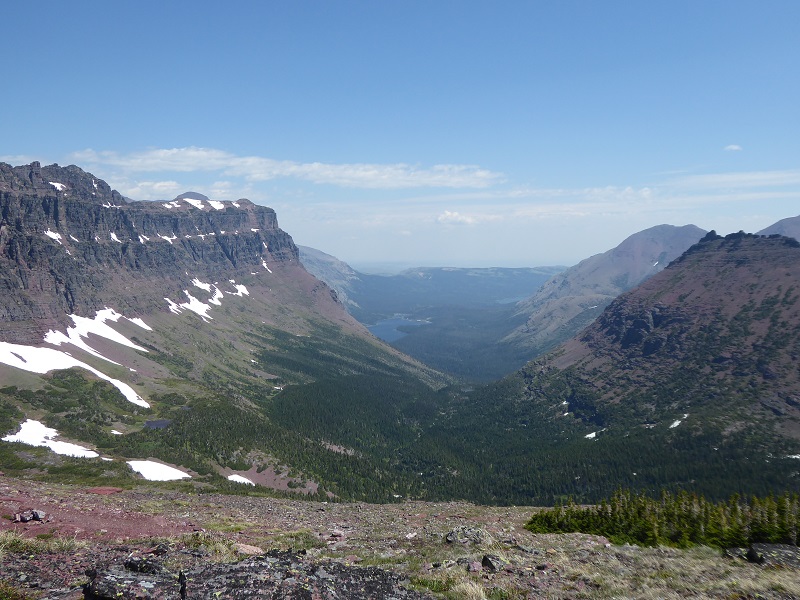 Day 4: Meeting Time: 9:00 am.
Hidden Lake Overlook trail in Logan Pass area. (D2: 3 miles/ 600 feet ascent)
Today is designed to be a short day. It can be used as a rest day, or anything you like such as horseback riding, white water rafting, drive around car sightseeing, etc.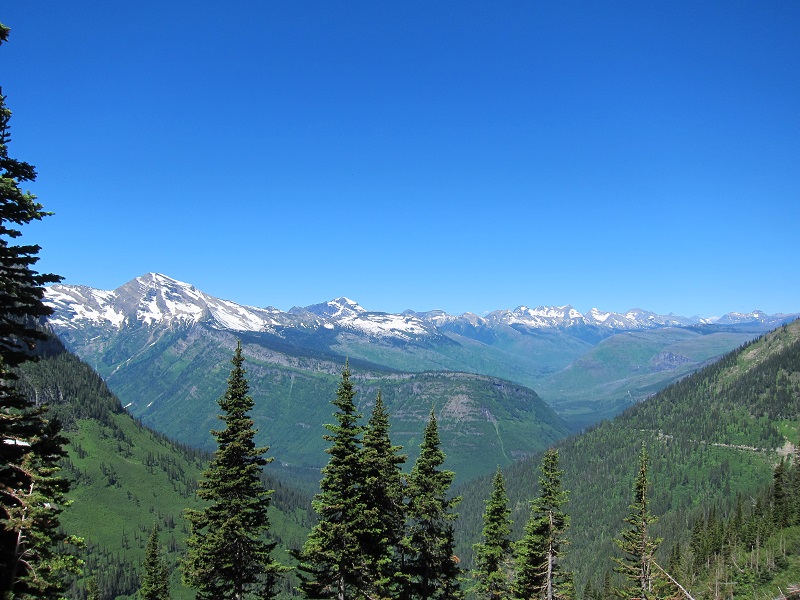 Day 5: Meeting Time: 6:00 am.
Pitamakan Pass/ Dawson Pass Loop in Two Medicine area. (D6: 19 miles/ 4,000 feet ascent/ counterclockwise loop)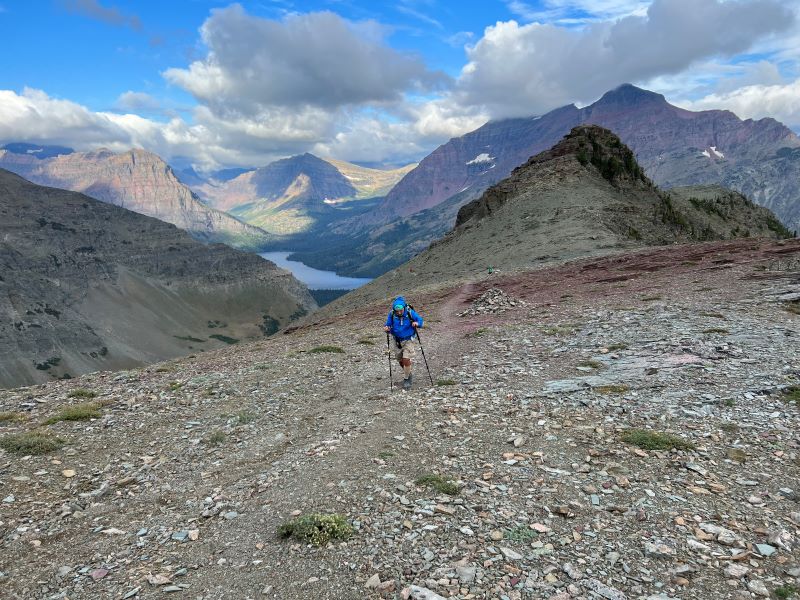 Day 6: Meeting Time: 6:00 am.
Grinnell Glacier trail in Many Glacier area. (D4: 11 miles/ 2,100 feet ascent)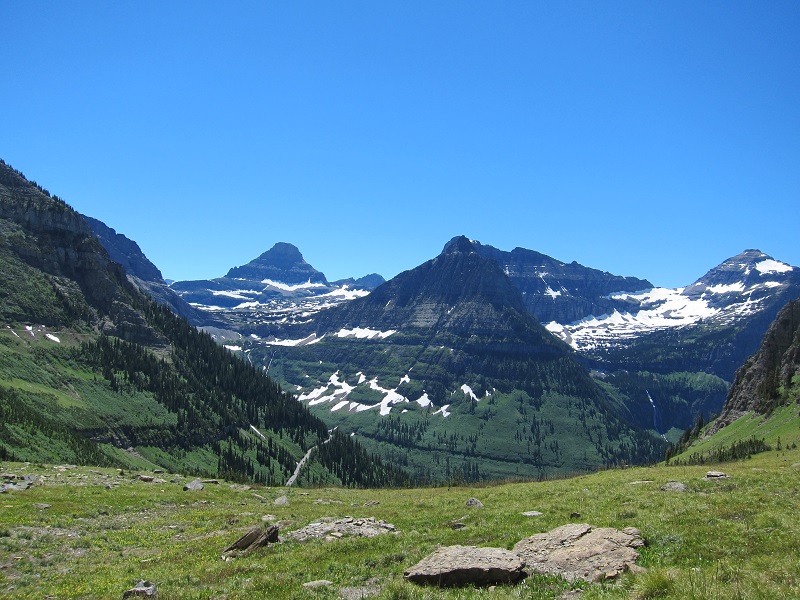 Day 7: Meeting Time: 6:00 am.
Scenic Point trail in Two Medicine area. (D4: 8 miles/ 2,300 feet ascent)
Day 8: Our group event ends today.
<<< Difficulty Level >>>
Our event will be at the AOC D6 difficulty level. The continuous nature of daily outings requires all participants to be physically prepared and trained before taking this trip.
<<< How to prepare >>>
We all have to be physically prepared and trained well before taking on such an epic trip. Best physical conditions enable us to take in everything surrounding us and fully enjoy the amazing natural beauty rather than being out of breath and feeling tired every time going uphill. We must do fitness training a couple of times a week for a minimum 6 to 9 months, and also hiking the steepest mountain hills available to us. My favorite is Kennesaw Mt. which is local, beautiful, and very convenient.
<<< Bear Safety >>>
Bear safety by National Park Service: https://www.nps.gov/subjects/bears/safety.htm
Bear safety is common skill that every outdoor person should learn and master, e.g. carrying bear spray in the group, making noise in bear areas, and do not go solo, etc. Following a college student trail guide employed by the outfitter company on my previous guided trip with AOC to Glacier NP in 2018 makes us no more safer than applying our own bear safety skill. Going in the later summer when berries are mostly gone on the trails should help reduce the probability of bear encounter.
Let's also put it into right perspective with published data showing most years, there are 3 fatal bear attack incidents on the continent, per year. But on average, this number decreases to 2.56 fatal incidents, per year. So don't let any rare incidents making headlines stop you from exploring the majestic Glacier the way we like and enjoy.
Link to my previous guided trip with AOC to Glacier NP in 2018: https://www.atlantaoutdoorclub.com/event/details.asp?eventid=14803
<<< How to get there >>>
The nearest airport is Glacier Park International Airport (FCA) in Kalispell, MT. This is the recommended airport to fly in without driving very long distance to the west entrance area of Glacier National Park.
<<< How to sign up >>>
This web page is designed so that you can only put yourself on the waiting list. Once you're verified to be suitable for this trip, you will be moved to the participant list.
<<< How to qualify >>>
You can easily finish my Kennesaw 10 hike in 4 hours; or personally I know your hiking ability and fitness condition is qualified.