*****THIS IS NOT A BEGINNERS RIDE*****
"Nothing compares to the simple pleasure of riding a bike." — John F. Kennedy.
LET'S SPIN!
This is a very popular thirty mile round trip bike ride that takes in many scenic, and shady green covered features of the Silver Comet. The Silver Comet is a paved rails-to-trail bike trail from Smyrna to the Alabama line.
Basically, we will start at the Rambo Trailhead near Dallas, ride to Rockmart South Marble Coffee House, and then indulge in a refreshing breezy ride back.
We will pedal at a moderate pace of around 10-15 mph or faster (You can pick and choose your own riding pace - fast, casual, leisurely, etc.), so with breaks and some pics, expect to spend about 3-3.5 +/- hours of pedaling fun and healthy exercise on this biking event. You will feel great you did it!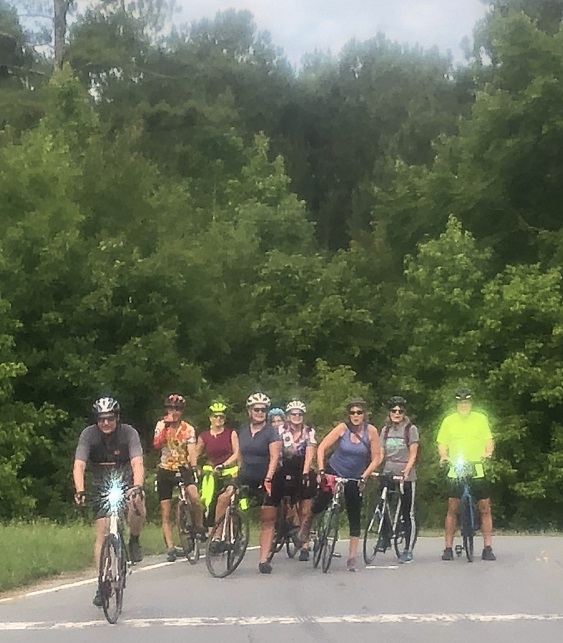 OUR RIDE
Early on after we start our ride, we will cross the Pumpkinvine Trestle, which is 750 feet long and 126 feet high.
Then for the next eight miles, we pass thru Paulding Forest, which is basically a hilly pine woods. The hills will not affect us however, since we will be on the old rail bed, with all its cuts and fills.
Before we emerge from the forest, we go thru the 800 foot long Brushy Mountain Tunnel - definitely stop to take your picture here!
Then it's mostly open green pasture till we get to Rockmart.
We will pass the sparkling reflective Coot's Lake and reach our destination of Rockmart South Marble Coffee House (Popular rider destination & turn-around point), and then pedal back to our starting point.

IMPORTANT NOTES
1. HELMET REQUIRED TO BE WORN - NO HELMET, NO BIKE RIDE, BYE...BYE
2. You are responsible for your bike maintenance and repairs on the trail. Be sure to inspect your bike the night before our ride and air up your bike tires.
Reminder: If you're a Garmin user, please join our 'Atlanta Outdoor Club (AOC) Garmin Users' group to connect with other AOC Garmin users and track your activity. Join us at: htt ps://connect.garmin.com/modern/group/2255568